Lights
First, make it a Christmas tradition to check out the handiwork of Dallas residents. In North Dallas, there are stretches of Strait Lane and Hockaday Drive and the Walnut Hill neighborhood that reliably offer displays of holiday spirit. Spend time in the Park Cities (including the 3600 block of Southwestern Boulevard, where there's a display that would make Clark Griswold jealous) by driving Beverly and Lakeside drives. Go appreciate the coordinated efforts of the Timberhollow Circle neighborhood in Lake Highlands or Lakewood Boulevard. Then head to Oak Cliff and the Kessler Park neighborhood to finish off your trip. Not tired yet? You could also check out the Deerfield neighborhood at Preston Road and Coit Road or the Interlochen neighborhood in Arlington. For a map of the best Christmas lights in town, head here.
Did the dinosaurs celebrate Christmas? Probably not, but you can hang out with all your dino friends during Holidays at the Heard. On December 9 and 10, McKinney's Heard Natural Science Museum & Wildlife Sanctuary will transform its natural trail into a half-mile walk of holiday lights you won't want to miss. 1 Nature Place, McKinney. Learn more here.
Catch the Merry & Bright Christmas Drone Show on Main Street in Grapevine, and see a fleet of 160 drones create a Christmas light display in the air. The show will begin at 8 p.m. on December 17. Main Street, Grapevine. Learn more here.
While away an hour on Big D Fun Tours' Holiday Lights Trolly Ride through Highland Park. The family friendly event runs through Christmas Eve. For a not-so-kid-friendly experience, book a BYOB adults-only ride. Get tickets here.
The annual Holiday at the Dallas Arboretum returns this year, complete with the Christmas Village, 12 Days of Christmas display, and the 50-foot tall Musical Tree. New this year is Michael Hamilton's exhibit, The Artistry of Faith & Culture, which examines the diversity of the city as it celebrates the holiday season. 8525 Garland Rd. Learn more here.
There's no crying in baseball, but there are lights. Head out to Riders Field in Frisco for the Radiance! Holiday Lights Spectacular, with more than 3 million Christmas lights. While there, don't miss the Frozen in Frisco winter carnival that has real snow, complete with ice skating, a snowball toss, and ice tubing. Through December 31. 7300 Rough Riders Trail, Frisco. Learn more here.
Enjoy more than a million lights, animal encounters, carousel rides, a visit to Santa's workshop, and so much more at Dallas Zoo Lights through January 1. 650 S. RL Thornton. Learn more and buy tickets here.
Travel by car or reindeer up the DNT to Addison for Vitruvian Park's annual holiday lights spectacular. Now in its 10th year, Vitruvian Lights is open through January 1. 3875 Ponte Ave., Addison. Learn more here.
This year, get lost in Enchant at Fair Park's brand new Mischievous Elf Maze of lights until you find the center 100-foot Christmas tree. After that, grab some spiked hot chocolate at the Tipsy Tree Lounge, shop at the Holiday Village, or go ice skating. Through January 1. Fair Park. Learn more here.
Through January 8, get your steps in at Fort Worth Botanic Garden's Lightscape. The mile-long walk includes dazzling tunnels, bluebonnet and flower fields, and strings of light, plus toasting marshmallows station. Get tickets here.
Santa Sightings
NorthPark Center's jolliest employee might have a new face this year, but you can still get your photo taken with Santa Claus, or join him for a singalong, through Christmas Eve. 8687 Central Expressway. Learn more here.
Old Saint Nick and crew will be set up at Galleria Dallas' Santaland through Christmas Eve. Bring your furry and feathered friends to Santa Paws through December 21. Santa will show off his Spanish language skills from 6 p.m. to 9 p.m. through December 15; and he's giving extra special time to kiddos with special needs from 8 a.m. to 11 a.m. December 18. 13350 Dallas Pkwy. Learn more here.
We all know Santa loves his cookies, but even he admits breakfast is the most important meal of the day. Join the big man and Mrs. Claus for Breakfast with Santa at the Anatole each weekend through December 24. From $15. 2201 N. Stemmons Fwy. Get tickets here.
Santa will land his sleigh on Reunion Tower's GeoDeck December 10 at 2 p.m. 300 Reunion Blvd. Learn more here.
Have breakfast with Santa and Mrs. Claus at Neiman Marcus' flagship downtown Dallas store, complete with Santa's helpers, a balloon artist, holiday carolers, and a kid's dance party on December 18, beginning at 9:30 a.m. The ticket includes breakfast for the whole family and mimosas for the grown-ups. 1618 Main St. Purchase tickets here.
Tree Lightings, Festivals, and Shopping
Head to Fair Park December 10 for the African American Museum's annual Christmas Music Under the Dome and Christmas Marketplace. The event will feature musical performances, a holiday market, workshops, panel discussions, guided tours, and more. 3536 Grand Ave. 11 a.m. to 3 p.m. Learn more here.
Get to the Galleria any day now through December 24 at noon, 2 p.m., 4 p.m., 6 p.m., or 8 p.m. to watch a light show on the enormous Christmas tree. This Illumination Celebration is, of course, choreographed to music. (No shows at 8 p.m. on Sundays.) 13350 Dallas Pkwy.
Speaking of the Galleria, the shopping mall welcomes the SNOWDAY Immersive Photography exhibit for the fourth time. Expect Christmas-themed rooms that will make your Instagram bright. Through January 8, on Level 1 of the Galleria near Banana Republic. Reserve your ticket here.
McKinney's Trinity Falls Tour of Trees welcomes you into a variety of decorated model homes for the holidays in the master-planned community through December 18. 7801 Trinity Falls, McKinney. Free, but get tickets here.
Each Thursday this month Knox-Henderson shops are lighting up for Holiday Nights on Knox Street. Individual stores will have happy hours and discounts, and there will be live music, a pet photo op, and even live reindeer on select days. Through December 22. Learn more here.
Highland Park Village's annual Christmas Lights Celebration and Shopping Stroll comes to the Park Cities on December 7. The shopping center has installed 1.5 million lights and organized a toy drive that will benefit Community Partners of Dallas. 47 Highland Park Village. 4 p.m. to 7 p.m. on December 7. More info here.
Head to NorthPark Center for one of the largest gingerbread house exhibits in the region. Gingertown Dallas runs through New Year's, with proceeds benefiting the Children's Craniofacial Association. It's been a mall staple since 2006, when David M. Schwarz Architects brought it to life. NorthPark Center, live build happens December 6 at 5 p.m.
NorthPark also has a few other offerings: the lighting of the mall's Menorah from December 18–26, and Trains at NorthPark, which runs through Jan. 6.
Looking for a little luxury? Head to 12 Days at the Thompson, which has events through Christmas. 205 N. Akard Street, full list of events is here.
Theater
Puppet shows are a must at NorthPark. In The Tale of the Yeti's Christmas Spaghetti, Santa is nervous that a storm will cancel Christmas. And so he gathers his elves and a yeti to help stave it off. Daily, every hour on the half-hour, through Christmas Eve. Level One between Macy's and Dillard's.
And the classic: Scrooge, which has been a NorthPark staple for the past four decades. Daily, ever hour on the hour. Level One between Macy's and Dillard's.
Van Gogh, Frida Kahlo, and now, of course, The Immersive Nutcracker. Dallas is one of 13 American cities to host the production, which is open to the public through December 31. Lighthouse ArtSpace, 507 S. Harwood. Tickets here.
Charlie Brown Christmas: Live on Stage heads to the Majestic Theater on at 6 p.m. on December 13. 1925 Elm St. Buy tickets here.
All month, catch A Christmas Carol at the Wyly Theatre. The Dallas Theater Center Production is a faithful rendering of the Charles Dickens classic. Through December 24. 2400 Flora St. Tickets here.
Concerts
The Dallas Symphony Orchestra will perform classical holiday favorites and sing-along carols in Christmas Pops shows through December 11. The orchestra will be joined on the Morton H. Meyerson Symphony Center stage by the Dallas Symphony Chorus and other holiday vocalists. 2301 Flora St. Learn more here.
Jose Hernandez's Merry-Achi Christmas show promises plenty of favorite holiday songs and music from Mexico. The musical tribute to Mexico's Christmas traditions will arrive at the Majestic Theatre December 11. 1925 Elm St. Purchase tickets here.
Country crooner Brett Eldredge will bring his 14-date traditional Christmas "Glow Live" tour to Grand Prairie's Texas Trust Credit Union Theater on December 13. 1001 Texas Trust Way Buy tickets here.
Head to NorthPark Center at 7 p.m. on December 14 for a free concert by the Dallas Symphony Orchestra brass and percussion sections. Conducted by Maurice Cohn, the concert features plenty of holiday favorites for the whole family. NorthPark Center.
You have three chances to attend the DSO's Home Alone in Concert event. Enjoy the movie, and John Williams' score, performed live to picture by the orchestra. Tickets are available for shows on December 16–18. 2403 Flora St. Buy tickets here.
The Polyphonic Spree will bring their 19th-annual Holiday Extravaganza to the Majestic Theatre December 17, and promise that they "intended to bring even more cheer than usual." 1925 Elm St. Purchase tickets here.
The Turtle Creek Chorale will close its 42nd season with two performances of its Christmas show, "Love Is All You Need." Tickets for the performances at the First United Methodist Church in Richardson on December 17 and at the Morton H. Meyerson Symphony Center in Dallas on December 19 will be pay-what-you-wish. 2301 Flora St. Learn more here.
The House of Blues will host Chris Isaak's "Everybody Knows It's Christmas" tour December 21. The bandleader and singer released his latest album by the same name this fall, so expect to hear some of those new 13 tracks of originals and covers, including "Winter Wonderland," "Jingle Bell Rock," and "Run Rudolph Run." 2200 N. Lamar St. Buy tickets here.
The Commons Club at Virgin Hotel Dallas will host a holiday music series on Fridays throughout the month of December. The series, which will feature local artists, will run from 6 p.m. to 8 p.m. 1445 Turtle Creek Blvd. Learn more here.
Has it been a holiday season if Trans-Siberian Orchestra hasn't come to town? The American rock band that somehow combines both metal and Christmas will perform two shows at the American Airlines Center on December 28. 2500 Victory Ave. Purchase tickets here.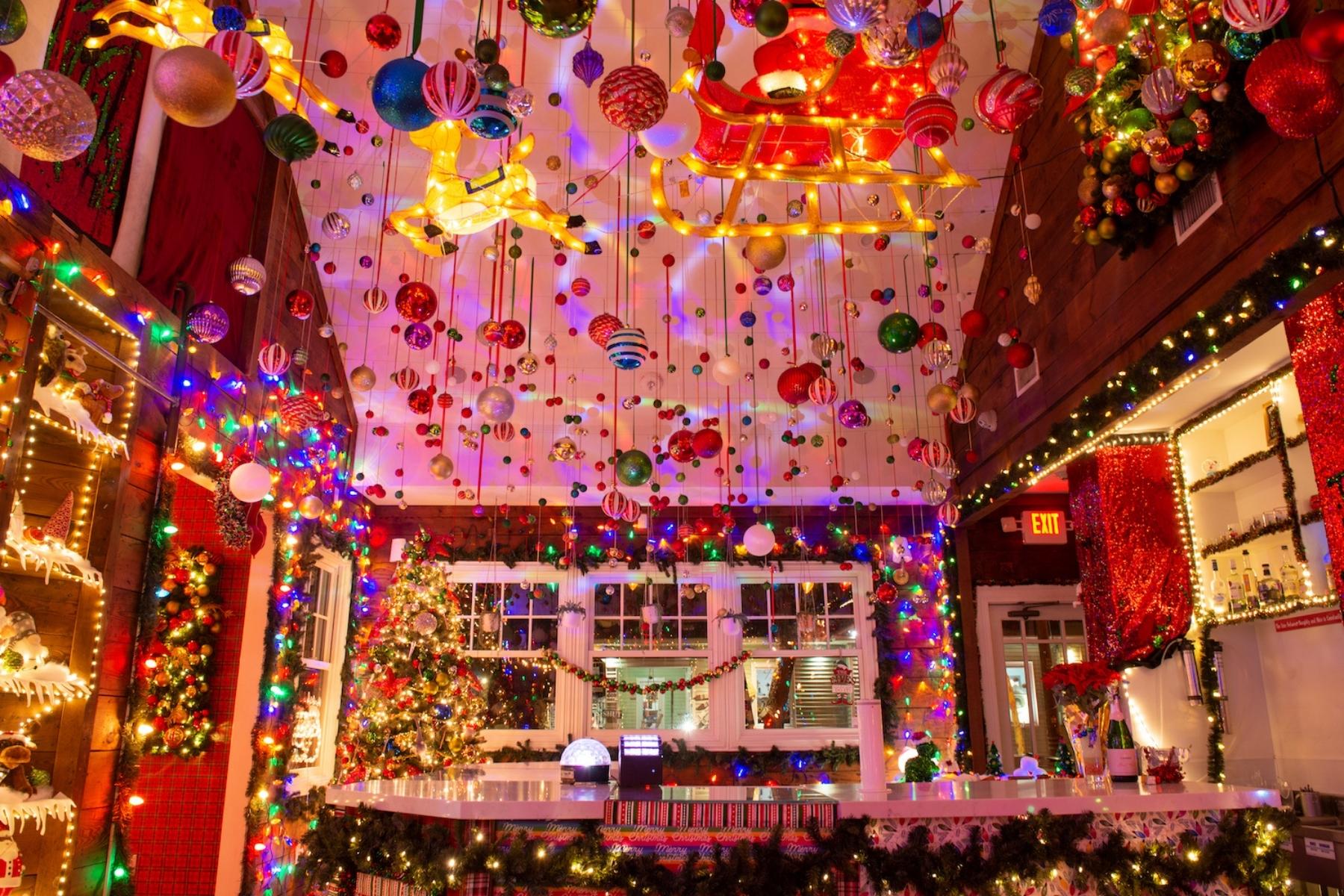 Bars
Need a cocktail or two to get you in the holiday spirit? Try this list of seasonal drinks you can find at Dallas restaurants to get you started. If that isn't enough, dive head-first into a holiday extravaganza with these holiday pop-up bars. Surely, they'll do the trick.
For the third year in a row, The Tipsy Elf is back with holiday-themed libations and loud Christmas decor for the season. The drinks are spicy, festive, and are sure to kickstart that holiday spirit (at least through December 23). Keep an eye out for the mischievous Larry the Elf. Seats are first come, first serve. 308 N. Bishop Ave.
Royal 38 in Victory Park has transformed into Who-ville for Miracle at Royal 38, Dallas' longest-running holiday pop-up bar. Reservations aren't required this year, so stick around for the naughty or nice shots, or the Snowball Old Fashioned—rye, gingerbread, bitters, and orange essence—through December 24. 2301 N. Akard St. Ste. 210.
Sippin' Santa, Miracle at Royal 38's sister pop-up, is the hip, tropical Christmas pop-up located at HIDE in the bar's new Lowest Greenville location. Here you'll find Santa in Hawaiian shirts, patrons decked out in leis, and cocktails to match. The Rudolph's Rum Rhapsody has Jamaican and Puerto Rican rums and a mix of lime, orange, pineapple, passion fruit, ginger, and bitters—best part is that it's big enough for two. 1928 Greenville Ave.
The Henry's rooftop bar is decked out in lights and Christmas wonderment for St. Henry's Winter Wonderland. Try out glasses of bubbly and specialty cocktails like Spiced Pear Cosmopolitan or the Fig & Ginger Mule with some of their bites (braised short rib, anyone?). 2301 N. Akard St. Reservations are recommended for groups of six or more, and there's a $6 cover charge per person.
Leela's Wine Bar locations in Trophy Club and Lower Greenville shut down for a few days before Thanksgiving to put up decorations for its Disco Wonderland, a holiday pop-up that will run through the end of the year. Lower Greenville has new cocktails (none at Trophy Club, but there's still the decor to marvel at), like the Sweater Weather, a warm mulled wine cocktail, and the Jingle Bell, a virgin cocktail with cranberry, pomegranate, lime, organe blossom, and topo chico. 1914 Greenville Ave.; 2980 TX-114 Frontage Rd., Trophy Club. Reservations recommended at Trophy Club but not at Lower Greenville.
Movies
AMC NorthPark 15 will screen The Polar Express on December 18 and Avatar: The Way of Water on December 20 for Movies with a Mission at NorthPark to raise money for pediatric behavioral health services Children's Health. Tickets are $25 for adults and $15 for kids 12 and under. Learn more.
Alamo Drafthouse will have screenings of several holiday movies throughout the month:
White Christmas
National Lampoon's Christmas Vacation
Love Actually
The Polar Express
Elf
A Christmas Story
Klyde Warren Park will host a screening of The Santa Clause December 10 from 4 p.m. for parkgoers. 2012 Woodall Rodgers Fwy.
Charity Events
The SPCA of North Texas is hosting the 32nd annual Home for the Holidays pet adoption event for the shelter's adoptable furry friends. The event will be held at NorthPark Center every day from noon to 6 p.m. through December 23. 8687 N. Central Expy.
Head to Camp Gingerbread at NorthPark Center on December 10 to decorate gingerbread cookies or buy a gingerbread cookie kit to benefit Shared Housing Center, a nonprofit that helps provide affordable housing. 8687 N. Central Expy. Located on level one between Macy's and Dillard's between 10 a.m. to 4 p.m.
Take home a new best friend this holiday season by adopting one through Operation Kindness pet adoptions at Galleria Dallas. Adoptable pets will be available 10 a.m. to 6 p.m. Thursday through Saturday and 11 a.m. to 6 p.m. Sundays until December 24. View the pets on the first floor of the mall by Banana Republic. 13350 Dallas Pkwy.
Olympian Mirai Nagasu will take to the ice rink at Galleria Dallas for the Grand Holiday Ice Show benefitting Broadway Dallas' Give A Kid A Seat fundraising campaign, which helps provide Broadway tickets to underserved students. Pods are $150 each and can hold up to six people. 13350 Dallas Pkwy. Dec. 11 at 9 a.m. Purchase tickets here.
Get the FrontRow Newsletter
Get a front row seat to the best shows, arts, and things to do across North Texas. Never miss a beat.