It was the best of times. It was the worst of times. It was the times when we argued about Cuties and made fake tears on national TV.
I really, really cannot believe that I watched an entire season of Love Is Blind.
For anyone who hasn't heard of the Netflix dating show: 15 men and 15 women meet each other without actually seeing each other, talking through the walls in special pods. The only way to see the person you are talking to is to make a connection and propose. Then you get a face-to-face. The couples that make it that far are whisked off to a group couples vacation. Later they live together and meet their prospective mate's family and friends. In the end, they decide if they're going to go through with the wedding or if they'd rather, I dunno, eat a mandarin orange or two in peace and never look at that guy's face again.
As I confessed before this season started, I rarely get control of the remote in our house. But I squeezed in viewings on my laptop between city council meetings and writing about the election. I talked about it with fans, who had a lot of feelings about this show.
"So now everyone knows how our dating pool is in Dallas," one fan said, prompting another to say, "I mean damn, coulda made us look a little okay."
Shortly after I wrote about the new season starting, a reader reached out via e-mail to introduce me to a contestant you didn't see as the series unfolded—Anthony LaScalea. A few days later, a publicist for Jennifer Allen, an officiant and owner of the Dallas-based company Just Elope, reached out to tell me that her client had performed one of the ceremonies.
Suddenly, I had a little bit of embargoed information that I had to wait to share. But full warning, anything after this is indeed going to spoil it for you if you're one of these people who hasn't seen the season yet and can't stand knowing what happens.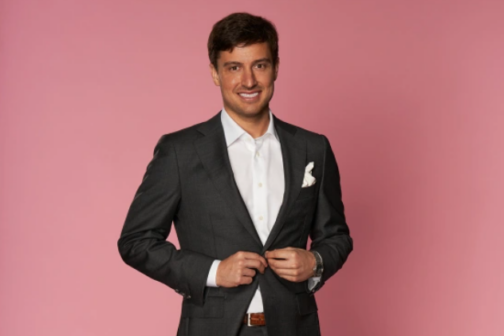 LaScalea was in all the promotional materials and the sizzle reel, but he didn't make the actual season. First, he told me he was feeling anxious about the whole thing because his boss didn't like the idea that one of his attorneys needed to take off several weeks to film a dating show.
Still, he signed the contract and immediately didn't feel great about it.
"I signed it, and then I sent it back at five o'clock on a Friday, and I immediately like drove home and like was like crying to myself, 'Why did you do that?'" he said. "I think the hardest part for me was my work, because other people had more flexibility, but I had this job with constant deadlines. I was working extra on all my cases before the show began filming so I would have nothing on the calendar."
It was immediately clear after he arrived on set that work still needed him. Despite making a connection with another contestant while in the pods, he ended up doing something fairly dramatic—he left the show entirely.
"I was there for two weeks, and I was going to propose, but I got a little tipsy before, and was upset and in my head, and went in there (to the pod), and I think the girl could sense that I was upset," he said. "And we kind of had a little bit of a fight, I ended up telling her, 'If it's meant to be, I'll see you in Dallas.' She started crying, and I just beelined it to the parking lot and left all my stuff. The producers were following, and I told them the same thing—if it was meant to be, I'd see her in Dallas."
He did see her in Dallas—but she is now married to another contestant, and he's happy for them.
"I felt the pressure—I didn't want to put my work through this, and my career was doing so great, and still is," he said. "I just didn't want to ruin my whole life and career over a girl I had just met. The only reason I had trouble opening up was because of work. If I had it to do over again, I think I could do better. I think I could thrive."
While LaScalea says he didn't find love on the show, he doesn't regret doing it. He said the guys on the show formed a tight-knit group that still gets together regularly.
And he's also dipped his toes back into the dating pool, too. For a time, he dated Lauren Chamberlin from Season 1 (she, too, didn't make it past the pod portion of the show), he said.
"I was on my way to Florida to meet my family for the Fourth of July, and she lives in Atlanta," he said. "I had to make a connecting flight in Atlanta, and ended up missing it and had to stay for like five or six hours, so we went to dinner, hung out, and hit it off."
Chamberlin visited him in Dallas, went to an Auburn football game with him, and he visited her as well, but eventually, they ended it, he said.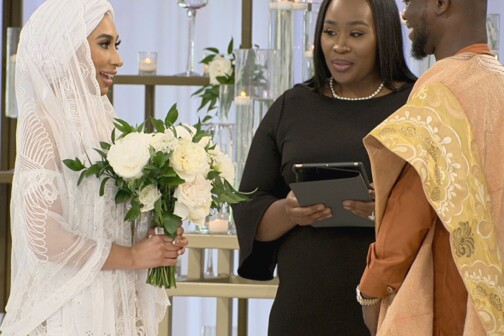 For Allen, her one-day appearance on the show was hectic—she had a newborn at home and had taken a bit of maternity leave. But she told me she was the one who initially reached out to the show's production company about officiating one of the weddings. 
"Kinetic Content, the casting agency, posted on their Instagram that they were looking for couples because they were doing Love Is Blind in Dallas," she said. "I'm happily married and I'm not trying to be a contestant, but I know for a fact that means they're going to need somebody to marry them. Mind you, I am seven months pregnant at this point, I had no idea what the timeline was or anything. I'm just like, 'Look, I'm just gonna put it out there.'"
By June, she had an email asking her to come the next day for filming.
"I immediately like went into panic mode because I was basically on maternity leave," she said, laughing. "It was Sunday, and everything in the world closes at six. It was total crazy town to get me together and presentable."
After one round of trying to use a breast pump in a dress in her car, Allen battled through the rest of the day and the wedding.
She couldn't tell me who she married at the time (we now know that it was the ceremony for Sikiru "SK" Alagbada and Raven Ross), but she did say she knows she was at a very real wedding.
"I don't know any of the circumstances that led up to them choosing each other," she said. "I'll be honest—I always thought that these reality TV shows were staged. No, this was a true wedding and it was beautiful."
If you've seen the last episodes of this season, you may have astutely noticed that Allen didn't say she married anyone—she said it was a beautiful wedding. As last week's wedding episodes revealed, SK and Raven didn't actually get married but instead opted to date and get to know each other a little better.
In the end, two couples did get married: Alexa Alfia and Brennon Lemieux and Colleen Reed and Matt Bolton.
Allen's business also offers premarital counseling, so I had to ask her before we got off the phone: What kind of advice to you give the couples who went through such a compressed timeline to marriage? How do you make that work?
"The biggest advice is definitely giving each other grace on the things that they find out about each other. A lot of the time, people are not purposely withholding stuff from you—it's just that you haven't been together long enough for that to become a topic," she said. "Because everything is so compressed and happening so fast, it's impossible for somebody to just spill the beans all at one time. Be mindful that it's going to take a lot more grace, and that you've committed to marry this person and get to know them, all at the same time."
Get the FrontRow Newsletter
Get a front row seat to the best shows, arts, and things to do across North Texas. Never miss a beat.
Author
Bethany Erickson is the senior digital editor for D Magazine. She's written about real estate, education policy, the stock market, and crime throughout her career, and sometimes all at the same time. She hates lima beans and 5 a.m. and takes SAT practice tests for fun.