I fell in love with haunted houses after first visiting the legendary Reindeer Manor in the woods of Red Oak a few years ago. Ever since, I've explored the lively haunted house scene in the Dallas-Fort Worth area and made trips to other cities to see how we stack up. The good news: if you're thinking of hitting some haunted houses this year, you're in the right place.
Before I get to the haunts: keep in mind that haunted houses are dynamic attractions, and they change each year. New attractions pop up every season and some pack up and move. Sometimes the scares will be literally above you and sometimes below. Sometimes they'll hit you with snakes, sometimes with cockroaches. (Relax. They're not real and it's all part of the show.)
But we have a pretty good idea of the quality you can expect this season. Let's get into the best haunted houses North Texas has to offer.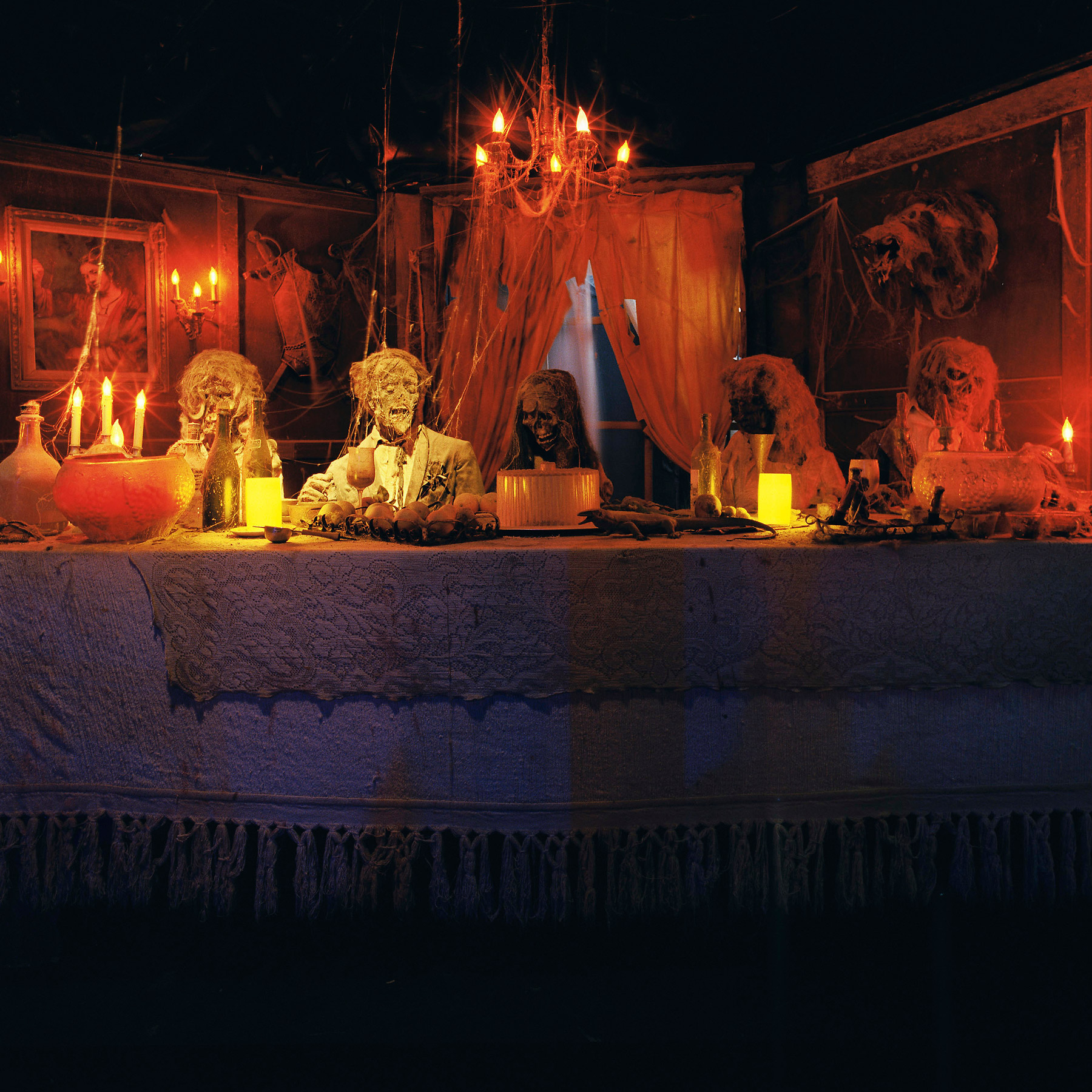 This one is sure to spook you. Cutting Edge frequently tops national lists of the best haunted houses in the nation, and this is usually the largest haunt in America. Sometimes Detroit's Erebus will add another foot or two to its attraction to beat it on a technicality, but that doesn't matter. it's great to have a top ghoul within driving distance.
This is single haunt packed with sets. You'll be walking through a creepy closet one moment and dealing with huge monsters the next. There is usually a live music intermission played by zombies or some other creepy creatures. When you think you're done, when you think you've been let out after having walked to the depths of the old meat packing plant, there's still more.
What: A 100-year-old former meat packing plant, mostly indoors, that will give you the creeps.
Where: 1701 E. Lancaster Ave., Fort Worth
When: Season runs September 30 to October 31, and this year they've added a November 7 show. Open Fridays and Saturdays, with some additional Thursdays and Sundays and, of course, Halloween Monday. (Post-Halloween shows are usually dark shows with fewer scares).
Parking: You must pay for parking, but there's free parking on the street, too.
Tickets: Standard tickets run about $55.00 and a speed pass is $65.00. You must buy the tickets online, and they are timed. Still, get there early and expect a line, even with the speed pass.
Other entertainment: There's nothing else to do in this haunt other than the attraction, no food, or places to hang out; so if this is a date, plan on doing something more.
Head north to Plano for the new kid in the block. Dark Hours is the youngest of all our haunts. Yet, since the day it opened, it's made an argument for being the best. This is our most professional haunt yet. The sets are movie quality and so are the sound and lighting. Dark Hour used to run year-round with events for Christmas like Wreck the Halls (Krampus running amok), then Leprechauns for March, and Werewolves during summer. This season, the Witches run Dark Hour and you'll know the moment you step in. There's a concert while you wait in line.
Dark Hour usually runs two attractions. The second attraction is hit and miss, so save your money.
What: It is set in a building resembling a warehouse, but don't let that mislead you. Once you step in, you will be in the Witches Coven. The line will be long but the haunt won't take more than 30 minutes to walk through. Expect to be there for at least two hours. The haunt itself is indoors but the line is outdoors.
Where: 701 Taylor Dr., Plano
When: This is the only haunt that open mid-September this year. The screams come on all Fridays and Saturdays, lots of Thursdays and Sundays, and Halloween Monday.
Parking is free and easy.
Tickets: General admission runs around $46, and the fast pass is $66.
Other Entertainment: there is no food or any place to hang out here after the attraction. Love and War in Texas, a sit-down restaurant with decent food and atmosphere, is in the same parking lot as the haunt.
One of the oldest haunted houses in the nation and probably the oldest in Texas, Reindeer Manor has been running for 49 years. This is its last year in this location, so if you visit just one haunted house this season, head to this one.
The experience starts the moment you drive in. This haunt is out in the woods of Red Oak, and the dirt road is creepy on its own. Reindeer Manor usually runs three attractions, sometimes four. You'll see the Manor itself, the Dungeon, and the Morgue. This year it will also be running The Bunker.
The best attractions are the Manor and the Morgue. The Manor itself is over 100 years old. The Morgue is set in an old barn, and you will see horror scenes that will stick with you after you leave. They are on opposite sides of the grounds, so if you see either one without a line, do not wait to jump in. Plan to spend about four hours here to get the full experience. There is fair food like nachos, hot dogs, and turkey legs.
What: A house and a barn dating back to the early 1900s. Mostly outdoors.
Where: 401 Houston School Road, Red Oak
When: The haunt is open through Halloween from 8 p.m. to midnight on Fridays, and Saturdays. Plan on being there at 8 p.m. to get all the bang for your buck.
Parking: Free and spooky.
Tickets: $40 for the standard and $60 for the fast pass. If you go early in the month, you won't need the fast pass, but if you go on Halloween weekend you probably want to spring the extra $20 to see all the attractions.
Other Entertainment: There is sometimes music on the grounds, and they'll occasionally have movies playing on a pop-up screen. There'll be creepy monsters walking around while you wait. There is food and park bench tables to sit and take a break. The food and soft drinks are reasonably priced. This a perfect date night haunt.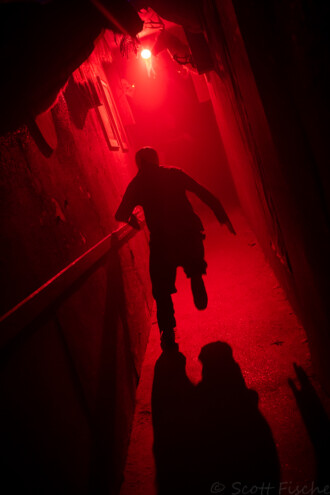 The Scarborough Renaissance Festival grounds in Waxahachie are converted into Screams Halloween Theme Park every October. If you've been to the Renaissance Festival, then you know how huge the grounds are. This is a made-up village filled with shops, stages, rides, and other structures in the "renaissance" style. While Cutting Edge is considered the longest Haunted House in the region, it is a single haunt. Screams has five. (The themes include Zombies, Time's Up, Bayou, the Castle, and the Klownz.) Food, drinks, and beer are for sale. There will be shops open, stage shows, and activities like ax throwing.
The haunts themselves vary in quality. I think the best is the Castle. The Klownz has a maze you will surely be lost in for a while. The lines will be long, so I recommend the fast pass if you want to hit all the haunts. Don't feel bad if you don't, though. Screams is more about the whole experience: the roasted corn, the beer, and the kids freaking out over the sneaky monsters ambulating about.
What: Scarborough Renaissance Festival grounds goes haunted.
Where: 2511 FM 66, Waxahachie
When: Fridays and Saturdays through October 29. This haunt is not open on Halloween. They are usually open 7 p.m. to 1 a.m., so arrive early and hit the Castle first.
Parking is free and easy.
Tickets run $42 for Fridays, and $52 for Saturday. There is a fast pass option for an additional $20 on Fridays and $30 Saturday. If you intend to go Halloween weekend, then get the fast pass; the lines will be insane. At $92 with fast pass for a Saturday entry, this is the most expensive haunt in the region. But it is also the largest haunt grounds we have. Expect to pay more once inside for food and drinks.
Other entertainment: Plenty, since you'll be there from open to close.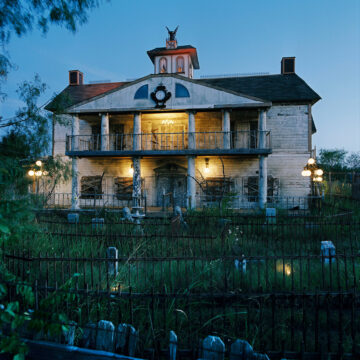 Thrillvania ruled the best haunted house lists for many years. It is set in the middle of the creepy woods in Terrell. The moment you leave the freeway you can sense you're approaching the sphere of evil in Verdun Manor, the main attraction. This one is a park-style haunted house with three main attractions: the Verdun Manor, the House of Clowns, and the Trail of Torment.
Years and years of scares have packed the Manor with details that its competition often lacks. You will start with the clowns, then the Manor, and close with the Trail of Torment. The Clowns is the weaker feature, but it is fun to start with. The Manor may not have as many scares as you'd expect but take your time looking around. The Trail of Torment will creep you out. Try not to run as it ends; you'll be unceremoniously spit out into the parking lot.
What: A spooky manor and over 50 acres of rural grounds. You'll be there for at least three hours.
Where: 2330 Co. Rd. 138, Terrell
Parking and Tickets: Parking is $10, and you have no other options. Bring cash. Tickets are $50. Lines are long but move fast. You'll probably spend the whole evening here, so no need to get the speed pass. If you will be doing both Thrillvania and Cutting Edge in Fort Worth, consider getting the combo ticket. These two haunts are owned by the same group. Tickets are timed and must be purchased online at the link above. Once you arrive, you must follow the instructions to gain access. It is not as simple as showing up and walking in. (These two haunts are about at least an hour drive away from each other. Considering wait times, I would plan on doing them on separate evenings.)
When: October 8 through Halloween night.
Other entertainment: This haunt has fair food and places to eat it. There are also plenty of monsters walking around. Expect music, and sometimes a concert. No need to go anywhere else for food, but Buc-ee's is a 10-minute drive away.
This Bedford haunt runs three distinct attractions. The Moxley Manor, the 3D experience Big Top Terror, and Regan's Revenge. You need only one ticket for all three. Try your best to go as early as possible and go through by yourself and friends, away from larger groups. You'll get all the scares that way. When you hear the chainsaw, you better run. You'll finish with the Manor itself, and you'll be surprised how creepy the sets will get, this haunt has stepped up its game!
What: It's a fairly short attraction; you probably won't be there more than a couple hours.
Where: 510 Harwood Rd., Bedford
When: Weekends on September 30 through Halloween.
Parking is free and easy. One ticket for all three attractions will start around $30. You probably won't need the fast pass unless you're there Halloween weekend.
Other entertainment: There's a space for photos and a truck with some fair food. (But no place to eat it.) You may want to plan to go for dinner or something else after.
If you've ever driven by an old creepy building and thought, "I bet there are ghosts in there," that's the vibe Hangman's is going for. It's housed in a 100-year-old military installation, and it looks it. It usually runs two haunts: The Zombies and Hangman's House. You'll see the zombies first. The military building is long, and it will take you though some horrific scenes. You'll think about them after you leave.
What: A century-old decommissioned military building. Two haunts, so expect to be there for about three hours.
Where: 4400 Blue Mound Rd., Fort Worth
Parking is $10 and easy. Tickets run about $39 for general and $49 for fast pass. I wouldn't spring for the fast pass unless on Halloween weekend. A timed ticket is $64, but in my opinion, the timed option is not worth it, so stick to the regular passes.
Other entertainment: there are a few tables where you can sit and eat some nachos, and some other food items. There's also music playing in the background.
Probably the smallest haunt in the list, but it's also the least expensive. It's a creepy little house in some equally creepy woods tucked into Midlothian. It does its job well. The monster will creep you out even before you enter. You won't get a better show for $20.
What: Creepy house in the woods.
Where: 2411 Plainview Rd., Midlothian
Parking is free and easy. Tickets will run you $20.
Other entertainment: There is nothing else going on at Creekside Manor. You'll be out of there in no time.
RIP to the Tayman Graveyard
Tayman's permanently closed this year, but it's still worth a mention. For at least the last decade this haunted house delivered a unique experience. Out in the middle of nowhere in Midlothian, $25 got you access to a haunt that scared the bejesus out of you. (A donation of a can of food dropped the price to $10.) Zombies came at you the second you exited your car. This was the only "touch haunt" in the DFW area. A zombie once bit me here—you read that right—right in the middle of a wooden mine as lamps glowed orange. The mortuary made you crawl through a furnace. Creepy kids would emerge out of the smoke walking on all fours and backwards. It was the stuff of nightmares—which is the only place we'll be able to revisit the experience.
---
Rolando De La Garza is a Dallas attorney and haunted house fanatic.
Get the FrontRow Newsletter
Get a front row seat to the best shows, arts, and things to do across North Texas. Never miss a beat.