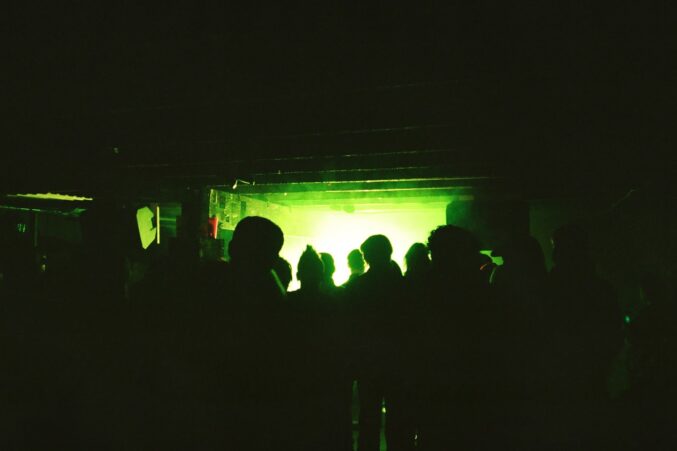 A Love Letter to J&J's, One of North Texas' Most Important DIY Spaces
For 20 years, the Old Dirty Basement below J&J's has offered a space to bands of all ages and genres. But it's been priced out of its downtown Denton home.
Creaky floorboards. A slice of pizza that's really two slices. The Madonna of Schlitz. Standing out front waiting for another band to play—or missing the next band to stay outside and chit-chat. Many colors exist within the kaleidoscope of J&J's Pizza On The Square. Soon, none will.
In Denton, J&J's stands alongside Recycled Books, the Downtown Mini Mall (well, the one that's left), McBride's Music & Pawn, and Beth Marie's Old Fashioned Ice Cream as a stable pillar of the quickly changing Downtown Square. Alas, change soldiers onward. On June 30, J&J's announced it was closing permanently on August 10 due to an unexpected increase in rent.
In coming weeks, Denton will lose not only an extensive Italian menu (with vegan options!) but also a figure central to the (oft-marketed) identity of the city itself: The Old Dirty Basement, my favorite place in town.
J&J's Pizza originally opened 24 years ago on Dallas Drive, a cut-through into town off Interstate 35 that is most notable for small shopping centers and body shops. But its longtime home at 118 W. Oak St. is a perpetual icon. Prior to J&J's occupying the address, this was a Mr. Gatti's Pizza. Despite being a chain, the Denton location hosted live music in the unfinished basement. The fire marshal put a stop to that in 1998. There is something to be said about the tenacity of local musicians, the cosmic allure of an empty space, and the cyclical nature of venue closures.
When Mr. Gatti's abruptly closed, J&J's owners Jaime Ham and Joe Vulpitta saw a golden opportunity. They moved their business to the Square in 2001.
According to a 2017 article in the Dentonite blog, Ham got his friends to help and spent a whole year bringing the neglected basement up to city code in order to host shows once again. (At press time, Ham wasn't quite ready to talk to D Magazine about the impending closure.)
The beginnings of the Old Dirty Basement were earnestly inauspicious. "It took a really long time for there to even be a regular PA there to use," says Al Rios, a local musician and a longtime volunteer at Fort Worth's legendary 1919 Hemphill DIY space. "You had to bring your own."
Eventually, a modest Peavey PA System would move in. Its two speakers would perpetually blow. I worked next door at McBride's; we sold J&J's our entire back stock of replacement Peavey parts over the years. Booking shows there was an equally unassuming affair. Denton recording engineer Michael Briggs, who previously organized events along with Brent Frishman under the moniker Gutterth, remembers it being rather difficult.
"They would only do it in person and would not help you over the phone. Brent was always the one who went down there in person to secure a date," he said.
DIY is a fairly fickle concept to pin down, but there are many aspects of the Old Dirty Basement that make it a near-ideal DIY venue. Existing beneath a busy restaurant meant the "show part of J&J's was never their business model and it was basically up to the bookers and the bands what all happened there," according to Rios, who is a person intimately familiar with the monthly stress of relying on door money to keep the lights on.
The commercial location also avoids many of the complications surrounding Denton's transitory house venue circuit: namely, noise complaints. Shows are largely donation-based, a cost enforced to varying degrees of seriousness. The friendly nature of a local pizza place meant all were welcome to venture down into the Basement. They allowed all sorts of flyers to be posted in their front window, openly advertising various events to the errant Square-goer. (They'd even offer you tape.)
Gerardo Reyes has managed booking for J&J's since 2017. He sees the Basement as a "right of passage venue." Its booking was largely a first-come, first-served basis.
"I wanted to make sure new bands or [..] underaged bands in town always had a place to play," he said.
These traits established J&J's as a foundry for music in Denton, a fact not lost on Reyes.
"I get real sentimental walking the back walls and reading all the graffiti from bands that are no longer around or grew to be some of the biggest bands in the world. I mean, geez, Snarky Puppy used to play down there all the time and now you have to go get tickets to see them at amphitheaters and concert halls around the world," he said.
It's a special place few forget.
This non-discerning booking policy also made J&J's a destination for countless touring acts and wild shows. Touring bands could rest assured that even if nobody shows up, they'd at least get the traditional meal: a slice and a Schlitz. J&J's served up a first impression of Denton to groups from around the world, whether it's punk from Australia, dungeon synth from Nebraska, or math rock from Japan. Bands on the verge of popularity, acts from perpetually obscure genres, infinitely creative events organized by Spiderweb Salon—all were welcome to set up on the floor.
Oh yeah, there's no stage.
As Rios put it, "I think if you only play on the floor with no stage, it's a DIY venue automatically. If you have a stage built into your restaurant, it means that you are trying to manufacture some kind of authenticity that a place like J&J's just has naturally."
Want to decorate the whole place with Christmas lights? Spin a web across the whole room? Play standing on a table upstairs? J&J's says sure. (Okay, probably only Denton's Fishboy could get away with that last one.)
All they really ask for is mutual respect. Will Mecca, a local photographer who regularly booked punk and metal shows in the Basement, remembers it like this: "they didn't mind what mayhem went on downstairs. they didn't ask for a cut of the door, they just asked that you made sure people buy food or drink, keep the amps and fog machines to a dull roar, and have it done by midnight."
As a result, the closure announcement rippled through a wide swath of communities. People from varied walks of life all share this common bond. There's also a special twist to this recent communal heartbreak: we already lost the Old Dirty Basement back in 2016. Thankfully, that proved to be only temporary.
The late 2017 reopening of the ODB shined a hopeful light for many souls battered by a rough sea of venue closures throughout the DFW area. The renovations performed in the interim transformed the location into more of a New Pretty Clean Basement (though the ODB moniker still remained).
A new, properly functioning PA system made the space more accessible for genres that rely heavily on sound reinforcement, opening up the floor to an even wider audience. Improving live sound was a priority for Reyes, who took on an increased role in the Basement post-renovation.
"It used to be that the delivery driver would turn on the [PA] system and kind of let the show run itself," Reyes said. "I wanted to be seen and respected as a venue that would at least try their hardest to give you a good show."
The added space made crowded shows more comfortable and easier for the bands to load in. (Far better than the narrow hallway of yore). In a sign the owners truly understood the significance of such a place, the heavily graffitied walls of the old narrow hallway were preserved and mounted throughout the backstage area, allowing old memories to mix with new.
Even the Madonna of Schlitz (a favorite detail of many, painted directly on the back wall) found new life, gaining a frame and a more central position. J&J's wasted no time re-entering the fold, and crowds returned to wander downstairs in droves. Shows there found a renewed sense of importance after a community regained what was once lost. Even those who weren't particularly sold on the renovation recognized this. Michael Briggs, ever the discerning ear, stated he "never really liked the changes they made personally, especially with the new PA they installed, but was definitely glad to have it back."Sadly, the halting of live music across the country due to the COVID-19 pandemic placed a quick stop to this renaissance era of the ODB. J&J's continued through 2020 with a now-hushed Basement, managing to keep the doors open unlike many other restaurants in the DFW area.
As some small light of normalcy began to shine in mid-2021, the Old Dirty Basement announced on June 8 that it would begin booking once again, heralding a third triumphant return. While spending the last 15 nervous months working in the adjacent basement, I had chosen the return of the ODB as my watermark for once again attending a Live Music Event.
The news that broke 22 days later caught everyone, myself included, entirely off-guard. Yet, it was not entirely surprising. As Al Rios put it, "landlords and developers are always going to be responsible for the destruction of authentic artistic expression, and J&J's is the latest casualty of that.
"The fact that a Denton institution can be wiped out by a rent increase with no consideration of its importance to what makes Denton Denton is shameful and honestly embarrassing," Rios said. "It happened on Fry Street in the early 2000s and I imagine the Square as it has been is not long for this world."
As the Tomato and Karma Cafe begat 5-over-1 apartments and chain sandwich shops closer to campus, it appears the Square has also begun this unfortunately familiar transformation. It's a shame they came for the basement first.
But this is no eulogy. This is a love letter.
My personal experiences in the Old Dirty Basement—shoulder-to-shoulder sweaty crowds, shows played to only Gerardo (or nobody) behind the soundboard, panic attacks, ebullient joy, countless slices of incredibly hot pizza—are simply my contribution to the two swirling Technicolor decades J&J's has had at 118 W. Oak St. Everyone saw something different in that Basement, more than just who we saw perform, but what we will forever hold close to our heart. It was where you played your first show, where you stopped for one night on a 4-week tour, where you liked to take your parents to eat when they visited you at college.
There's still time to make one last trip to this icon of the Square, too. Stop by for a slice. Pop into one of the final shows in the Basement. Listen to the floorboard creek. Go out and make one last memory of this beautiful place, even if it's simply standing around out front, waiting for the next band to set up.