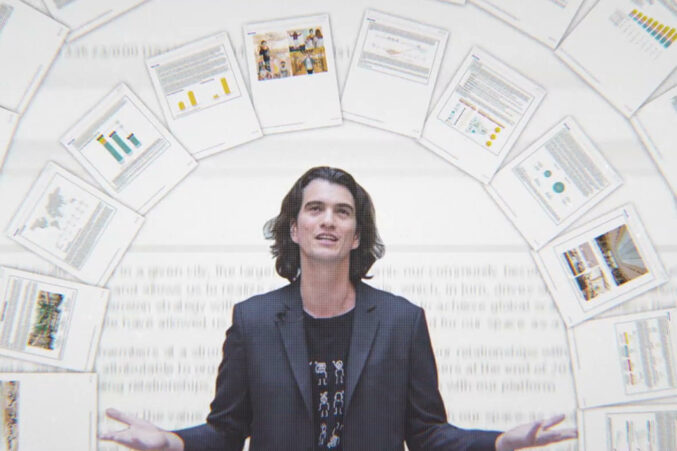 WeWork Doc Shows How the American Dream Can Become a Nightmare
The corporate cautionary tale about blind faith and due diligence, along with the power of charisma and persuasion, begins streaming this weekend.
It might seem natural to cast entrepreneur Adam Neumann as a greedy and egotistical villain. However, the creators of the documentary WeWork: Or the Making and Breaking of a $47 Billion Unicorn, didn't necessarily view their subject that way.
At its core, the WeWork saga is a corporate cautionary tale about blind faith and due diligence. Yet it's also about the power of charisma and persuasion — specifically Neumann's ability to rally everyone from working-class upstarts to deep-pocketed investors around his innovative rethinking of decades-old corporate culture.
"People want to be inspired and motivated. They want to be a part of something bigger than the whole. What Adam was saying resonated, but he lost his way," producer Ross Dinerstein said during the South by Southwest Film Festival. "He had the opportunity and he took it. That's very much the American Dream."
The film chronicles the rise and fall of the Manhattan-based company that championed communal workspaces — with free beer — for small startups, launching a progressive trend.
The Israeli native was just 30 years old when he co-founded the company in 2010. Just seven years later, it had expanded around the world and achieved the titular valuation. But as Neumann achieved celebrity status, he attracted scrutiny into his lavish spending habits, messianic tendencies, and smoke-and-mirrors strategy.
"Adam is a pretty amazing guy. There's a gusto and a hustle that's attractive. He's an immigrant who didn't come here with a trust fund and a Harvard education," said director Jed Rothstein. "In his heart, when he started, he was trying to do something worthy, and it just spiraled. He got carried away, and people are angry with him over the way things turned out. He believed his own hype and got greedy."
While many stories of financial corruption or capitalist hubris feature a white-collar criminal, Rothstein said Neumann technically played within the rules. He picked up plenty of enablers along the way and exploited a system where growth is valued over accountability.
"I saw it as a great financial mystery," Rothstein said. "It's also a story of balancing the desire for community and togetherness versus this selfish drive behind capitalism. It's a story that's serious but fun."
Dinerstein (Silicon Cowboys), a Houston native who comes from a real estate family, had always been drawn to the WeWork story. He even converted a 7,000-square-foot warehouse near Los Angeles into an office emphasizing open space and common areas.
"We've always sort of marveled at WeWork's aesthetic choices and the sense of community," Dinerstein said. "The idea is to create a community for my friends who are freelancers, just to be around the energy. I responded to a lot of the stuff they did."
Production started in June 2020 and finished earlier this year, thanks to adaptations for health protocols and travel restrictions that enabled the project to forge ahead.
During and after filming Rothstein (The China Hustle) realized the film might be perceived differently given the timeliness of the COVID-19 pandemic.
"It became clear that, even a few months into the pandemic, we were all very hungry for community. We realized how much we missed being around each other," he said. "The idea behind WeWork of bringing everyone together is something that became central to the story. That gives the film this emotional tension. Even people who were scarred by Adam's actions, they liked this idea of coming together. The dream they bought into was very real for them."