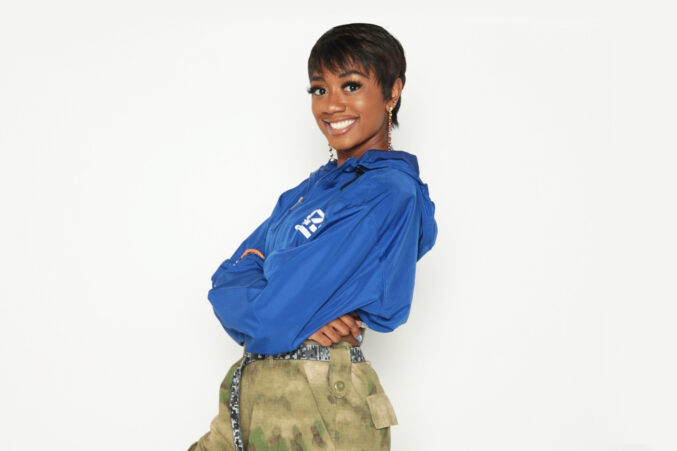 Welcome to Jazzi Black's Kickback
The on-air radio personality shares aspirations for her new show on 97.9 The Beat.
Last summer, I joined Clubhouse. The elusive, invite-only social media platform known for its audio-only feature, was a welcome refresher from hallmark social media platforms like Twitter and Instagram. Compared to its predecessors, Clubhouse stood out because you were able to hear a user's voice.
For hours, I listened to enriching conversations that ranged from music journalists sharing their stories about MFDOOM to Dame Dash speaking about the early beginnings of Roc-A-Fella Records in a Jay-Z Appreciation room. It was a continuous flow of organic information. One night in particular, I found myself in a "Dirty Dirty Dallas" room, created by young entertainment professionals in Dallas "to stay connected, build community and make sumn shake." That's where I heard the sweetness of Jazzi Black's voice.
Her animated voice is equal parts joyful and playful, ideal for her position as an on-air talent and radio personality for 97.9 The Beat, the "hottest hip-hop station" in Dallas-Fort Worth. For years, Black has perfected her charismatic and infectious voice: theater and audio tech experiences at Duncanville High School, starting her own radio show at Prairie View A&M University, producing videos for Afrobeats star Davido and the legendary Erykah Badu. It's no surprise that she recently got her own radio show at 97.9.
We spoke with the radio personality about The Kickback with Jazzi Black, her weekday show that runs from 9 a.m. to 3 p.m., and the responsibility of using radio as a philanthropic effort to support her community.
When your show was announced, there was an outpouring of support and praise on social media toward you, which led me to reach out. How was that reception for you? It's like, 'we made it.' That's the energy I received from it. I am from Dallas, and I've lived all over Dallas, which allowed me to connect with different people in a variety of ways. I think it's a collective, community win. It's like, if Jazzi won, we all made it. Now, I'm able to get in the room, and represent for my people. That's what it's about. I think people are excited to have a voice that they can trust, a voice that they know and recognize. It's not everyday that you can grow up in your city and be a voice for your city. I think that's something that all of us dreamed of when we were younger.
I definitely felt that way when I started at D Magazine. And we're young, so it hits different. Especially for millennials, we get backlash because people confuse us with Gen Z. But we're out here taking ownership, responsibility, and curating the world for the next generation. I think it's good that we take a lot of pride in owning that responsibility because if we don't do it the world is doomed.
One thing I've loved about coming back home is the warm reception from community members who see young people coming back to the city to give back. In a sense, your job is philanthropic, because you report about events in the community and establish relationships with local leaders. Going out to events, talking to people, and figuring out what people need to survive the pandemic needs attention now. I'm not worried about Khloe Kardashian's pictures on Instagram because there are bigger issues. I want to make sure people know what matters.
Are you excited about this ability to talk about Dallas through a young, Black millennial lens? I'm excited to tap in with Dallas artists. I'm learning how to get artists in the room with decision makers, figuring out how to connect artists with different music labels and support the city's independent artists.
Being able to connect with politicians, so listeners can understand the politics of Dallas—there are people who don't even know who the mayor is. Just bridging the gap between people who are over legislation in Dallas, people in boardrooms, school districts, and helping the community understand how involved they can be.
I want to be able to talk about environmentalism and make it cool. I want to help push Black people and people of color to live an eco-friendly lifestyle, because saving the planet is important to me. I want to curate new conversations and change the dialogue around hip-hop. People have this one idea about what hip-hop is. But Badu says, "hip-hop is bigger than the government," so why not use that to our advantage?
I have a desire to learn what's going on in the community. I'm all about learning and positivity, that's what I want my show to be.