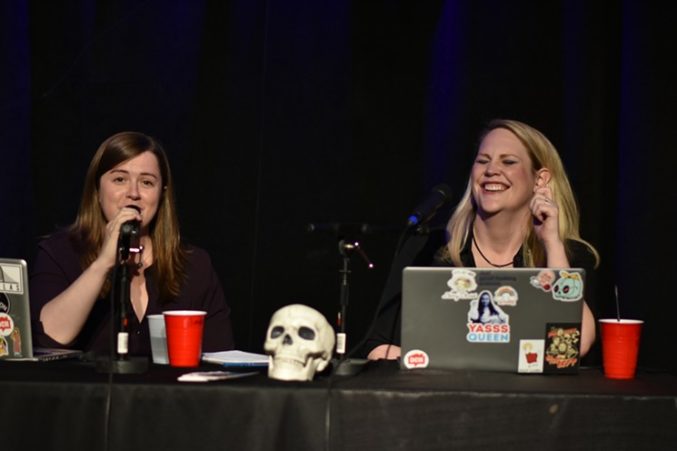 Dallas Podcast Sinisterhood Proves the Best Murder Shows Have Heart
The true crime experts talk about creepy DMs, the Royal Family, and defecating in cars.
Have you ever received a creepy DM?
Not gross, unsolicited, why-did-he-send-that creepy, but haunting, shocking, how-will-I-sleep-tonight creepy. If your answer is "yes," you might be the host of a true crime podcast, a profession which, if you're good at it, inevitably invites hordes of conspiratorial kinfolk and eager theorizers into your inbox. Even so, it's unlikely that you can beat Heather McKinney and Christie Wallace in the "Creepy DM" category.
Sure, most of the messages the Sinisterhood hosts receive are sweet notes from fans or recommendations for future episodes. But a couple of truly creepy ones have slipped through: such as the photo of a murderer at Hertz.
Depicted in this particular shot was famed tight end-turned-killer Aaron Hernandez, renting the car he would later use in a murder that same night.
"That one takes the cake," McKinney says. "We sometimes get those, 'Hey, my old neighbor's mom knew so-and-so before he killed all those people,' messages, but this one was … special."
The photo was especially chilling because it was never used in court. Here, in the form of a random DM, was the stuff of true crime dreams (or, I suppose, nightmares): never-before-seen evidence tying a famous killer to their heinous misdeeds.
"For a second, it made me stop and wonder, 'Wait, someone is trusting me with this?'" Wallace says. "'How does that happen?'"
It began with a question about cults.
The year was 2018. Wallace, now 42, was teaching improv at Dallas Comedy House (DCH). While on maternity leave caring for her first child, she binged every crime documentary she could get her hands on. Netflix's The Keepers was an early fave, because it had a seemingly perfect true crime recipe: Nuns + murder + an obsessive hunt for the truth.
"I just started thinking, 'I want to solve a cold case,'" she says.
Eager to find a buddy who shared her interest in cults and murders, she took to Facebook, posting a message on a page for DCH performers. Enter McKinney, a now 34-year-old attorney who was honing her improv chops at the comedy house. She shared Wallace's love for the macabre and, as fate would have it, she had some recording gear from a prior podcast with an old friend.
"The whole bit was I am a lawyer, but I don't really know history," McKinney says. "So she was teaching me AP history, essentially." She adds, "When I saw Christie's post, I immediately responded: 'I'm down.'"
Their conversations became forays into famous killings and conspiracies, and the podcast Sinisterhood was born.
"We had no master plan," Wallace says. "We just started talking, and we hit record."
That's not to say the last three years have been easy and effortless for the podcast hosts. They each spend hours diving down digital rabbit holes to find the minuscule details and fringe theories that, when pieced together, form the basis of their recorded discussions. It also helps that they're hilarious.
"We're both improv people, so we're trained on the whole 'Yes, and…' technique," McKinney says. "There are a lot of true crime podcasts, but there aren't any true crime podcasts where both hosts are comedians and one is a lawyer."
Indeed, McKinney's keen legal mind and the duo's funny back-and-forth banter make the show a must-hear. It's probably why they've been name-dropped by Vulture and Marie Claire and signed to a deal with Cloud10 and iHeart Media, which host podcasts like Busy Philipps is Doing Her Best.
But I didn't want to just take McKinney's word for it; I wanted to hear from the people. In a brief survey of rabid Sinisterhood listeners, I confirmed what the lawyer-turned-comedian-turned-podcaster has been thinking for years.
Hannah (Age 16): "I don't think I'm necessarily allowed to listen to it, but I do. It's funny, and it's also obvious they have fun making it. It makes you want to make a podcast with your friends."
Todd (Age 31): "They give you a pretty interesting take on all of these cases they're diving into. I don't just want to hear about how this dude was messed-up; I want to hear about why he's messed-up, and what that means in our criminal justice system."
Jill (Age 26): "They treat every case with respect. It's funny, but they're not laughing at people, you know? They're funny when they need to be funny, and serious when they need to be serious."
That last one is important.
There have been several occasions where McKinney's boyfriend, Paris, has walked in on her listening to something gross and grisly and wondered aloud, "What the hell are you listening to?" The stuff these women research can be downright disturbing, and they're wary of getting in too deep.
"Sometimes we don't know until we're in too deep and we realize, 'Oh shit, this is too much for us to handle,'" Wallace says.
That happened with a recent episode on the Lululemon murders, and again when they took on the White Rock Lake machete murder. Both episodes were published, but the final result is a tactful, emotional, and nuanced analysis of these famous cases and their ramifications.
"We know when something requires a lot of sensitivity, and know when we need to take a mind break or focus on something else," McKinney says. "This show has become a refuge for us in a lot of ways, but it can't be murder 24/7."
And it's not. Inspired by The Oprah Interview, the duo are now knee-deep in weeks of research for a multi-episode dive into Princess Diana and the Royals. And yes, they can confirm for the record that the Royal Family is the worst. They've also tackled Bigfoot and the #FreeBritney movement, while some of the best episodes feature tangents on their lives, their careers, and defecating in a car (Episode 13. You just have to listen.)
When they do cover murder, Wallace and McKinney try to take an objective, balanced approach to the story. To put it like Todd, they want to know "why" just as much as they want to know "how." In doing so, both women have realized something: a show that is admittedly sinister (and the homework it requires) has actually made them better people.
"I look at things way more critically now than I ever did before," McKinney says. "It's made me a lot more understanding, and a lot kinder, too."
"We hear from fans all the time that we helped them see something in a new light," Wallace adds. "And those are my favorite DMs. Those are better than the creepy ones, by far."
Sinisterhood publishes new episodes every Wednesday. Listen wherever you find your podcasts. 
Correction: An earlier version of this story said the show publishes new episodes on Tuesday. It is Wednesday. It also included a reference to Ana Faris is Unqualified, which has been replaced with Busy Phillips' show.