As a 14-year veteran at animation juggernaut Pixar, Ian Megibben calls Soul one of the most challenging, and most satisfying, projects he's ever worked on.
The Dallas native is one of two directors of photography on the company's latest existential comedy, half of which is set in the real world, and the other half in an ethereal purgatory of sorts in which characters transition between birth, death, and the afterlife.
More specifically, Megibben is credited as the director of photography for lighting, which means he oversees efforts to bring together light and colors within the entire scope of the visual presentation.
Unlike a cinematographer on a live-action film, Megibben isn't "on set," but rather oversees a team that's part of an assembly-line process. However, many of the goals are similar.
"We're still dealing with light and shadow. We're still focusing on the composition of the frame to support the storytelling," Megibben said. "We're still, creatively and artistically, trying to achieve the same thing."
The film follows Joe (voiced by Jamie Foxx), a middle-school band teacher in Queens who'd rather be using his talents as a jazz pianist. But when he lands an audition for saxophone legend Dorothea Williams (Angela Bassett), Joe suffers an accident that knocks him unconscious.
As Joe's body is transformed into a clear blob headed toward a white light, viewers are transported to the Great Before, where his soul escapes presumably for a last-ditch second chance. But first, as explained by the caretakers of this chaotic alternate realm, he's assigned to mentor an unborn perpetual troublemaker known as 22 (Tina Fey).
He's supposed to help 22 find her "spark," but when they slip into a portal back to New York, where Joe has a club gig that night, there's a body-swapping mishap that literally becomes life-or-death for both of them.
Megibben grew up in the Lakewood neighborhood. After graduating from First Baptist Academy, he went to college at Loyola Marymount University in Los Angeles, then returned home to work at Dallas-based DNA Productions, best known for the "Jimmy Neutron" franchise and the feature The Ant Bully. When DNA shuttered, he joined Pixar in 2006.
Soul is Megibben's second feature-length Pixar project as director of photography, after the 2016 sequel Finding Dory. He led a lighting team of around 35 people but also worked across departments as a creative lead alongside director Pete Doctor (Inside Out).
Although much of his team's painstaking work won't be obvious to most viewers, the goal is to enhance the mood or visual composition throughout the film.
"Something that might take a few minutes to capture on film in live action, will usually take three to four weeks to capture in animation," Megibben said. "The fact that it's a discipline that goes largely unnoticed is totally fine with me. What's more important to me is how people react to what they're seeing."
Plano native Sean Muriithi animated background characters and scenery for the film, yet felt a deeper connection to Soul from a narrative standpoint. As a saxophonist, he was able to insert his own life experience into some of the film's music sequences.
"It's very fruitful to work on a movie when you relate so much to it, when you can easily put yourself into that world without having to be so precautionary," Muriithi said. "You just know in your bones that it's right. You vibe with it so well."
Growing up, Muriithi took a lot of art classes and wanted to be a cartoonist before developing his animation skills at UT-Dallas. After graduating in 2018, he landed an internship at Pixar and earned his first credit as a background animator on Toy Story 4.
"It's not just about what the main character is doing. You've got to check out the background," he said. "We strive for specificity in the characters that we're animating and the world we're creating. You just really have to do your research."
Muriithi, who was born in Kenya, also was part of Pixar's internal Culture Trust, which helped to safeguard the authenticity of Black culture in the film. Soul begins streaming on Dec. 25 on the Disney+ platform.
"It's my first, and probably only, film that I'll have two credits in," Muriithi said.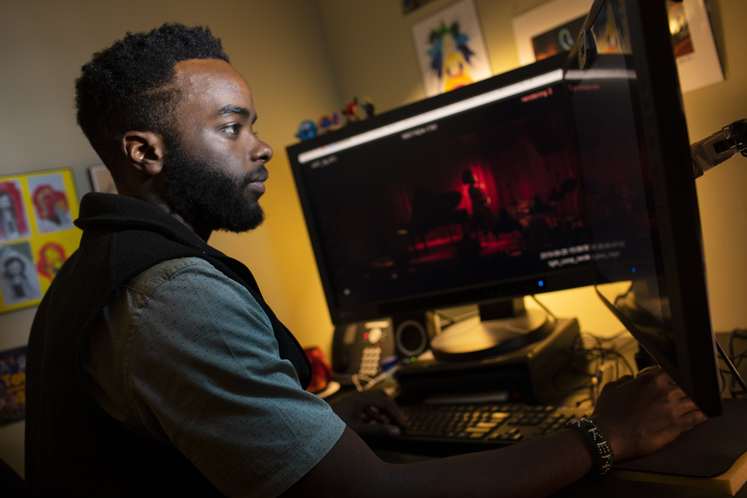 Get the FrontRow Newsletter
Get a front row seat to the best shows, arts, and things to do across North Texas. Never miss a beat.