A new exhibition at the African American Museum in Fair Park features seven contemporary artists, mostly locals, whose work considers the "myths, magic, and methods" of Black hair and its cultural significance. It's a celebration of beauty, as well as an ode to the hard work, long hours, and physical pain that Black women and men face to take care of their locks. The entire concept sprang from a line in a poem written by late, local artist Rage Almighty. Curator and artist LaShonda Cooks heard the poem spoken aloud at an event last year, and it stuck with her. 
"Basically, he said, don't forget the women who twist, who weave, the women behind the chair who are doing the hair, but also the women who sleep uncomfortably and sit in the same spot for hours to get their hair done for themselves," says Cooks. She was interested in diving into "that whole idea of these pivotal roles in the Black community, and how these people become our friends, our confidants, but also the role they have in the sacredness of that process of getting your hair done and self care."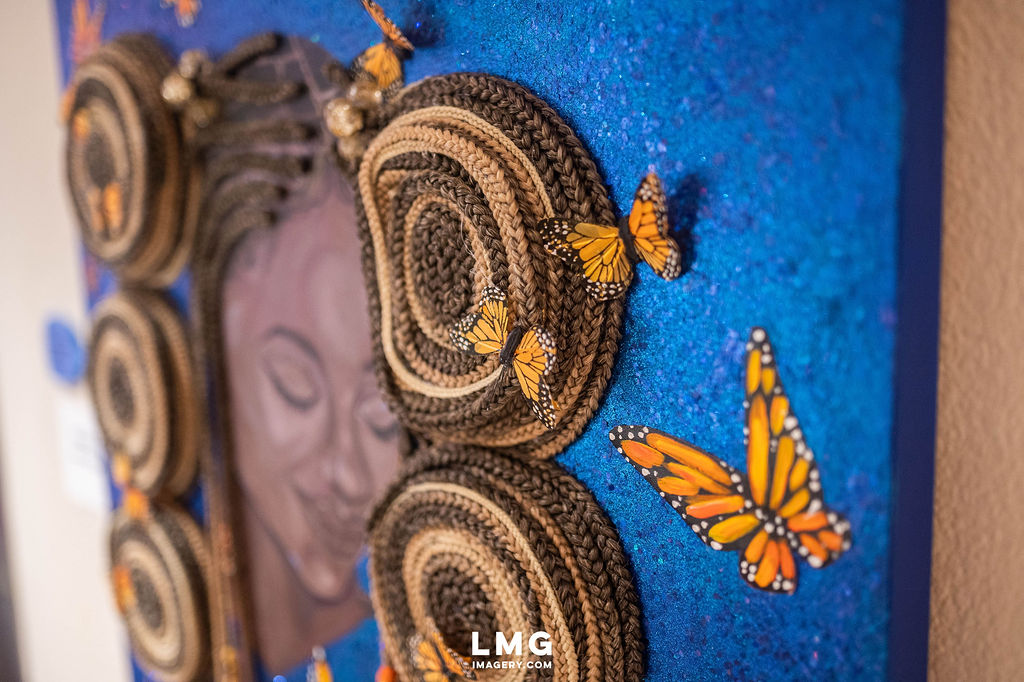 Of course, Black hair is a deeply complex subject that has been parsed in pop culture before. Mark Bradford's current show at the Modern in Fort Worth, for example, illustrates the impact that growing up in his mother's hair salon had on the artist. Local musician and artist Sam Lao sings about her crowning glory on the 2016 bop "Pineapple." Her husband, Jeremy Biggers, just completed a mural depicting Black men carefully tying each other's du-rags in West Dallas as part of Wild West Mural Fest. Many of the artists in Hair Story had already created work around the subject, which also inspired Cooks to put the show together. 
Despite all the films, books, songs, and artworks expressing the significance of Black hair, people outside of the Black community generally don't know much about it. 
Educating those people is not the main objective of Hair Story, though. 
"I think the show has two audiences. The biggest audience is people within the Black community, I think, but also people that don't know about Black hair. Like, what is it? Why is this a thing?" says Cooks. "It has two audiences, and you're going to view it in different ways. It's not one dimensional."
The exhibit takes the work of Cooks, Ciara Elle Bryant, Art-Fro Kreationz, Danielle Demetria, Feniiix Raiii, Loosemedium, and Boston-based Youveline Joseph to consider the "magic," or beauty and wonder, of Black hair; the "myths" that are taught both internally and externally and can carry negative connotations (like that straight hair is more professional or presentable); and the wide range of methods used to care for Black hair.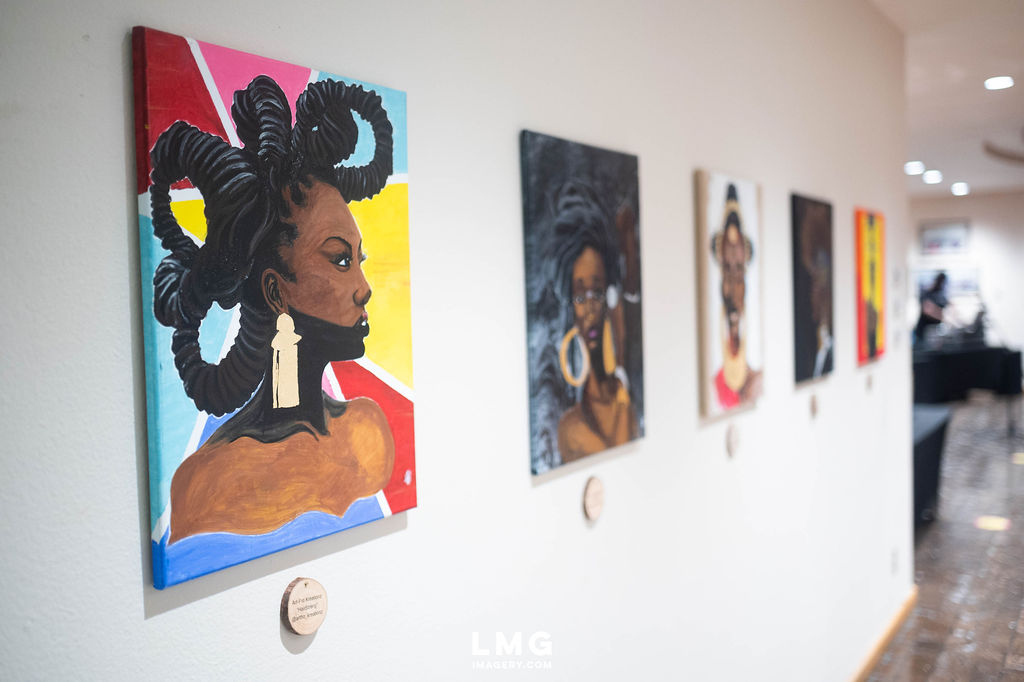 Some of the pieces have been on display in Dallas before. Bryant's work, a paper quilt woven with the artist's own hair titled "Don't Touch My Hair," is from a 2017 solo show at the South Dallas Cultural Center. Demetrius' piece was previously on display in the 500X group show, Vivrant Thang. But presented together in one place with elements of audio and spoken word poetry, the artworks find new context. 
"What I love about this space and the African American Museum is that it's really intimate. It's like a little nook and cranny, so my job was to kind of reimagine it and try to make it new, even though it's the same piece," says Cooks. 
For her own pieces in the show, Cooks is presenting a series of miniature portraits done on palm leaf plates. The artist based her paintings on photos she took of beauticians, friends, and women whose hair she liked.
"What I wanted to do was riff off of that concept from the poem, don't forget the women, so I wanted to highlight the women in my life who played these pivotal roles, starting with my grandmother, who was my first beautician," says Cooks. "Some are living, some are passed away, but I basically reached out to all my beauticians or their family members and said, hey, do you have a photo of you doing hair?"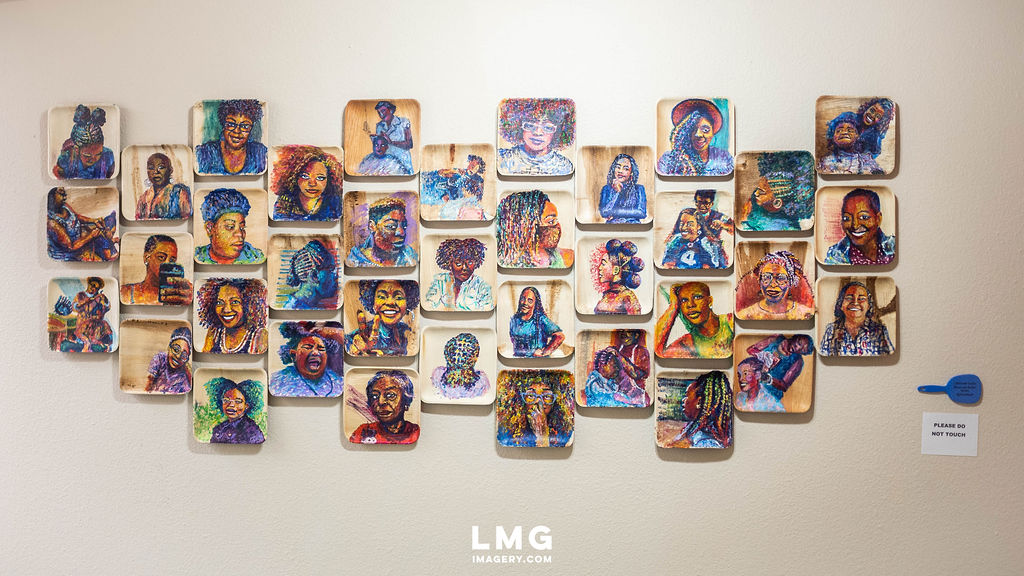 Some subjects she just spotted on the street–a woman with a beautiful afro at church, another woman with rainbow cornrows at CVS. She captured women with short hair and no hair, young women and older women. It was important that she represent the pain behind the hair, too. 
"Post-COVID, I'd be on social media and I'd see my friend showing her daughter getting her first hair straightening. It's kind of a rite of passage, almost. It's not a fun process. The little girl was crying. I think a lot of women, especially me, think, 'oh I remember that.' One of the paintings is from that picture of her going through that experience," she says. 
There are 37 mini portraits in total, all of which will be gifted to their subjects after the show ends in February. 
In addition to Cooks' paintings, you'll find paintings by Nigerian artist Art-Fro Kreationz; Feniiix Raiii's "Rep Your Hair" photo series; Loose Medium's wood paintings; and multimedia works by Youveline Joseph who, like Bryant, incorporates her own hair in the pieces. 
Hair Story is on view at the African American Museum through February. There will be a special, drive-in short film festival on Dec. 5 in collaboration with the exhibit. Find details here. 
Get the FrontRow Newsletter
Get a front row seat to the best shows, arts, and things to do across North Texas. Never miss a beat.