Beauty Bar officially closed the doors to its short-lived Deep Ellum location last week, the latest in a string of devastating closures in the Dallas music and nightlife community. While the club barely survived a year in Deep Ellum, it leaves behind a rich legacy of sleepless nights, mostly thanks to its eight-year run on Henderson Ave. Though the concept didn't quite translate across town, Beauty Bar always remained a place that anyone and everyone could show up and show out on the dance floor.
For DJs, it was a venue where they could take creative liberties, carve out their niche, and draw in an audience that really cared about music. It was the antithesis of the soulless bottle service clubs that seem to be multiplying across the city, and its absence leaves a gaping hole in the landscape. Reflecting on years of memorable and formidable experiences at the iconic spot raises the question: where does Dallas nightlife go from here?
"There's no other place in Dallas like Beauty Bar. There isn't a small dance floor that has that vibe," says DJ Blake Ward, who had a decade-long residency there. "Beauty Bar was all dance all the time. You'd have mainstream people coming, you'd have hipster dudes coming, you'd have the hip-hop crowd with DJ Sober, and it was a great mix of people. A lot of the time, Dallas is over the top. It's bottle service, no one really dances. It's really hard to get people in Dallas to actually dance–but Beauty Bar is the one place that, pretty much anything I played, people would dance."
Owner Brooke Humphries brought on Ward for a Friday night residency in 2010, a few months after he graduated from college in Oklahoma City and moved back to Dallas. His weekly—a blend of nu-disco, house, and new wave—evolved to become Saturday night's Glamorama. Ward continued it until Beauty Bar closed for the pandemic in March.
Before getting the residency, Ward wasn't sure if he wanted to continue DJing. Having that weekly party changed his life for the next 10 years, he says, giving him a chance to have a legitimate DJ career in Dallas. Most importantly, he could actually play what he wanted. 
Ward has been laying low throughout the pandemic, though he's just started taking on low-key gigs like playing at Neiman Marcus NorthPark and other small events. When it's safe to party again, he's not sure where he'll take concepts like Glamorama now that Beauty Bar is gone. 
"Losing that, you lose a major part of nightlife in the city that won't just be replaced unless somebody really, really wants to fill that hole," he says. "I hope they do because, as a DJ, that's the only kind of place I like to DJ. I don't want to play for a bunch of people taking selfies … that's not cool." 
DJ Christy Ray also took the first residency of her career at Beauty Bar before becoming a household name in Dallas.
"For DJs, that's kind of a milestone, getting your own residency, getting your own night. It was at the Henderson location, like
the
Beauty Bar, you know, that location," she says. "It was during the same time that Blake was doing Saturdays and Sober was doing Thursdays, so it was just a good time for that era of Beauty Bar."
Ray's monthly residency was open format, and she mostly played female-focused hip-hop and R&B. More than just a place to spin, the bar was the center of a thriving music community. 
"The first time I ever met Sober was at Beauty Bar, first time I met Blue, the Misfit was at Beauty Bar. The first time I met Ursa Minor was at Beauty Bar. I met a lot of other DJs, who I now respect and love as friends, there, too. Personally and professionally," she says. "[it was] just an important place for me and my development, as a DJ here in Dallas, but also just in my life." 
DJ Sober's own weekly residency at Beauty Bar, Big Bang,
quickly became as big of an attraction as the bar itself
. The hip-hop party, hosted alternately by local rappers 88 Killa and Mel of The Outfit, TX, was a guaranteed banger week after week. 
"I started it when [Beauty Bar] opened and it was my baby, because it was something I'd built up from nothing," says Sober, a.k.a. Will Rhoten. "I mean, I think everyone in this city has gone on a Thursday at least once that's in the scene. It was super special to me because I got to try new things, and I became way better of a DJ there, just doing that week in and week out."
Rhoten ended his residency when the bar moved to Deep Ellum; the atmosphere of the new space and its surrounding neighborhood just wasn't the same.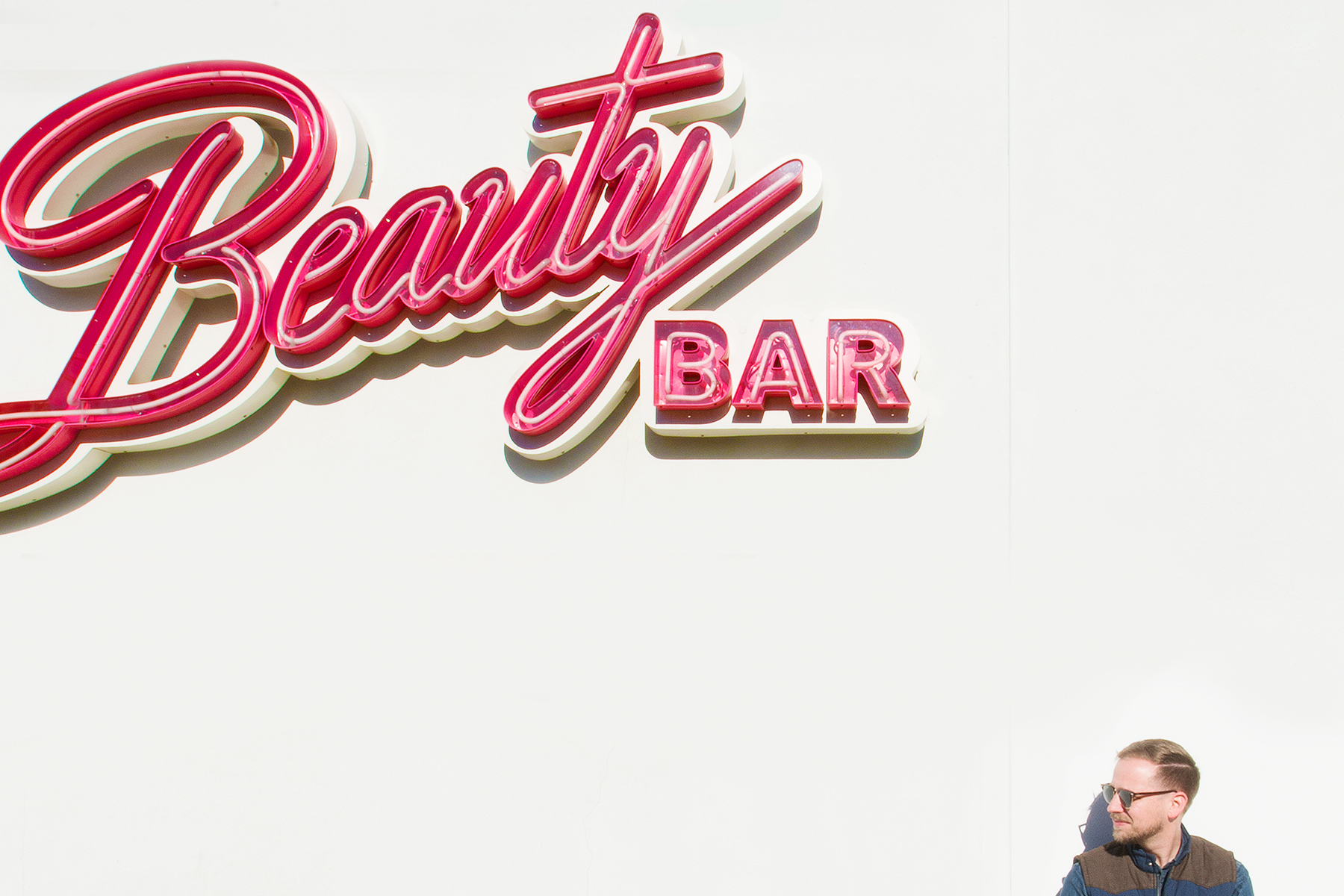 "The thing about Beauty Bar that was cool is that it was a destination … It's not like in Deep Ellum where people are bar hopping and they walk by somewhere, see it's crowded, and they go in," he says. "I like destination spots for that reason–not to exclude anyone, but you can curate the crowd a little more. People are coming here because they're coming for a DJ or the atmosphere."
Like Ward, Rhoten is worried that the death of Beauty Bar is a symbol of the current shift taking place in Dallas' nightlife scene.
"I think Dallas has a venue crisis, personally, because there are just not a lot of places like that," he says. "There are very few spots where like-minded people wanted to go and that certain groups weren't discriminated against. Beauty Bar was one of those places where anybody from any walk of life could go and everyone just coexisted." 
The club's inclusive nature made it popular among DJs who were searching for something different from the typical Dallas scene. On the most basic level, there weren't the thinly-veiled discriminatory policies that you hear about at places like
Concrete Cowboy and Kung Fu
. More than that, Beauty Bar cultivated its own community that transcended musical genres and social cliques.
"Very few places had our mix of people, which was also key in its success," says Red Eye, a house, techno, and disco DJ who held a residency throughout Beauty Bar's 10-year run. "Brooke and I came from a long history of clubbing and we know that in order to have a great room, you have to have a great mix of people. All types, all races, all sexual identities, all walks of life, all kinds of characters and oddballs. Give them a place to be free, express themselves, and cut loose. Our 'if you don't like it, leave' approach is what set us apart, as well as the music."
Red Eye says his priority there was to play music you wouldn't hear anywhere else and build a family with the underground DJ community. Without venues like Beauty Bar to open the door for up-and-coming DJs in Dallas, the city's talent pool is in desperate need for a platform. 
"It was the last venue for entry-level house and techno DJs. There really isn't any other place now," says Wanz Dover, an electro DJ and producer who was also on Beauty Bar's roster. "Tradewinds being the other spot, and Industry Alley the other spot, with all three of those gone, there's really no place for entry level house and techno people to play anymore. To say that's devastating is an understatement."
Industry Alley announced its closure in a Facebook post last month. Tradewinds Social Club, a 52-year-old bar and stomping ground for experimental artists and musicians,
closed its doors
just a few days later. Those are just the latest hits to the Dallas nightlife scene; last spring spelled the end for
Lizard Lounge
, The Blue Light, Gas Monkey Live, and many others. Nowadays, there simply aren't many places in Dallas for DJs like Wanz Dover to cut their teeth. 
"It's really hard to forge your craft if you can't actually execute it," he says. "The best thing about my monthly was the fact that I actually got to play and practice my craft. A lot of times I wasn't DJing, I would actually bring my drum machines and synthesizers to play a live set. There's just no place to do that now." 
That's not to say that Dallas nightlife isn't thriving in some areas–just look at the crowds that are returning to Bottled Blonde and Theory Uptown in the middle of a pandemic. The concern is that those cash-driven clubs will monopolize the scene and push out less mainstream local talent. Beauty Bar sold Bud heavies for $3 on Thursday nights. It felt like a place where the purpose wasn't just to drink and be seen. 
"The clubs are businesses that are struggling to stay in business. You know, hate the game, not the player. The hip hop and bottle service stuff is an easy turnaround. I don't foresee any businesses investing in the underground anytime in the near future," says Dover. 
Despite losing some of his favorite performance venues, Dover has turned over a new leaf in his career during the pandemic. He's released four albums, four EPs, and three remixes over the last seven months. He's been focusing his efforts online, where he's part of a large Dallas techno community that's better known outside of its hometown. 
"For house and techno, things were always kind of precarious here, anyway. That scene has always largely been ignored by Dallas media, but it's been adored by Europeans and other media," says Dover. "If you talk to the people at Resident Advisor, they did a whole feature on the Dallas electro scene. I remember being interviewed and they asked, 'how did electro blow up in Dallas?' I was like, it did? Most people here don't know we even exist."
He plans to reschedule his canceled European tour as soon as it's safe to travel again. In the meantime, he's been invited to play streaming festivals in Detroit, Europe, and other places. As far as hometown events, he says It'll Do is the only place he'll be playing at in the foreseeable future.
Even for the city's most seasoned DJs, the closure of Beauty Bar and similar clubs is a threat to their livelihood. Sure, there are places that will hire them. Finding somewhere that they actually want to play is more challenging. Most of the gigs are in Deep Ellum, but the neighborhood isn't the cultural hub it once was. 
"I don't know that many, like, cool kids that want to go to Deep Ellum, you know?" says Rhoten. "Some people do go there because there aren't other options and they're just going through the motions."
The other DJs I spoke with agree that Deep Ellum is overcrowded and somewhat played out, lacking the rooms like Beauty Bar that welcomed experimentation. Then there's the fact that it's one of the worst places in Dallas to attempt social distancing–one reason Rhoten, Ray, and Ward say they're not comfortable returning to nightlife gigs. Unfortunately, there doesn't seem to be another creative hotspot emerging to replace it.
"I don't think it exists yet. I think that someone is going to have to create that neighborhood, and they'll be lucky if they get to be there for 10 years, and then the city will most likely push them out and replace them with condos," says Ward. "None of us really know what's gonna happen. Except that we know a lot more places are going to close because the government didn't step in to help anybody."
Get the FrontRow Newsletter
Get a front row seat to the best shows, arts, and things to do across North Texas. Never miss a beat.