An immersive, drive-thru art exhibition is now on view in downtown Dallas called Area 3. It's an experimental project by light-based art festival Aurora, almost like a miniature version of the biennial event. Rather than mounting large artworks in the plazas and parks this year, Aurora made Area 3 to offer audiences a socially distant, contact-free way to see the lights. While artists typically create pieces to stop the viewer in their tracks, these pieces are intended to be seen in motion, from within cars rolling through the DalPark parking garage at five miles per hour. 
Making an impact in such an non-traditional setting was a challenge that required a little extra creative thinking from the 15 participating artists and event organizers. If you, the viewer, can't stop to take in the art, how will it stick with you? By incorporating sound, light, and even a tactile element (don't worry about germs–it's your car that touches the art), the folks at Aurora made a special, memorable art experience, even if it is brief. 
After cruising into the DalPark garage and checking in at a greenery-filled entrance on the third floor, you'll immediately encounter Alicia Eggert's enthralling installation. The artist, who often works with light and text, hung layer after layer of fringe curtains in the driveway, illuminated with existential messaging. It's like driving through a psychedelic car wash that leaves you with the feeling that "THERE IS NO BEGINNING…THERE IS NO END." The last curtain parts to reveal a group of live washing machines rattling into the abyss, part of Blake Weld's installation. 
Next comes an installation by artist and choreographer Danielle Georgiou, who had the challenge of creating a memorable drive-by installation that also conveyed the energy of her dance practice without performers. Georgiou used video, bringing in several old televisions she stumbled upon to play VHS copies of movies that influenced her youth, like When Harry Met Sally and Sabrina. The screens are scattered throughout the space, decorated with starry lighting and disco balls. 
"It's called Purity Ball, and it was going to be like this exploration of what purity is to us as a society now, and tracking levels of purity, or loss of innocence, confusion, chaos, and nostalgia," she says. "So that's why I had picked these films because they are very nostalgic to me personally, as an artist and a person. I'd like to also share a little bit of myself with the participants coming through."
When she realized that the VHS of Sabrina had been taped over with a soap opera, it pushed the work forward. 
"I was like, well, the metaphor of someone taking my childhood and telling me what it should have been about or what my memory should be and how I should have experienced life is kind of exactly what happens to all of us throughout the course of our maturation," she says. 
There will be a few upcoming dates when the installation is activated with live performers, dates TBA, but Georgiou wanted to make an installation that was performative even without an actual performance. 
"I did know from the beginning that I wanted disco balls to create this idea of a dance, even when dancers weren't there," she says. 
Musician Francine Thirteen, whose piece is adjacent to Georgiou's in the garage, put herself at the heart of her installation, which she titled Sacred City Plans: There Are Other Worlds. She sits serenely in the middle of an altar-like arrangement of lights, flowers, and hand-woven textiles like a glamorous deity. The artist, however, is not always on site. 
A couple other installations, like a collaboration by Brandy Michele Adams, Michael Moore, and Robert Anthony, also meld performance and movement with light. 
But the majority rely on videos and moving lights to conduct energy. While Georgiou took a lo-fi approach with her old televisions, artist Zuyva Sevilla offers a chaotic, modern counterpart with his installation. More than 100 computer monitors are piled and strewn on the concrete, playing videos of fiery black holes and what looks like the surface of the sun.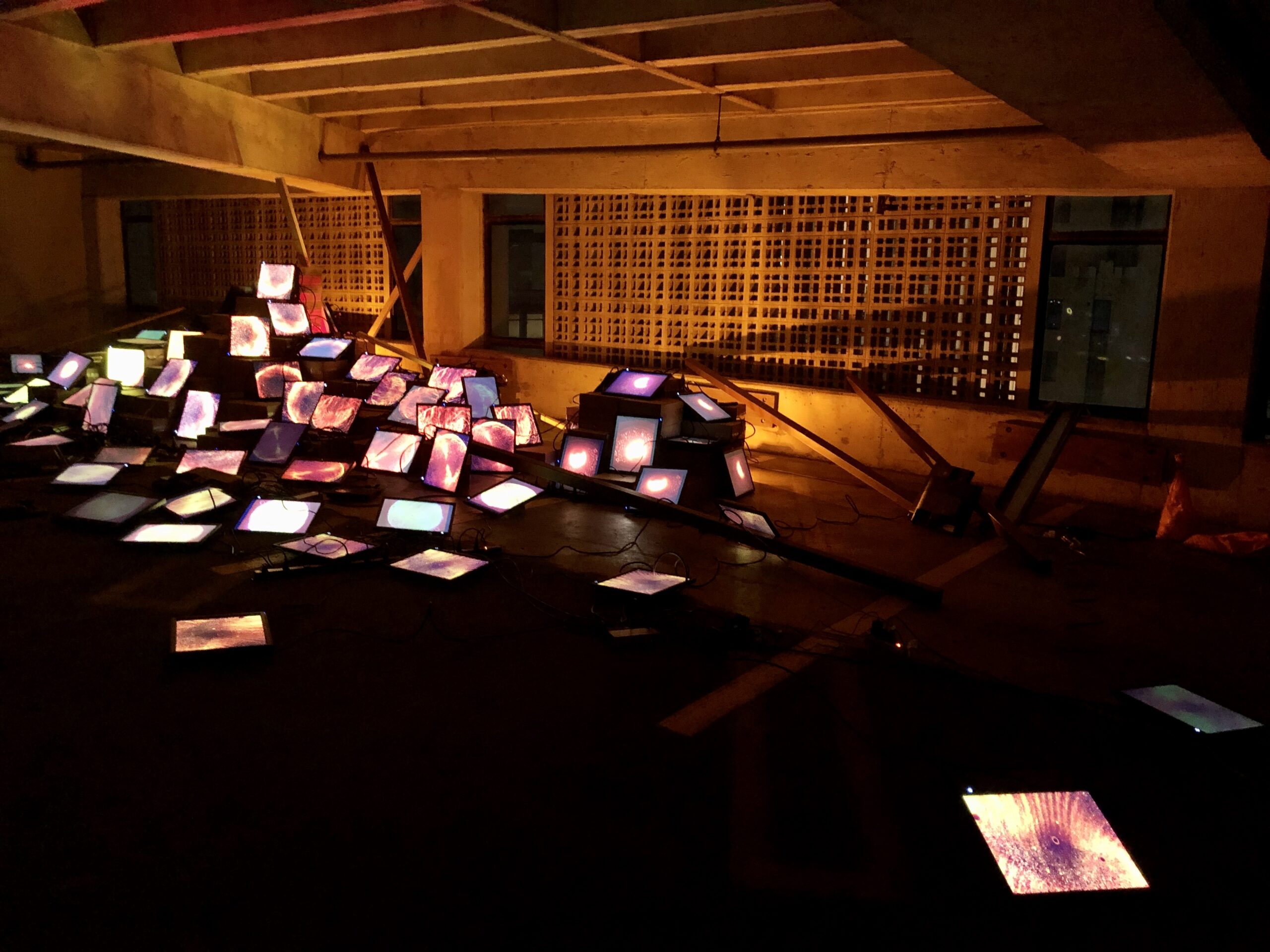 As bright and flashy as the exhibition is, there is a deeply ominous feeling lurking beneath the surface. Eggert isn't the only artist thinking about our delicate relationship with time and what it means for that to be distorted. 
Filmmaker Tramaine Townsend's piece is like a time capsule, he says, speaking to the era we're living in, or perhaps an era bygone. 
"It's kind of like looking at a video where you see these shadows of our former selves that could be from any time. Basically, time has gone on where it is and it speaks to a social factor of how we are currently," he says. He wants people to consider the perspective of watching it from a distant future, removed from our current reality and social contracts. It could be perceived as scary or haunting, Townsend says, "but then also, it could be very ethereal to others." 
In my opinion, it is both haunting and ethereal, two adjectives which apply to the entirety of Area 3. If someone had told me a year ago that a drive-thru exhibit would be the hottest art show in town, I'd be confused, to say the least. Unusual times call for unusual circumstances, though, and sometimes artistic innovation serves as a reminder of our bleak reality. The only thing to do is to keep rolling forward. Take in beauty where we can find it, even if it is in passing.
---
$34.50 per vehicle, head here to schedule a time and purchase tickets.
Get the FrontRow Newsletter
Get a front row seat to the best shows, arts, and things to do across North Texas. Never miss a beat.