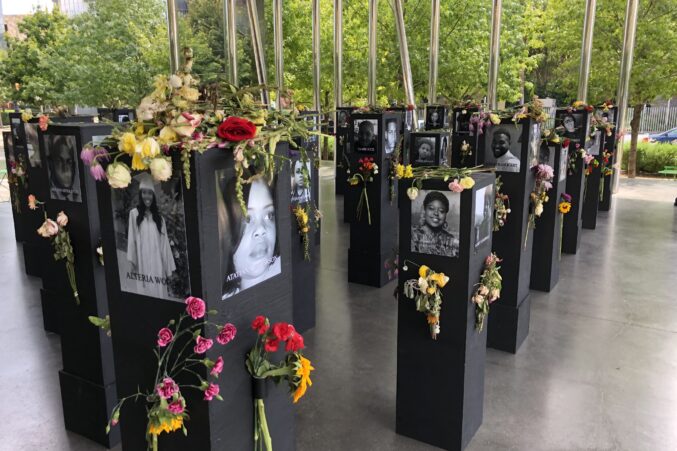 Say Their Names Memorial Lands in Klyde Warren Park
The installation dedicated to victims of racial injustice is on view through Thursday.
A traveling exhibition called Say Their Names, honoring the lives of Black individuals killed by law enforcement, is currently installed in Klyde Warren Park and will be the site of a vigil taking place tonight—that's September 14—from 5 p.m. to 7 p.m. The memorial carries the names and faces of 212 people on 53 pillars adorned with flowers. Many of these individuals have become familiar to us as cries against police brutality grow louder: Botham Jean, Breonna Taylor, Elijah McClain, George Floyd, Tamir Rice. For many others who were victims of similar injustices, this memorial is the first time you'll hear their names. 
Walking through the installation, located in the park's Muse Family Performance Pavilion, is a sobering experience. Just the fact that each of the pillars is tasked with carrying the memories of four individuals is remarkable–there shouldn't be so many names to write. Those names should've been known for something else. Those tragedies should have been avoided. The memorial silently screams, 'this has to stop, now.'
It's one of several Say Their Names exhibitions popping up across the country inspired by a digital memorial by the same name. The Dallas exhibit was put together by Emily Clarke of Emily Clarke Events and Alicia and Adam Rico of Bows and Arrows Flowers to open a dialogue in the community. It first arrived in Highland Park in June, and then traveled to churches, community centers, and parks across the city. Say Their Names will stay in Klyde Warren Park through Thursday, September 17. 
I strongly recommend paying a visit while it's downtown. Wear a mask; the area was pretty populated when I went on Monday afternoon, and it was difficult to maintain six feet of distance from other onlookers. 
Tonight's vigil starts at 5 p.m. and will be led by civil rights attorney S. Lee Merritt, Esq. and Pastor Richie Butler of St. Luke Community United Methodist Church.