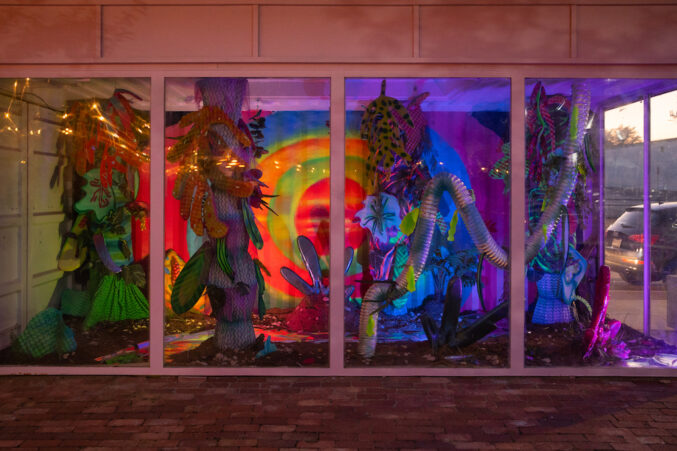 A Technicolor Jungle Pops-Up in Fort Worth's Near Southside
There's a new exhibit by Mariel Guzman and Tyler Germaine in the trendy neighborhood.
A new exhibit awaits visitors in the Art South Box in Fort Worth's Near Southside, providing a few square feet of tropical vibes and environmental commentary through the Autumn months. Artists Mariell Guzman and Tyler Germaine staged the installation, Synthetic Aesthetic, within a glass-walled shipping container. 
Nonprofit art consultancy Art Tooth curates the mini-gallery and reached out to Guzman, who's known for her eye-catching public artworks, especially her many murals around Dallas. Merging Guzman's background in large-scale painting and sculpture with Germaine's background in film and photography, the two created an immersive piece homing on their shared love of nature. 
"The idea came to do a jungle, and it spiraled into this whole idea of creating a piece that is about the way we look at nature, and how we objectify it," says Germaine. "There's this dual way that we as humans interact with nature. We love it, but we don't take care of it."
The duo decided to play on this irony by constructing an alluring jungle scene with discarded pieces of plastic, aluminum tubing, and old laundry hampers. Both artists love thrifting, so it wasn't difficult to come across interesting materials. 
"It's supposed to be a dual layer type of thing. A lot of the material we used is very harmful to nature, and it's supposed to be a representation of that. We recycle and repurpose most of it, but it's a lot of foam and plastic we used to show, yes, it's fun, but also it's incredibly toxic," says Guzman. 
Germaine created a 24-hour soundtrack to go along with the piece, so each visitor has a unique experience when they interact with it. It was important to the artists to make sure the piece had a big impact despite its confined format. 
"This is my first time doing an installation that's more permanent and site-specific. It being contained in the structure, people can't walk through, and it was a very different approach to how I normally do my installations," says Guzman. "But I actually created a mural in it as well, so I did merge the immersive mural experience that I create with more 3D elements."
Synthetic Aesthetic is on view 24-hours per day, 7 days a week at 125 South Main Street for the next two months. You don't need to make reservations; just stop by the park and check it out.