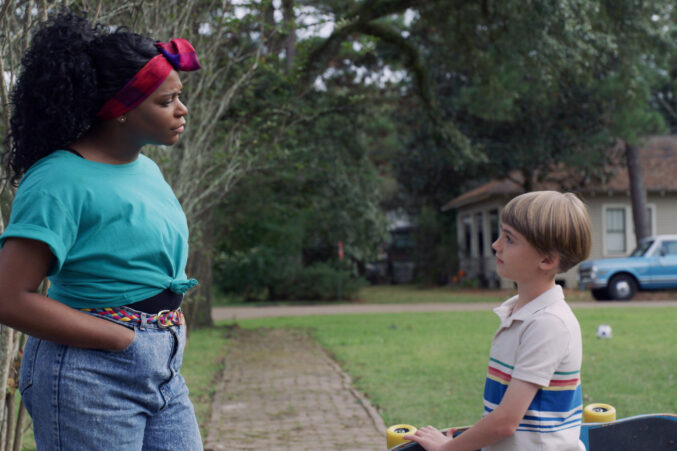 Women Texas Film Festival Returns This Weekend
Texas' only female-focused film festival is holding its fifth edition virtually.
Texas' only female-focused film festival is returning for a fifth edition this weekend and bringing with it some of the most socially significant film premieres in the state this year. The switch from a physical to a virtual event hasn't undermined the festival's mission to highlight visionary women filmmakers from Texas and beyond, and the festival's founder says the times have led them to double down on presenting provocative, moving works. 
"We feel going all-virtual this year makes us emphasize the work we are curating even more so since there are no physical events or parties to distract us even for a moment," said WTFF Founder and Artistic Director Justina Walford in a statement. This year, the only focus is "presenting dynamic female filmmakers and giving them an enthusiastic platform to show their work, discuss it, and celebrate their audacity to put those thoughts, ideas, and visions onscreen for us all to share." 
The virtual festival runs Thursday, August 13 through Sunday, August 16, kicking off with a screening of teenage comedy Tahara by Olivia Peace. The film follows a pair of best friends as they grieve with the death of their Hebrew school classmate, a comically awkward process that inadvertently leads one of them to discover their sexuality. 
As the festival highlights underrepresented filmmakers, it also highlights stories centered on marginalized populations. You'll find compelling films like Sharon Yaish and Yael Shachar's A Whore Like Me, which documents a survivor of human trafficking as struggles to obtain a resident certificate in Israel. The journey requires her to confront her kidnappers years later. Then there's Janette A. López's Never Going Back, which follows a family making the journey from Honduras to the United States, and Marie Skovgaard's The Reformist – A Female Imam, a documentary about a woman opening some of the first mosques in Europe headed by a female imam. 
For California-based filmmaker Larissa Lam, a personal project tracing back her father-in-law's family tree led her to discover a part of Chinese-American history that's been long overlooked. Lam's film, Far East Deep South, began with a family trip to Mississippi to visit her husband's grandfather's gravesite, but what they discovered there went beyond family ties. 
"Unbeknownst to us, we ended up uncovering, not only just lost family history, but the little known history of the Chinese in Mississippi during segregation," says Lam. The filmmaker and her husband were surprised to learn that there was a huge Chinese community in Mississippi from the late 1800s through the middle of the 20th century. "All of us learned about segregation, all of us learn about the American South, Civil War, you know, Reconstruction, but nowhere in that story do you ever hear about the Chinese. And, you know, we realize it wasn't just the Chinese that were also impacted by Jim Crow laws, it was basically any person of color," says Lam.
The more she learned about this lost period in history, the more adamant she was to share it. "It became more important than just telling the family story, which was amazing in and of itself, of all the discoveries. But, the fact that there was this historical significance that I really felt was important for other people to learn to reframe what American identity was–not just to those who were born in this country, but for those of Asian descent in this country."
Being a female filmmaker has presented its challenges in a male-dominated industry, but Lam feels that it gives her strengths in areas where men tend to fall short, especially in the tricky business of making a documentary that's both educational and emotionally gripping. 
"I think women just tend to have more empathy in general. You know, some guys are cool, and they're in touch with their emotion, so I'm not saying all men are not in touch with their emotions–but certainly, I think women tend to view the world a little bit differently. I think that's the one thing that people have said over and over again about our documentary, is that it's surprisingly emotional," says Lam. "I really view this film as my father-in-law's. He never knew his father, so the journey, it's almost like his therapy session and reconciling with the father he never knew."
A large range of LGBTQ-centered stories are also represented in the festival, from comedies like Tahara to emotional dramas, like the festival's closing film, Gossamer Folds, by Austin-based director Lisa Donato. 
Gossamer Folds is about two neighbors, a 10-year-old White boy and a 25-year-old Black trans woman, who forge an unlikely friendship over the summer of 1986, despite the boy's prejudiced father forbidding him from seeing her. 
"It's really about chosen family and how we find them in the most unexpected places," says Donato. 
It's the filmmaker's feature directorial debut, though she's presented short films at past iterations of WTFF. As a gay woman in the film industry, it was important that her first full-length film spoke to the LGBTQ community. 
"As a gay woman, I've always lived in the margins, and as I started my filmmaking career, I'm constantly bumping up against the same things. There's just not enough room at the table for like more than one gay story or more than one LGBT story…there's like a certain quota," says Donato. 
While mainstream media's representation of the gay community has slowly improved, that often doesn't include the stories of trans people–especially not positive stories. 
"Statistics show that 85 percent of Americans don't think they know a trans person, so that means that how they're receiving that information of what trans means is through the media. And if mostly what they're seeing is due to negative stereotypes–like trans people are sex workers, or drug addicts, or a suicide risk, or victims that were killed…that's how they understand that community. My work is my activism and this is why I became a filmmaker, to tell stories that kind of normalize the experience of being queer or being trans," says Donato. 
You can view the full schedule for the Women Texas Film Festival and purchase passes here.