Ciara Elle Bryant is on a roll. The Dallas-based artist had an installment at the Nasher Sculpture Center earlier this month, becoming the second Black woman to ever be shown by the museum. This Saturday, the largest exhibition she's curated yet, Vivrant Thang, will open at the new 500X Gallery, bringing together the work of a dozen talented Black artists from North Texas: Bryant, Jeremy Biggers, Ari Brielle, Xxavier Carter, LaShonda Cooks, Danielle Demetria, Jer'Lisa Devezin, Elizabeth Hill, David Jeremiah, Jas Mardis, Jamila Mendez, and Desiree Vaniecia. 
Similar to her multimedia installation at the Nasher, Server: A Streamed Revolution, Bryant's work in the group exhibition will focus on protecting and making space for Black women, specifically paying tribute to Breonna Taylor and Sandra Bland. However, the show is more about joy than it is about grief. As a curator, it was imperative that Bryant gave fellow Black artists a space to create freely and without an agenda. 
"I had a friend who made a post that was talking about selling Black trauma, and what that looks like versus, like, selling happiness and showing happiness. There are some institutions that are way willing to support artists that are talking about trauma instead of talking about what is like living and existing," she said. "So, that's how Vivrant Thang came up–like, what is living and what is existing right now, and why I cannot just talk about existing instead of how I've gotten to that place?" 
Bryant reached out to Ashley Whitt, president of 500X Gallery, with the idea to curate a large group show. Bryant didn't want an arts space to host the show for good publicity or to make up for a history of exclusion. She felt confident going with an artist-run space. 
"If I'm going to have somebody support me in this way, I'm going to be reaching out to my ecosystem that is here in Dallas," she says. "I genuinely want to give them space to thrive and let them know it's coming from a place where. I'm doing this for me, as well as you, and not for the gallery space or publicity."
Since the start of widespread protests against police brutality and systemic racism in response to the murder of George Floyd, the artist has noticed a number of institutions coming out of the woodwork to find Black artists. 
"When everything happened and people were starting to reach out to these artists, like trying to save their butts, they weren't being really genuine about it," she says. "My whole thing is, we've always been here. We all know about each other and we've all been working with each other for six, seven years."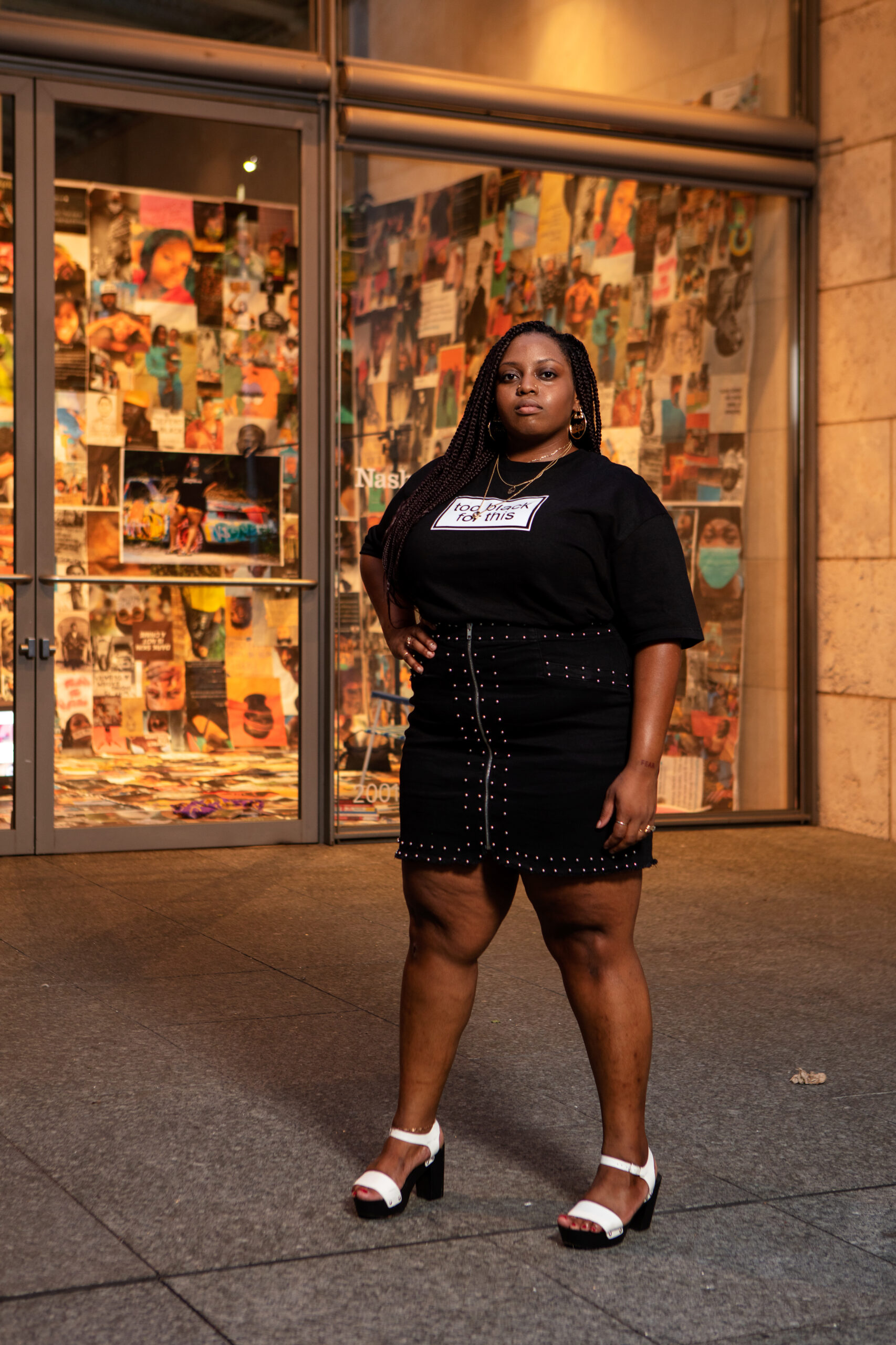 Even as institutions and organizations take strides to become more equitable and acknowledge their own racism, the progress is slow and long overdue. Bryant says that for real change to take effect, there needs to be a lot more opportunities for Black creatives in Dallas, from creating affordable studio spaces to creating leadership opportunities in arts organizations. 
"I want there to be more curators of color in museums," she says. "Why is there only one at the Amon Carter, one at the DMA, none at the Nasher?"
At the moment, Bryant is creating those opportunities herself. 
"We support ourselves when we can, and reach out to certain artists when we can, but we don't have a full ecosystem for Black artists here…so, it's even hard to have those moments where we can facilitate conversations about it," she says. 
With Vivrant Thang, Bryant is giving herself and other Black artists in the Dallas community a platform they've often been left out of. But more than just giving fellow artists a space to exhibit, she wanted to give them a space to express the wholeness of their experiences. 
"I wanted the artists to all have a space in the community to show their work, but I wanted the viewers to take away that this work has always existed, and now in contemporary art, this is what it looks like, this is how strong it is," she says. "We don't always have to be showing our trauma to make beautiful work or powerful work. We can make something that is fulfilling and joyful and it can still be a great piece of work."
Vivrant Thang opens Saturday, August 15 at 500X Gallery and can be viewed virtually or by appointment only.
Get the FrontRow Newsletter
Get a front row seat to the best shows, arts, and things to do across North Texas. Never miss a beat.