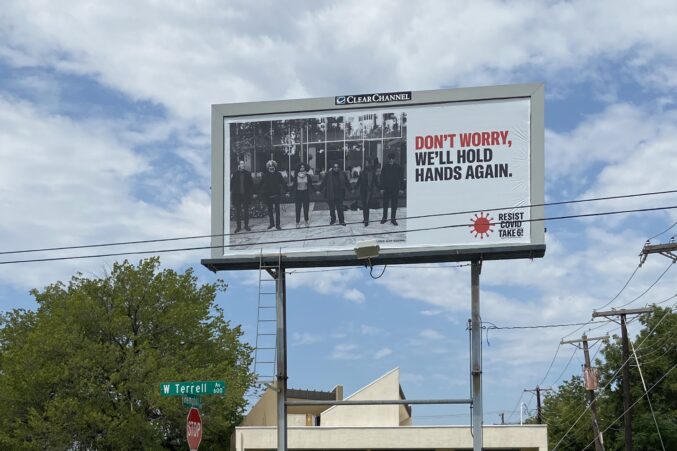 Artist Carrie Mae Weems' Resist COVID/Take Six! Campaign Has a Message For Dallas
The artist's latest series brings attention to the pandemic's disproportionate effect on communities of color.
Artist and MacArthur Genius grant recipient Carrie Mae Weems brought her blend of art and activism to Dallas this week. All you have to do is look up. The Resist COVID/Take Six! campaign consists of billboards, posters, tote bags, lawn signs, buttons, paper fans, and other visual aids to raise awareness of the disproportionate impact the pandemic on Black and Latinx communities. The ongoing series has visited cities across the United States since April.
The project came to Dallas and Fort Worth through a partnership with the Dallas Contemporary, and additional arts organizations, including the Dallas Museum of Art, Nasher Sculpture Center, the African-American Museum, the Fort Worth Modern, Amon Carter, and the new cultural consultancy firm Gossypion Investments. There are around 50 total partners in the area that will be dispersing the materials. 
Eight billboards have landed around Dallas and Fort Worth this week for Resist COVID/Take 6!, which takes its title from the CDC's recommendation of maintaining six feet of distance from other people. The billboards feature black-and-white photographs with bold red text spelling messages like "Don't worry, we'll hold hands again," and "Because of inequity, Black, Brown, and native people have been the most impacted by COVID-19! This must be changed!!!" Half of the billboards are in English and half are in Spanish.
The purpose of the campaign is to dispel misinformation; one of the buttons simply reads, "COVID-19 is not a hoax." It promotes preventive measures like hand-washing, mask-wearing, and getting tested. It also offers supportive messages to those most vulnerable–Black, Latinx, Asian/Pacific Islander, and Native American communities.
"We've all been impacted by COVID-19. It's an ecological health crisis of epic proportions—an international disaster," Weems said in a statement. "And yet we have indisputable evidence that people of color have been disproportionately impacted. The death toll in these communities is staggering. This fact affords the nation an unprecedented opportunity to address the impact of social and economic inequality in real time."
Resist COVID/TAKE 6! is part of an ongoing series of activism-driven works by Weems called Social Studies 101. It was conceived at Syracuse University, where she's an artist-in-residence. The project has landed in 10 cities so far, including Syracuse, Detroit, Miami, and Atlanta, where, according to Weems' posters, 80 percent of COVID-19 deaths have been Black people. 
The artist's urgent messages aim to help protect the more exposed communities in these cities, but they also shine a light on the racial inequalities that existed long before the pandemic. The disease has opened those wounds, showing the impact of disinvestment, underlying health conditions, and access to healthcare. 
"Denial does not solve a problem," Weems wrote. "And I thought, 'How can I use my art and my voice as a way of underscoring what's possible and bring the general public into a conversation, into heightened awareness of this problem to better the community in which I live?'"
At the most basic level, Resist COVID/TAKE 6! is a call to the public to act responsibly and safely on behalf of their neighbors. It also offers a reminder that, sooner or later, we'll be back to doing things like holding hands and meeting up with friends.