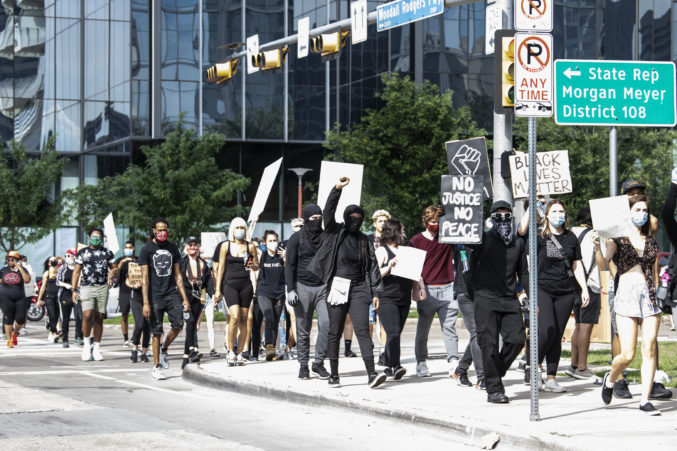 Where To Protest This Weekend in North Texas
There are peaceful protests planned in Dallas, Fort Worth, Denton, Richardson, and more.
Editor's note: This list is taken from our Things To Do page. For the full weekend schedule, click here. 
If you're going to get out there this weekend, do it for a worthy cause. There are protests against systemic racism and police brutality happening across DFW throughout the weekend. The locations and times of these gatherings are subject to change, so check this Instagram page for up-to-date info before you go. Here are some tips for staying safe at protests. Remember to wear a mask, eye protection, and gloves to prevent the spread of COVID-19, and to protect you from tear gas.
Friday, June 5
Friday brings a Blue for Black Lives Matter protest at the Jack Evans Headquarters at 11 a.m. There will be a Youth Unified Rally at Dallas City Hall at 12 p.m. In Fort Worth, protestors are gathering at 100 E Weatherford Street at 6 p.m. There's a march to Garland City Hall from Garland High School at 6 p.m. There's a gathering at the Richardson Public Library at 5 p.m. 
Saturday, June 6
PrayingTogether has a peaceful protest at Klyde Warren Park from 10 a.m.-1 p.m. The Dallas Cyclist Community will be going on a silent group ride protest from Dallas City Hall at 11 a.m. Later that afternoon, the Dallas Stand Up For Justice event will take place in Belo Garden Park from 2-4:30 p.m. Fort Worth has an art protest on West 7th street from 3-8 p.m. There's also a Black Lives Matter protest at the Arlington Police Department at 5 p.m. 
Sunday, June 7
Sunday at 11 a.m., there is a Praise and Worship gathering in Downtown Dallas at 133 N. Riverfront Blvd. At the same time, there will be a National Injustice Peaceful Rally at the Jack Evans Headquarters. There will be a Dance Protest on Sunday from 3-7 p.m. at the JFK Memorial Plaza organized by DFW Dance Club.
There are protests in the Denton Downtown Square each day at 2 p.m. and 6 p.m.
If you're not able to attend a protest, you can still make a difference at home. Demand justice for Breonna Taylor. There's a virtual Dallas City Council meeting on Friday at 2 p.m.–you can sign up to speak here. Support the new campaign 8 Can't Wait, which asks local police departments to enforce eight basic policies, which could reduce police violence by up to 72 percent. The Dallas Police Department only uses four of the eight currently. You can read about that and get in contact with Mayor Eric Johnson here–just click 'Dallas' on the drop-down list.