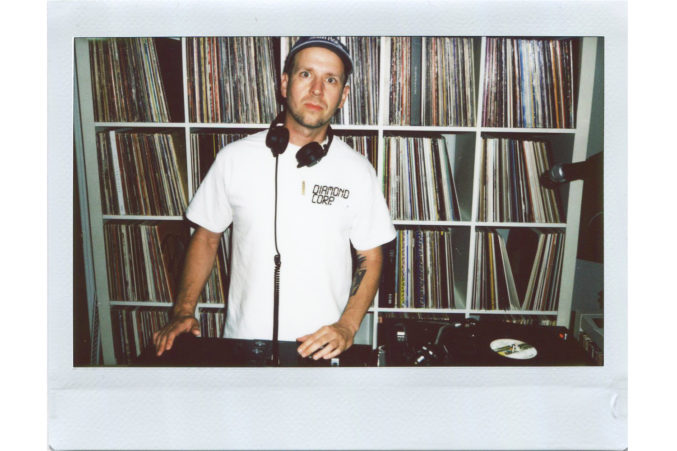 At Home With: DJ Sober
Plus, catch Sober and painter Kyle Steed on a special Instagram Live tonight at 8 p.m.
If you've been out on the town, you've seen him around. On any given day B.C. (Before Corona), you could find DJ Sober playing hip-hop at Ruins, spinning vinyl by the pool at The Belmont, or getting funky as one half of the musical duo Tommy and Linda. But the last couple months have looked drastically different for Sober, a.k.a. Will Rhoten. With bars and nightclubs shuttered and gatherings banned, DJ gigs have come to a screeching halt–and nobody really knows when they'll pick back up. Still, Rhoten has been making his own path through this uncharted territory, and keeping the music going all the while. 
Tonight at 8 p.m. you can catch him playing house and disco records while local artist Kyle Steed paints on Sober's House, a new live series on Instagram. The collaboration is one positive outcome of everybody being stuck at home. Rhoten and Steed live in the same neighborhood and ran into each other on a walk when Steed proposed the idea. If all goes well, Rhoten plans to continue pairing up with artists to bring a visual aspect to his virtual sets. 
"Throughout all this, that is one thing I have seen a lot of–creatives are really supporting each other and collaborating, too. If there's somebody you've been wanting to work with, now's the time to shoot your shot," he says. "That's one of the silver linings in all this." 
Despite the devastation that the coronavirus has wrought on the music industry, Rhoten has continued to look for the positives–new ways to innovate, new skills to sharpen. Even for a seasoned DJ, there's a lot to adapt to in this situation. And, for the first time in a long time, he's been experiencing some stage fright. 
"It's funny because I've been doing this a great portion of my life and I never get nervous. Even if I'm playing on stage at Bomb Factory or something, I'm fine, but I guess I've never live-streamed, and I guess the microscope is on you a little bit more," he says. 
Still, he's just glad to be doing his thing and giving his listeners something to look forward to. 
"I'm having to adapt to whatever we're doing right now. It's been fun, it's so good to have people's feedback … just to know that music is uplifting, and maybe, in some way, we're giving back or we're brightening people's day in some form."
Outside of music, Rhoten has been using this downtime to get back to old hobbies he usually doesn't make time for. He's been getting back into illustration and even did a skateboard deck for a friend. He's been doing yard work and gardening. He's been collaborating more with his roommate and the other half of Tommy and Linda, Sudie.
"I've been riding my bike again. Usually I walk with Herby, like, four miles a day before this, but now sometimes I'll go on like three walks a day, so eight miles sometimes or more. So a lot of neighborhood walks and the Oak Cliff Nature Preserve is close by, so I've been going on some hikes. More cooking. Sudie is killing it in the kitchen trying new things and then I've actually been trying my hand at cooking more," he said. "We've been having picnics on the roof, so I think just doing things that we don't usually make time for. We'd never usually stop our day and say hey, we're going to cook burgers and climb on the roof and eat them and bring the bluetooth speaker and have a hang up there. Slowing down, it definitely allows you to be more creative."
Finally, he's been discovering more music, of course. Here are some tracks he's into at the moment.