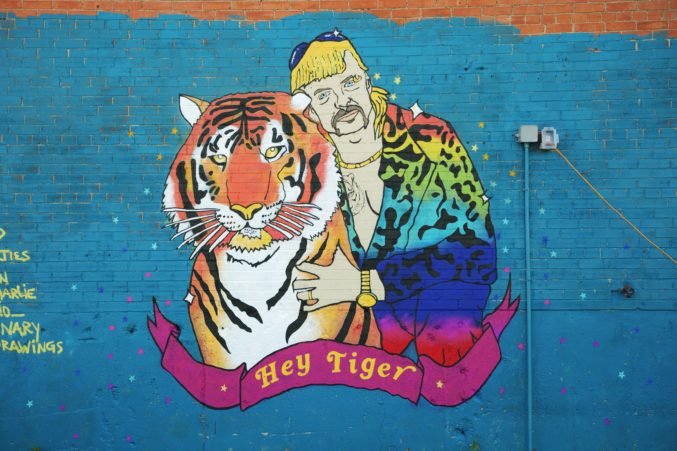 The Tiger King Prowls Into Dallas' Design District
Sometimes art imitates life, and sometimes art imitates memes of Joe Exotic.
I am one of few humans you'll encounter on the internet who has not yet seen Tiger King. The new Netflix docuseries is, according to Google, "an exploration of big cat breeding and its bizarre underworld, populated by eccentric characters." And according to everybody I've spoken to in the past week, it's an amazing, horrible must-watch. 
If there is a king of the tigers in this show, I assume that person is Joe Exotic, the garishly dressed mullet of a human being who keeps popping up on my social media feeds. Exotic, whose real name is Maldonado-Passage, is currently being held at the Fort Worth Federal Medical Center, and he just filed a $93 million lawsuit against a slew of federal agencies that investigated his alleged hiring of a hitman to kill a rival. Other than that, I don't know anything about him, but I respect his absurdity, and he seems to have emerged as the likable antihero in the saga. Someone even turned him into a Lisa Frank-style illustration, an image which the brand shared on its Instagram page. What a time to be alive.
Exotic has also been immortalized in a giant, new mural in the Design District. Here, the style icon dons a rainbow-meets-animal print shirt, chunky gold jewelry, and a gnarly handlebar mustache while embracing one of his majestic tigers.
The mural was designed by Daniel Driensky of creative duo Exploredinary. Driensky and his partner Sarah Reyes painted the piece along with Lesli Marshall, Chad Puchalski, and Zarina Karapetyan. 
The painting is one of five new murals at 1313 N Riverfront Blvd. in the Design District commissioned by Ewing Properties and curated by Marshall, whose company, Articulation Art, has outfitted trendy spots like Dallas' Virgin Hotel. The forthcoming murals are all interactive–one is specifically designed for Instagram's Boomerang mode–and all are quite lighthearted. One will be dedicated to Chuck Norris, one simply says "Hay Girl, Hay" with bales of grass to pose on, one has a UFO with a working light beam. They're mostly still in progress, but the Tiger King pop-up mural is ready to make its debut. 
To wrap this up, I'd like to share an image sent from the home office of SideDish editor Rosin Saez, whose neighbor passionately agrees with the popular fan theory that Carole Baskin killed her husband.
According to Saez, at least three passers-by have taken a moment to yell their response. 2020 is wild, y'all.