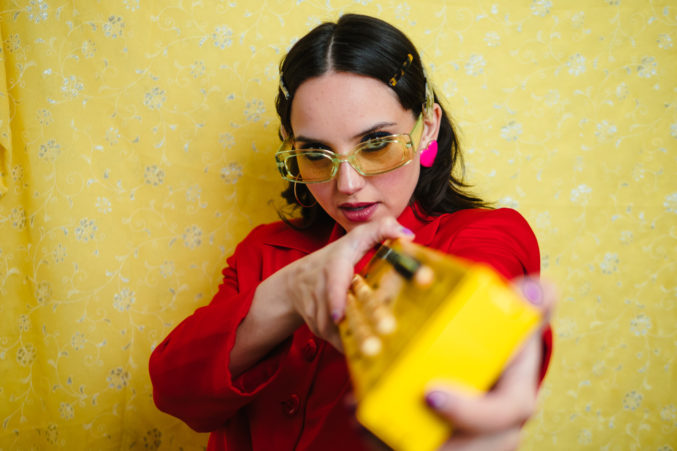 Listen To This Right Now: Sudie "Mojo Man"
We are sashaying into our weekend at home with a funky new R&B track by Sudie.
Sudie Abernathy is known for her ethereal, experimental sound, but lately, she's been getting into a new groove. This morning she released "Mojo Man," the first single from a forthcoming R&B EP she's writing, producing, and performing. 
The track is heavily funky and retro, but relevant. "Mojo Man" sounds like it could have been written about a f*ck boy of another era, but Sudie brings the story into 2020 with lyrics like, "I see you looking on my stories, should've blocked you on my IG, but I waited too long." 
There's a new attitude permeating the soundwaves here, and it's something you can expect more of on Sudie's upcoming EP. 
"This new direction, I'm extremely excited about it. Over the past couple years that I've been producing, I've tried out a lot of different things and I've grown into more of an understanding of what I like, and what I like to produce, and I'm more confident as a producer," says Abernathy. "This song is kind of the first step in that direction of the confidence I have in what I can make." 
Sudie plans to release the EP by the end of the summer, depending on when she can get back in the studio to put the finishing touches on a few tracks. Until then, she'll be releasing songs as singles and continuing to work on a new full-length album. 
She's also taking this time to get back into performing for an audience–virtually, of course. "I'm definitely going to be more active on my socials in terms of putting my voice out there, putting my performances out there, so people can still see me perform." 
Outside of her own musical endeavors, Sudie spends much of her time teaching others, and she's continued to offer lessons digitally during social isolation. 
"I do voice, piano, performance, music production, music theory, and songwriting," she says.
"All ages, any and all ages. And it can be someone who's a beginner, or someone like me, someone in the music industry, who just needs a little help on something." 
Does that strike your interest? Watch the amazing infomercial below and go to Lessons By Sudie for details.