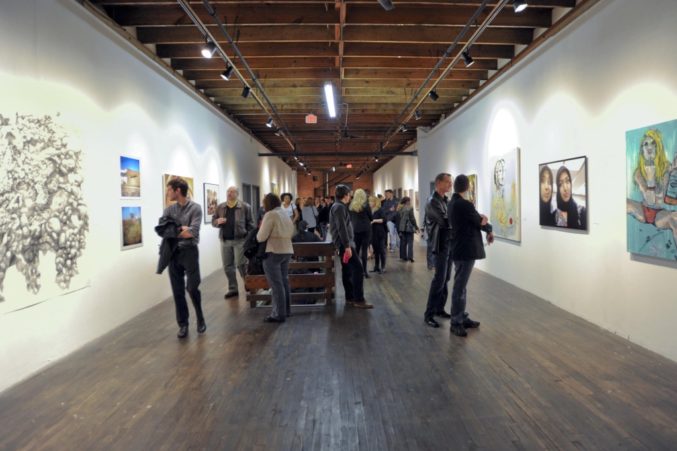 500X Gallery Needs a New Home
The artist-run gallery has gone virtual as it moves out of Expo Park and finds a new location.
Even before the pandemic, April was going to be a challenging month for 500X Gallery. The longstanding, artist-run gallery planned to leave its eponymous address in Expo Park on April 12 after the landlord (somewhat suddenly) terminated the lease in February.
The board of artists scrambled to condense months worth of upcoming shows into one final hurrah titled 500Xit, a ceremonial goodbye to its home of 41 years. But, the day before the exhibit was supposed to open, museums and art institutions across North Texas shut their doors. Dallas' shelter-in-place order hadn't yet gone into effect, but it was on the horizon. The folks at 500X decided to play it safe and cancel the exhibition opening slated for March 14, moving it online as a virtual event and crossing their fingers that they would be able to hold a closing reception in April. Sadly, the show was never able to welcome public visitors. 
Now, after being granted an extension to their move-out date, the artists at 500X are trying to secure a future for the gallery, Dallas' original cooperative art space. Finding a new location is one issue, but getting out of the current space is the first order of business. 
"We have 41 years of gallery equipment," says 500X President Ashley Whitt. "We're going to have to be strategic so that we can still socially distance, but get the things out of the gallery that we can."
After several pleas from Whitt, the building's owners, Gibson Co., agreed to allow the gallerists to move out after the shelter-in-place order ends. The extension came as a pleasant surprise considering previous tensions with the landlord. In December, just a month before terminating the lease, Gibson Co. ordered that 500X take down its LGBTQ-centric exhibition Queer Me Now. Whether that event is connected to the landlord's decision to end the lease is unclear, and, at this point, irrelevant. After months of going back and forth with Gibson, Whitt is just happy to have reached an agreement. 
So, where will 500X go from here? Whitt says a local artist has generously offered a space for storage while the gallery is between physical locations. As far as securing a new forever home, 500X Gallery has a long road ahead. 
"Like all of the arts organizations in Dallas, and in Texas, in the country, and across the globe–we all need support right now to keep going," says Whitt.
You can help support the artist-driven organization two easy ways: monetary donations are greatly appreciated, and proceeds from the 500X Shop will also help the gallery raise funds. 
Don't forget to check out the gallery's current exhibition, 500Xit, here.