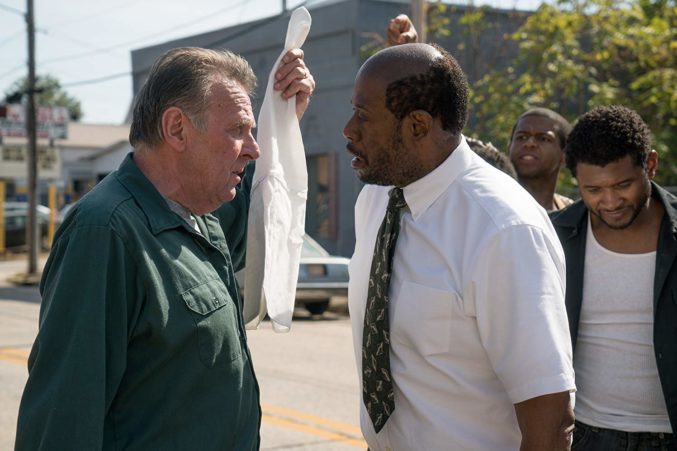 Why It Took 20 Years for a Reformed Ex-Klan Member's Biopic to Reach Theaters
Andrew Heckler never wavered in his belief that the true-life redemption story of Mike Burden could have a positive impact on the world.
Andrew Heckler didn't intend to wait more than two decades for his directorial debut to make it to the big screen. But now that Burden is finally being released, the timing could hardly be better.
Indeed, Heckler never wavered in his belief that the true-life redemption story of former Ku Klux Klan member Mike Burden could have a positive impact on the world.
"It's a challenging movie, and it was tough to find people to get behind it," Heckler said by phone from New York. But he said the message is as relevant as ever. "You can only turn an enemy into a friend through love. You cannot turn an enemy into a friend through hate."
The story takes place in a small South Carolina town in 1996, when the local Klan leader (Tom Wilkinson) opens a KKK museum on the main street. His followers include Mike Burden (Garrett Hedlund), whose white supremacist views begin to change when he meets Judy (Andrea Riseborough), a single mother with a considerably more progressive outlook on race relations and civil rights.
As their relationship deepens, Mike distances himself from the Klan and becomes a target for retaliation. He accepts an invitation for shelter from Rev. Kennedy (Forest Whitaker), a local black Baptist minister who had been waging nonviolent protests against the Klan for years. Just as Mike's former connections feel betrayed, so do the members of Kennedy's congregation.
Heckler, a veteran character actor, recalls seeing a press clipping about the opening of the museum at the time, and the controversy it caused.
"I just about fell off my chair," Heckler said. "I called the Rev. Kennedy and asked if I could come down there and hang out for a couple of weeks and research the story, and so I did."
Heckler knew he would need to return to Laurens, South Carolina, to speak with the Klan members, so he posed as a white nationalist from Colorado who wanted to come by and see the their store filled with propaganda.
'They welcomed me in," he said. "I spent some time getting to know them and trying to figure out where they were coming from. That town square is so incredibly bucolic and so beautiful. They put this museum of hatred right in the middle."
Along the way, Heckler eventually formed a friendship with Burden, who was initially reluctant to share his story.
"He didn't want any publicity and didn't want to talk about it much," Heckler said. "He said, 'that guy's buried and I don't need to bring him back to life.' But I think over the years he's gotten to trust that I wasn't trying to do anything but tell a story about something that three heroes did that could affect a lot of positive change in the world."
Heckler finished the script around 2000, after which things got rocky. He had the greenlight from a major Hollywood studio with another director, but the project fell apart. By 2004, he agreed to direct it himself. Two years later, Channing Tatum and Woody Harrelson were attached to star, but again, production was scrapped.
With independent financing, the cameras rolled in 2016, when shooting took place in Georgia. In January 2018, Burden debuted at the Sundance Film Festival, where it won an audience award. Still, it took almost a year to find a distributor, and then the release date was shuffled a couple of times.
Heckler might be relieved, but he's also pleased that that his perseverance has enabled a story of compassion and tolerance from the recent past to find a present-day audience.
"This kind of open racism was relegated to small Southern towns, but now it seems like this undercurrent of hatred and bigotry has exploded out into the zeitgeist. It's happening all over the country and all over the world," he said. "It's not a political movie, and not a response to anybody in present day, because I wrote it 20 years ago. Now we're so polarized. Hopefully it can at least start a conversation in terms of healing. What I loved about the story from the get-go is that there is a path forward toward healing and forgiveness. That's a message we all need to hear."