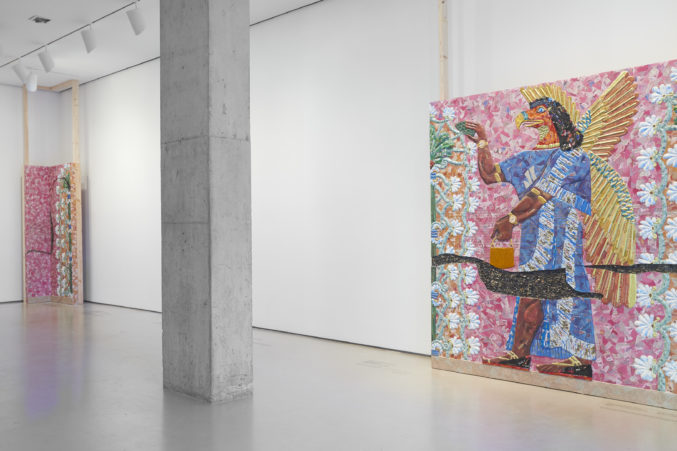 Nasher Prize Laureate Michael Rakowitz Makes His Dallas Debut
Reconstructing destroyed artifacts, the artist creates a space to question time, culture, heritage, and loss.
Editor's note: The Nasher Sculpture Center announced on March 12 that the Nasher Prize Gala would be moved from April 2-4 to November 4-6 due to the rapid spread of coronavirus. The cancellation may affect other events at the museum. This page will be updated as changes are announced.  
Over the weekend, a selection of 2020 Nasher Prize Laureate Michael Rakowitz's work opened in the Corner Gallery of the Nasher Sculpture Center. On view since Saturday, March 7, it will be up through May 3. In the interim, the Nasher Prize Dialogues and other talks will offer forums for discussion through early April.
From the series The Invisible Enemy Should Not Exist, the six panels in the gallery recreate portions of the Northwest Palace of Nimrud, part of a series of ancient artifacts destroyed or absconded with, looted or plundered, erased from the National Museum of Iraq in Baghdad. Rakowitz began his project of recreation in 2007. Its debut included the display of a winged human-bull lamassu in March 2018 in London's Trafalgar Square, destroyed by ISIS in 2015. His work has been hailed as "urgent-feeling," "moving," and "overtly political," he himself as "one of the world's most political – and powerful – artist-provocateurs." And so, our piece of history, identity, and heritage fits in.
As viewers enter the gallery, they enter Rakowitz's recreation of Room F, section 1 of the ancient Mesopotamian palace. They enter time, place, a nexus of cultures, a whole history of conflict in the Middle East. But none of this is didactic. Like a Socratic dialogue—like, in fact, all of Rakowitz's public art—the inquiries and power arise from questions, from a fluidity around the gaps.
What are these surrogates? What is this visual memory? What is this falsity? What has been lost and destroyed? What is missing?
We see the panels with colors almost tropical: sangria red, pink guava, lemon chiffon, blue curaçao. Trees bloom, and a regal figure, winged, falcon-headed, stands in wedged sandals, the sideways posture formulaic. These are ancient poses, but the sandals could be Reeboks or Nikes. The reliefs could be of our time: that bracelet, a classy watch, that clutched handbag a Fendi. The panel's urgent force lies in this pulling us backward and forward through time, a sculptural palimpsest of possibilities.
The rending happens almost immediately. A gash slicing horizontally through the relief arrests the gaze—A city topography? An aerial view? What is it? It wounds the surface, which is a carefully shellacked relief built up of papier mâché. Everything is covered with strips of writing—newspapers, food labels—a papier mâché of consumable culture.
That is exactly what Rakowitz does: his work, full of ciphers, resolutely points to the lacunae. We are aware there is a gap. What if we broke through the masquerade? The surface, really, is made of the linguistic trivia of words such as "anise," "mixed herbs," "cinnamon herbed drink." But in what ways do or can they mean more than they what they seem to? Can we use them to frame the void? In our hunger, we realize we want to be fed.
That is, perhaps, the greatest power of his work.
The decision to make the door to the gallery an open entryway, not closed as it was for the last occupant—Anne Le Trotter's womb of a sound-sculpture piece–means invasion by the shrapnel of café noise. And this, too, I find fitting, time and place pulling at the viewer. The nudging brings us back to the essence of sculpture, its ties to the physical body painful and innocuous at once.
In the Nasher Hall, the Corner Gallery panels are complemented by a screening of the stop-motion work The Ballad of Special Ops Cody.
Last month, a community barbecue swirled around ideas that Rakowitz treats in his cookbook, A House With A Date Palm Will Never Starve, which is part of his crossing of boundaries between sculpture, public art, and installation.
Coming Up… 
Gallery Talk with Curator Dr. Catherine Craft on March 25.
Michael Rakowitz Artist Talk on April 3.
Nasher Prize Dialogues on April 4.