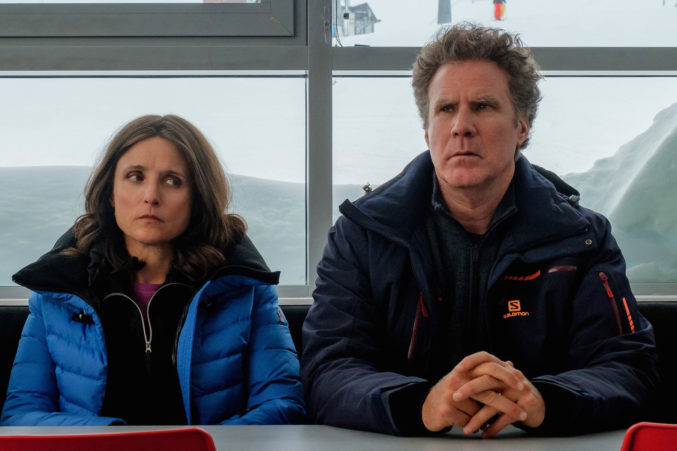 Wintry Mix: The American Remake Downhill Can't Match the Swedish Original
This mildly unsettling drama chronicles an American couple torn apart by the aftermath of a near-tragedy while on a European ski vacation.
When Hollywood remakes films from overseas, sometimes the subtle nuances are lost in translation. In the case of Downhill, perhaps they got buried in the snow.
This abridged English-language adaptation of the crackling Swedish drama Force Majeure is awkward for the wrong reasons, as it chronicles an American couple torn apart by the aftermath of a near-tragedy while on a European ski vacation.
Specifically, the story is set in the Italian Alps, where Pete (Will Ferrell) hopes a getaway will ease his grief over his father's recent death and bring him closer to his wife, Billie (Julia Louis-Dreyfus) and two sons.
The idyllic setting is accompanied by occasional controlled avalanches on a nearby summit. However, one of them gets too close while the family is dining on an outdoor patio. Amid the chaos, Pete grabs his phone and flees, while Billie huddles with the terrified children.
Once things calm down, the incident leaves everyone shaken, and causes a rift for Pete and Billie, who can't agree on their recollection of events or the psychological impact of Pete's actions. When his vacationing colleague (Zach Woods) and her free-spirited girlfriend (Zoe Chao) join the party, the friction intensifies.
Directing partners Nat Faxon and Jim Rash (The Way, Way Back) showcase some splendid mountain scenery, which should please promoters of alpine tourism. And they know how to capitalize on the squirm-inducing potential of a long chairlift ride.
In its predecessor, director Ruben Ostlund (The Square) explored delicate family dynamics through a what-if scenario that built and sustained an unsettling resonance. Downhill strives for the same level of provocation and discomfort, but lacks the courage to follow through on those convictions.
Such comparisons might be unfair, yet they're also inevitable. The screenplay struggles with the inherent tonal shifts in the material. It winds up working better as a quirky culture-clash comedy than a darker and more intimate examination of a crumbling marriage.
Louis-Dreyfus is particularly convincing here, capitalizing on a too-rare opportunity to spotlight her versatility on the big screen. Her uneasy chemistry with Ferrell is perhaps intentional given the exposed fragility of the relationship between their characters.
They generate some scattered laughs, both good-natured and otherwise. But the film's navigation of its more complex narrative peaks and valleys leaves you emotionally chilly.