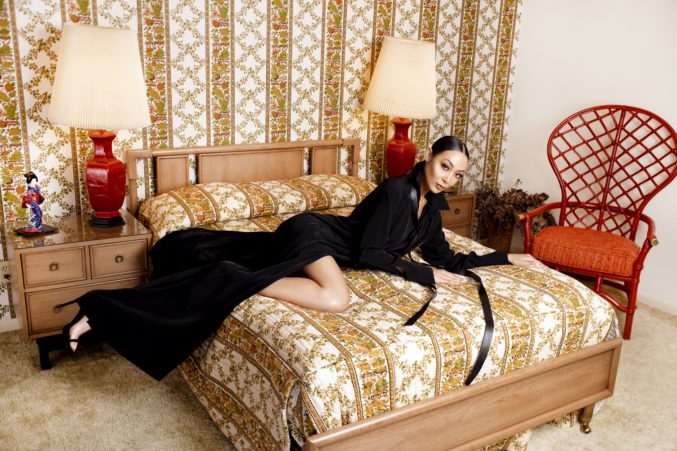 Celebrity Stylist J. Bolin and Influencer Kim O. Launch Dallas-Based Clothing Line
Their collection, The Debut, hits the runway tomorrow night at Sixty Five Hundred.
The moment Kim Stephens-Olusanya saw the work of personal stylist J. Bolin, she knew she had found her perfect fashion match. The influencer and entrepreneur was browsing Instagram when she stumbled upon an outfit pic that stopped her scroll. It was one of Bolin's clients wearing a gown by a little-known designer–one that Kim had never seen before. 
"I mean, that made me pick up the phone and call immediately," Stephens-Olusanya says.
"She was very demanding. She said that she wanted me and she wanted me right then," Bolin chimes in. The stylist respected her determination. "That automatically tells you that she's a visionary, so when you're working with a visionary already, it makes it extremely easy and effortless to identify the style."
Over the past three years, the pair has been carefully honing Kim O.'s look, building a wardrobe that's both fashion forward and functional. Now, they're spreading their effortless style philosophy to women everywhere with a new clothing collection, The Debut, dropping February 28. 
The ready-to-wear line is seasonless and comprised of easy-to-mix separates, with prices ranging from $250-$1,250. The looks are layered with individual pieces simple enough to wear again and again. The two designers throw around the words classic and effortless, but 'basic' is not in their vocabulary.
"It's definitely not for a woman that doesn't want to stand out," says Kim. "They're going to be noticed." 
Still, the most important objective was to build a collection that was practical and meets the modern woman's priorities. As the CEO and founder of Texas Bearings of Dallas, INC, Charter Hospitality, and the non-profit Action with Compassion Dallas, Stephens-Olusanya understands that wearability is key. 
"We want to help you build a wardrobe so that your closet becomes full of quality pieces that are timeless," says Bolin. 
The Debut will launch with a runway show on February 28 at Sixty Five Hundred in Dallas. Tickets for the event start at $75, and a portion of the proceeds benefit Action with Compassion. The fashion line will be available for pre-order online starting March 3.