My vision is cloaked in pink, like looking at the sun through closed eyes. I'm warm, relaxed, and my limbs are heavy. Over the sound of a wind tunnel, I can hear chimes of music, an unearthly creature cooing. Time has lost all meaning, though I'm pretty sure it's been, like, 15 minutes. 
Greetings from inside of FriendsWithYou's orb. I've evolved into my final form: a giant, furry, inflatable, cotton candy-hued sphere. I'm slowly bobbing around the Dallas Contemporary's periwinkle gallery, performing The Dance with no partner (my baby blue counterpart is deflated on the other side of the room).
The Los Angeles-based duo's performance piece at Dallas Contemporary is the most unabashedly joyful art I've seen in a long time. You can't help but smile when you see the two goofy characters rolling around the museum. Children and adults alike pet their pastel coats and giggle with delight. It's easy to forget there's a person on the inside, and that was the artists' intention. 
Yet, as soon as I saw a pair of sneakers peeking out from under the orb during the press preview, I became obsessed. 
How did they get to be there? Were they having fun? These questions needed answers, and I wanted to find them out firsthand.  
Dallas Contemporary and FriendsWithYou were surprisingly willing to accommodate my unusual request. I would visit between performances, receive a brief training session, and do The Dance (it was, for the record, a private, unofficial, and unimpressive performance).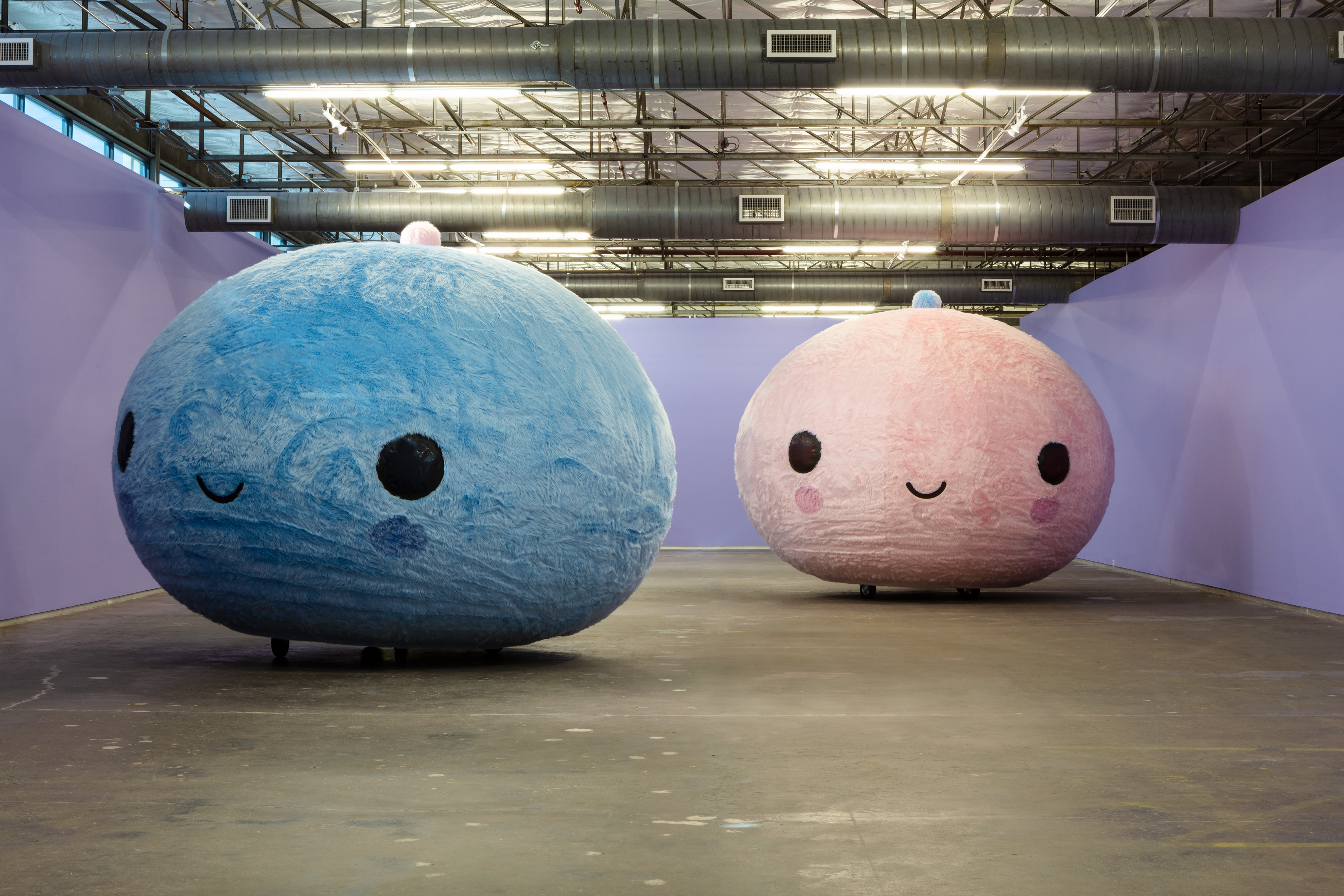 I hoped that the experience would help me better understand the piece, but, mostly, I just wanted to know what it was like in there. 
From the outside, the orbs look like giant plush toys. Structurally, each one is like a giant beach ball on wheels. I stepped into a zippered seam in the fur and positioned my feet within a rolling platform. There was a skirt-like contraption around my waist to keep the constant rush of air inside the orb, and handrails in front of and behind me to steer. 
Visibility is not great. The orb's eyes, made of black mesh, are the only windows to the outside world. Light shines through the pink fur, though, casting shadows of curious hands grazing the outside. The gallery docent-turned-performer who trained me says she's seen kids tracing hearts and "I love you" on the surface. Sometimes the orbs accidentally run into the walls or nudge visitors, but it only makes them more endearing. 
Submerged in my pink bubble, I spin, wobble, and drift aimlessly. Between the darkness and the humming of the air compressor, it's almost like being in a sensory deprivation tank. I'm brought out of my haze when Carolina Alvares-Mathies, the Contemporary's new Deputy Director, comes to check on me. It's been cool, but I'm ready to exit. 
The zipper opens and I stumble out. I don't remember being born, but I assume it's a similarly jarring feeling. Everything is too bright and I'm a little queasy. Still, I reentered the real world with the information I needed: It was weird in there, but I did have fun. 
FriendsWithYou's exhibition The Dance is on view at Dallas Contemporary through March 15. The piece is performance-based, and you can find the schedule here. 
Get the FrontRow Newsletter
Get a front row seat to the best shows, arts, and things to do across North Texas. Never miss a beat.