Galleri Urbane Marfa + Dallas is starting the year with exhibitions from returning artists Heath West and Rachel Hellman, both of whom are celebrating their third solo show at the gallery. 
Los Angeles-based West presents Utopia, a new series of architectural paintings which challenge the aesthetic compromises made under late capitalism. In his largest canvases to date, West depicts several real buildings that embody his idea of Utopia, proposing a future which beckons to the architectural values of the past. 
Hellman's solo show, Cross Fold, is a bit more straightforward. The artist's geometric, colorful paintings tiptoe the line between two-dimensional work and sculpture, playing with the viewer's perception of space. She has several of her shaped wood paintings on view as well as some large works on paper. Both exhibits are on view January 11 through February 15.
Cris Worley Fine Arts opens two solo exhibitions from Texas artists on Saturday, January 11. Houston-based Kelli Vance is featured in Performance Anxiety, a selection of new paintings in her signature photorealistic style. These pieces in particular explore the space between perceived and experienced reality. If I had the money, I would buy the painting titled "Separation Anxiety."
The gallery is also presenting new, large-scale works by Dallas-based artist Trey Egan in Sense Impression. Egan's abstract paintings home in on color and texture, using layers and layers of paint to create complex images. Fun fact: He never uses the exact same color twice on a canvas.
Dallas Contemporary will open a diverse trio of solo exhibitions by Joël Andrianomearisoa, Jose Dávila, and FriendsWithYou on January 12. The artists represent aesthetics that could be summarized as ashen apocalypse, beige minimalism featuring rocks, and rainbow cartoon fantasy, respectively. Needless to say, there are a lot of ideas happening here. 
Andrianomearisoa's Serenade Is Not Dead (which happens to be Senior Curator Laurie Ann Farrell's Dallas Contemporary curatorial debut) is an abstract narrative that's intended to act as an emotional prompt. The romantic gesture is "a way to put feelings, emotions and desires back at the center of discussion."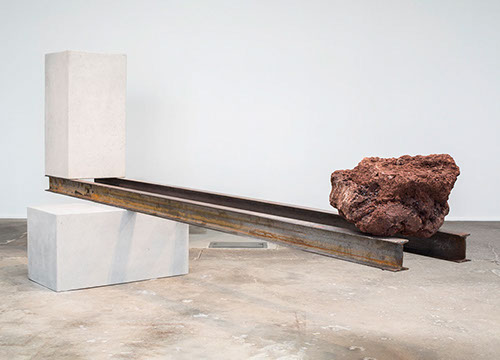 Dávila, a sculptor who was trained as an architect, is building Directional Energies as a site-specific installation that will engage with the structure of the museum. His large-scale sculptures composed of steel beams, cables, and locally-sourced boulders will invite viewers to stand beneath and experience the artworks' inner workings. 
FriendsWithYou, the Miami-based collective known for its cartoonish, colorful characters, is also creating a site-specific work at Dallas Contemporary. The Dance is billed as "an interactive and communal experience" based around two orbs moving around a dark space. The exhibition, which also includes two new paintings that are the largest FriendsWithYou has ever made, is supposed to transcend viewers into a state of higher self-awareness. The exhibitions are on view January 12-March 15.
The Crow Museum of Asian Art is introducing its first major series as a university-affiliated museum, Texas Asian Women Artists Series. It begins with a solo exhibition by Chinese artist and UT-Austin professor Beili Liu. Her show, One and Another, will open on January 18 and includes two major installations. The first, Each AND Every, addresses the migrant children crisis at our southern border. Hundreds of pieces of children's clothing are suspended from the ceiling, dangling inches about the gallery floor, both the threads and the garments fossilized in cement. Liu will incorporate a performance in which she sits, mending clothing in silent protest (dates to come). The second installation, Lure / Dallas, is based off the ancient Chinese legend of The Red Thread, a folktale that children are born with an invisible red thread tethering them to their soulmate. Liu plays on this idea with hand-coiled disks of red thread suspended from the ceiling.
The Nasher Sculpture Center is presenting the first major U.S. museum survey of Barry X. Ball, a New York-based artist who reimagines classic fine art through the lens of innovative technologies. Barry X. Ball: Remaking Sculpture includes three decades of the artist's work, focusing on his two series, the Portraits and the Masterpieces. The latter is a series of replicas, made through a process involving 3D scanning, digital modeling, and CNC milling machines, which allows Ball to work with difficult materials including semi-precious stones. His unusual techniques produce works that are exceedingly modern, yet steeped in ancient tradition. The show is on view January 25 through April 19. 
For just a few weeks, Laura Rathe Fine Art will have Color Fields on view, a solo exhibition by acclaimed Chinese artist Zhuang Hong Yi. The show is centered around the artist's textured, colorful flower motifs, which are inspired by natural landscapes. He creates the pieces using folded rice paper and colorful pigment, creating a dense bouquet on the canvas that looks different at every angle, seemingly coming to life. His work will only be on display at Laura Rathe Fine Art from January 11 through February 8. 
Get the FrontRow Newsletter
Get a front row seat to the best shows, arts, and things to do across North Texas. Never miss a beat.