1. The Present (and Future) Is Female
Like everyone else, I keep my eyes on my Instagram feed. Some of the most interesting artwork I see comes from female-centered and empowered spaces operating outside the commercial gallery scene. Sunset Arts Studios, located in Oak Cliff and co-founded by Rachel Rushing and Emily Riggert, has done stellar work this year. They've supported women of color through art exhibitions by Kiara Walls, Cocoatlicue, and Danielle Demetria East. Their current artist in residence, Molly Margaret Sydnor, is a queer black artist whose textile-driven work places her in the worlds of both experimental fashion and visual art. In fact, Molly was part of the most recent exhibition at the next space who is holding it down for women in Dallas—WAAS Gallery. 
WAAS, which was founded by Brandy Adams, recently celebrated its eighth anniversary with a show entitled "Release Your Voice" featuring Corrine Loperfido, Megan Boyd, Mariell Guzman, Shamsy, Lori Menna, and Sydnor. WAAS also presented one of the best solo shows of the year, Shamsy Roomani's "Green Room." Her installation, called Cocoon, was like walking into the coolest meditation room you can dream of, with soft pink light, green plants, glowing gemstones, and an elliptical shaped sculpture. It was as if you were being invited to sit in a cockpit for the future. It was not to be missed. Additionally, Adams has organized women-focused talks and workshops exploring healing, wellness, sexuality, and moving past trauma. 
Both of these spaces tend to also be more supportive of queer-bodied and people of color as well, meaning each are supporting and cultivating the future of culture in our city. If you don't regularly support them, now is the time. 
2. The Kids Are All Right
It felt like the bottom fell out of the Dallas art scene in 2016.
Dallas had finally earned some much-deserved national and international recognition as an important art scene, primarily through the hard work of grassroots artists, spaces, and collectives. We have an ambitious gallery class. Larger institutions and collectors shifted their resources. Then the city of Dallas tried its best to kill it by sic'ing the fire marshal on the DIY spaces that helped cultivate and harness that energy. There was a huge brain drain and, perhaps most importantly, an energy drain. In that resulting gap, cities like Fort Worth overtook Dallas as more interesting places to be. That is no longer the case going into 2020. A new generation of gallerists and curators are making their mark. 
For those who have been waiting for the new OFG, ever since Kevin Rubens Jacobs shut down his eponymous gallery, the wait is over. Its name is PLANT and it is led by Noé Garcia, Gibson Regester, and Shelby Johnson. Garcia is presenting new, extremely talented artists with distinct visions: David Jeremiah, Colton White, Regester, and Vivek Sebastian.
Jeremiah's show, "The Look Out"  was a three week performance that invited viewers one-at-a-time to put on a Ku Klux Klan mask and give him a prison tattoo. White and Regester's show was a new media video installation, but it was their performances—White becoming a living doll and allowing audience members to dress them, Regester donning boxing gloves and fighting herself—that stole the show. Vivek Sebastian presented large paintings that were almost acid-like in their saturated colors and haziness. Garcia is also accomplishing this at 23, fully developed and in complete control of their vision.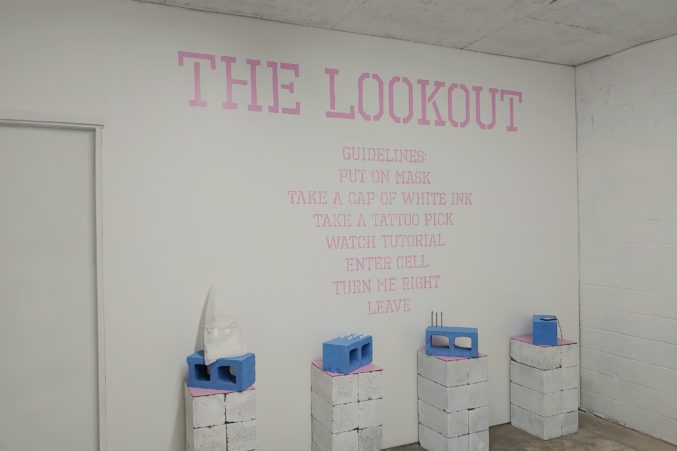 A new set of stars have arrived. Ignore at your own risk.
Also launching new spaces are sisters Hannah and Hillary Faganadu, of 12.26. It is refreshing to see some younger energy on the higher end of the commercial gallery game. There is certainly room, and Hannah and Hillary were flexing before they made their introduction in a booth at the 2019 Dallas Art Fair. Their grand opening was packed to capacity. They are proving that Dallas collectors may finally be in the mood for something new. 
It is hard enough for a gallery to figure out how to feed its director, let alone an entire team. However, some of the best galleries in town have learned that if the right person comes along it is worth it to keep them. Just as it is impossible to think of Nancy Whitenack's Conduit Gallery without now co-director Danette Difulio, director of exhibitions Adrian Zuniga is injecting new life into Ree Willaford's Gallerie Urbane. Zuniga has curated several group shows for the gallery, most recently "Distant Snapshots." 
Finally, ex ovo gallery, directed by Allison Klion, has had a slew of successful shows. From their smartly curated and executed "The Big Summer T-Shirt Show" that featured over 90 artists designing and deconstructing t-shirts to their current exhibition "Next Exit," which invited artists to explore how they interact with Dallas. They created ramps inside the gallery. Another built a miniature replication of the Omni Hotel with the phrase Black Lives Matter looping in neon on it. As a result, ex.ovo has felt unlike any other exhibitions happening in Dallas. These creatives, all 30 and younger, will help define what culture looks like in Dallas in 2020. 
3. The Goss Michael Foundation Has a New Gallery
During the exhibition by the artist RETNA, the Goss Michael Foundation debuted a new gallery space. Many viewers were surprised when instructed to go around the corner and were delighted by the additional sunlit space. I don't have a lot of analysis on it, but it was cool and I hope they use it to launch some local programming: similar to how The Dallas Art Fair launched 214 Projects. Later I dropped in and saw some artist-made rugs that were luxurious and playful in their oblong shapes. It appears for now that Goss Michael has expanded. Keep in mind: it is one of the trickier galleries to figure out when openings are occurring, so pay attention to their social media. 
4. See This Now
"The Self Publication," a photographic essay exhibition by Nitashia Johnson, is a supremely-executed collection of photographs and personal essays that center on images of black millenials with a focus on women. The pictures are lush and soft, capturing the inner glow and strength of each participant. And somehow it makes Dallas seem diverse, fashionable, young, and vibrant. Why? Because these are people who live here. This is this show's genius. The Self Publication is equal parts education about the personal effects of racism and colorism and inspiration about the transcendence of black beauty. 
November 9 through January 5
South Dallas Cultural Center 
5. Gallery 101s
What is a gallery? This seems like it is a simple answer: a gallery is a space that shows art. There are commercial and non-commercial galleries. I think of a commercial gallery as a store that sells art; everything is usually for sale and they often have additional art you can purchase that isn't currently being displayed. Commercial galleries may represent a roster of artists or work with artists on an exhibition basis. Most commercial galleries have a physical location, but some exist only online. 
Non-commercial galleries may or may not have art for sale. They tend to exhibit more experimental art or, at least, forms that are less commercial. Non-commercial galleries can also be part of arts nonprofits like THE MAC or 500X, in the Cedars and Expo Park, respectively. They are often found at colleges, universities, and city-run cultural centers. And, while we're on the topic, there are two other spaces where one can often see art: museums and artist studios.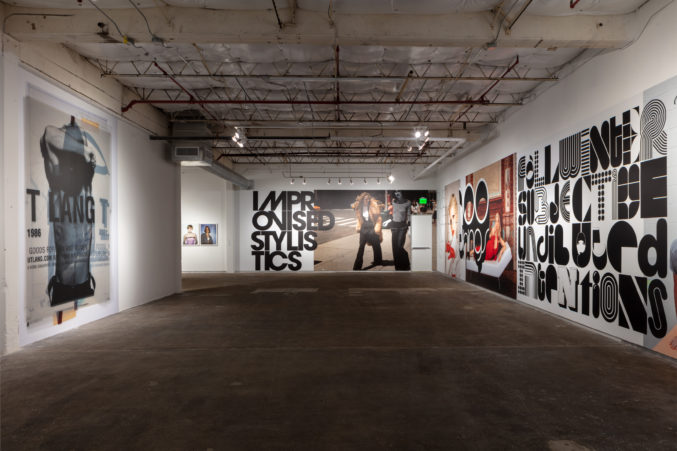 There are two types of museums: collecting and non-collecting. The Dallas Contemporary does not have a permanent collection and exhibits art by artists that they deem are museum-quality. The Dallas Museum of Art and the Nasher Sculpture Center do have permanent collections and keep important pieces of art as a trust for future publics, of course. 
Artist studios are where art is often created. Keep an eye out for when artists open their studios to the public. There are two annual events not to miss: White Rock Open Studios in October and Oak Cliff Speed Bump, in May. They give the public a glimpse into an artist's creative process. And, of course, businesses, laundromats, and shopping malls also show art. These are alternative spaces. 
Gallery 101's goal is to give answers each month to commonly asked questions that no one ever bothers to address – but you can't become an art supporter if you do not know where to see art. 
6. Where Is the Middle Class?
Now that you're caught up, one of the areas that the Dallas art scene currently lacks is the mid-tier exhibition space. These are more prestigious and better resourced than a gallery that isn't a museum. A space for ambitious, cutting edge work that would be produced by an artist who is working toward exhibiting at museums. These spaces can really go for it in a way that commercial galleries often won't, particularly with content that might upset the status quo and critique power structures that might benefit their collectors.
Right now we have two spaces like that, The MAC in the Cedars and Power Station in Expo Park. We need more nonprofit art spaces that can provide an artist up to $20,000 to create an exhibition. That's well below the $50,000 to $100,000 that museums put into their exhibitions, but more than the few thousand dollars that galleries might put into their exhibitions. 
Put this at the top of my 2020 wish list.
7. What We Should Learn From 500X
Earlier this month, The Gibson Company advised 500X gallery, one of Texas' oldest artist-run and cooperative galleries, that it had two choices to make concerning its most recent exhibition Queer Me Now: The Queer Body and Gaze: take the exhibition down by the end of the day or have the show taken down for them. It depicted campy images of genitals and sex, but also included some sculpture work. 500X chose to take the exhibition down themselves—thus the latest entry into Dallas' recent history of artistic censorship and discrimination was born.
The Gibson Company owns much of the real estate in the Expo Park. It has recently had an uneasy relationship with the arts community. In 2017, The Gibson Company declined to renew the lease for UT Dallas' beloved international artist residency known as CentralTrak. At the time, David Gibson was quoted in the Dallas Observer:
 "I have a lot of properties down here and it's clear when you're leasing to a business or to a person who's responsible for what," he says. "That was the main reason I didn't want to mess with it anymore."
Gibson declined to comment for this article.
500X is neither a person nor a business but a rotating group of artists who, through hard work and ingenuity, have created a successful and sustainable model of exhibiting artwork and nurturing local artists for over 41 years. Perhaps the brusque and unprofessional manner in which Gibson handled this issue has nothing to do with homophobia, but rather greed and opportunism. Perhaps Gibson knows they want 500X out of their space and are slowly but surely trying to provoke the entity and its leadership to get them to simply leave. It certainly would not be the first time a landlord has used such tactics to force out a no longer desirable tenant.
Which brings one to the hypocrisy. The Gibson Company has used the fact that it has provided affordable rent to 500X as a selling point about how it is a good corporate citizen. When Expo Park was not a particularly desirable area to live in, renting to artists and cultural entities is one of the things that stabilized the neighborhood and made it interesting. Particularly, visual artists have been a mainstay in that area. However, it is now possible to list a 625 square foot loft for $1,250. Artists are being priced out of Expo Park in the same way that they were priced out of Deep Ellum (This is exactly what happened at the Continental Gin Studios). 
Which brings us to the response of 500X, which was to go along with their landlord's instructions. I am disappointed in this, even though I am sympathetic to it. Censorship is still a big issue in this country. There are people who don't care anything about art but care greatly about censorship. And by 500X taking the art down themselves, they surrendered some of their purported moral principles. The point of taking a principled stand and what rallies communities of conscience to one's cause is that there is a recognition of real risk. In this case, the risk was losing a 41-year-old gallery space because one did not listen to a controversial demand from one's landlord. And it is unfortunate to be put into the position to make that decision, one that is quite difficult to make in the moment. 
I was on a panel organized by the Dallas Institute of Arts and Humanities and The Dallas Morning News on the topic of censorship last year. I had a project called Decolonize Dallas get censored the year before in 2017, particularly the work of Dallas artist Angela Faz. I talked a lot about two things at this panel: how hard we tried not to get censored and how much it sucked to get censored. And it sucked because we (my creative partner Carol Zou and I) spoke out about it and powerful people got really upset at us. Like, don't-ask-us-for-money-again, you-will-never-work-in-this-town-again, upset. And that is fine; after all, it is their money, their prerogative.
It is cliche but worth remembering, freedom of speech is not freedom from consequences. Why we admire people who are courageous, who loudly and proudly tell their truth, is that they are sticking their neck out. And the problem with sticking your neck out is that you risk getting your head cut off. 
500X's decision not to immediately do that was probably a prudent one. However, I do not believe it was courageous. I believe that the role of the artist in society is to be courageous. Once we stop being courageous, we become ornaments, tools, and playthings of the rich and the powerful. We become inert and lose our ability to create meaningful change. This is not to suggest the artist should not be strategic. We clearly need better organizing tools, strategies, and capacity building because noncommercial art spaces, artist studios, affordable housing, and artists themselves have been losing to unchecked capitalism for years now. 
And 500X gets much credit for finding a new home for this how at The MAC from December 28 to January 5. There will be an artist talk at 2 p.m. during the closing of the show and it will be interesting to see what people say about this experience.
Hopefully, in 2020, Dallas artists can finally decide that no one at any time, in any position, is going to put up with their shenanigans. That we are finally going to stop letting folks use us, abuse us, and discard us, both inside and outside our arts community. This is a resolution that I can get behind. 
Get the FrontRow Newsletter
Get a front row seat to the best shows, arts, and things to do across North Texas. Never miss a beat.