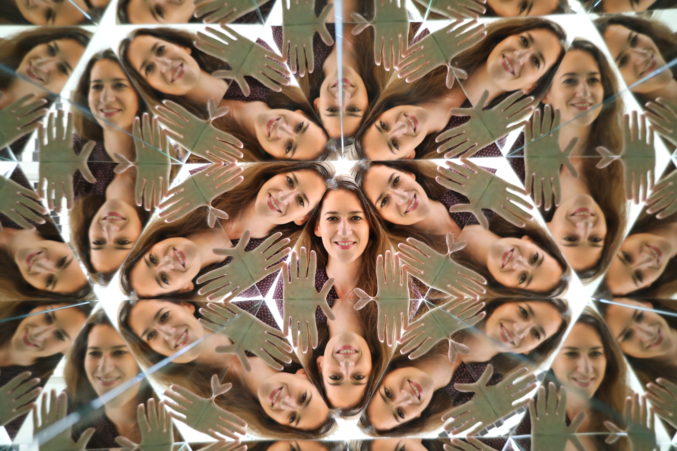 The Museum of Illusions Opens on Saturday in Dallas' West End
You can play brain games and take funny photos at the new 'edutainment' venue.
Texas' first Museum of Illusions makes its debut on Saturday in Dallas' West End District. The new 'edutainment' attraction aims to trick and amaze visitors of all ages with immersive installations demonstrating and explaining how the brain perceives things. It's part science museum, part Instagram photo-op. 
The permanent museum (don't call it a pop-up) is part of a quickly growing franchise that started in Croatia in 2015 and has expanded to more than 15 countries. Dallas is the third Museum of Illusions in the U.S. following New York City and Kansas City. Additional locations in Chicago, Miami, Las Vegas, and Washington, D.C. are already in the works. 
Dallas was a good early candidate because it's a city that seems to magnetized to trendy concepts like this one, says Museum of Illusions co-owner Subhi Gharbieh. And there's really nothing more on-trend than an "immersive exhibit," as made evident by the constant stream of pop-ups like 29Rooms and the Museum of Memories, and even in non-traditional museum shows, like speechless at the Dallas Museum of Art.
The Museum of Illusions isn't as visual as most of those, though. There are a few photo-friendly moments, but it's definitely not an "Instagram museum," and you'll be disappointed if you go with the sole intention of spicing up your feed. It's more about playing brain games, having fun, and learning a thing or two about the mind. 
"We want to educate people how easily their brains are fooled," says Gharbieh. 
Installations like a tilted room–the same effect that was used to shrink hobbits in Lord of the Rings–and a reverse room allow you to create your own illusions in photographs, while puzzles and games are designed to test your logic.
Highlights include a Kusama-inspired infinity mirror room and a vortex tunnel that feels like an amusement park ride. 
My official verdict? It's a fun, lightly educational addition to Dallas' museum spread. It's amusing enough for adults and especially suited to elementary school-age children. It's pretty small, though, and $15-19 per ticket seems a little steep for an activity that takes about 45 minutes. To get the most for your money, I'd recommend going when there's a special event. 
Illusionist Zak Mirzadeh will be performing this Saturday and Sunday for opening weekend, and starting December 14, Santa Claus will make special appearances on weekends through the end of the month. 
Learn more about the Museum of Illusions and plan your visit here.