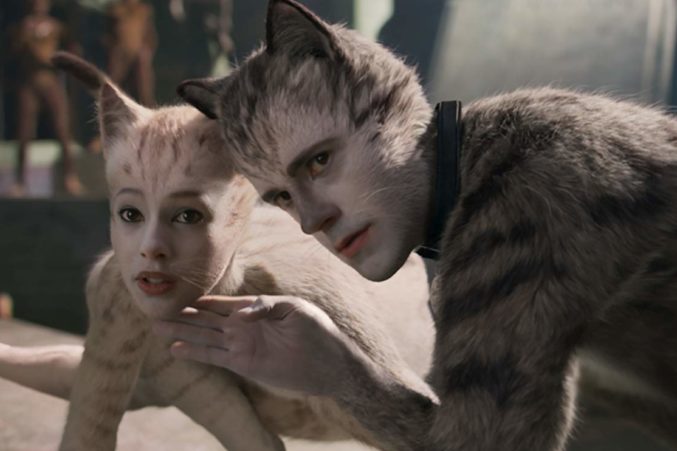 Stage Dive: Lavish Cats Coughs Up a Cinematic Hairball
This big-screen adaptation of the enduring Broadway musical boasts abundant spectacle with little effort to focus or enhance its source material.
You might adore feline house pets or have a particular fondness for Andrew Lloyd Webber's venerable stage production. But even the most ardent of cat lovers probably won't love Cats, a bewildering and curiously flat effort that will leave many moviegoers scratching their heads — or anything else their paws can reach.
This unfocused adaptation of the enduring Broadway musical boasts abundant spectacle and a noteworthy behind-the-scenes pedigree led by director Tom Hooper (The King's Speech). Yet aside from a few extravagant production numbers, the film doesn't offer any meaningful upgrades from the fluffy source material, whether you regard it as silly or sincere.
The film chronicles a series of adventures mostly through the eyes of Victoria (Francesca Hayward), a newcomer trying to mesh with a collection of anthropomorphic stray cats known as Jellicles who roam London's back alleys at night.
She learns of preparations for the annual Jellicle Ball, during which wise matriarch Old Deuteronomy (Judi Dench) will choose one cat deserving of ascension into the Heaviside Layer, which preludes returning for a new life. The process is interrupted by Macavity (Idris Elba), a devious cat trying to cheat his way to becoming the Jellicle Choice.
Faithful to a fault, the screenplay by Hooper and Lee Hall (Rocketman) is structured as a series of loosely connected showcases for its ensemble cast members. After an uninvolving start, the film picks up with strong performances of songs such as "Macavity" (by Taylor Swift) and "Mr. Mistoffelees."
Later, when the story hastily focuses on the redemption of the ostracized Grizabella, Jennifer Hudson belts out a worthy rendition of Webber's signature ballad "Memory."
Outside of those occasional sparks, the film never finds an emotional anchor amid its chaos. When you're adapting a stage production for the big screen, it's critical to find ways in which the more intimate format will provide enhancements.
Hooper frees the action by incorporating some colorful and vibrant sets and some elaborate visual effects. But unfortunately, the widely maligned decision to replace the cat costumes with computer-generated fur on the heads and bodies of the actors proves more distracting than endearing at close range.
Perhaps the intent was simply to salute the musical and reimagine Cats for a new generation. However, such ambitions are undercut by ill-conceived execution in a film that should be neutered.