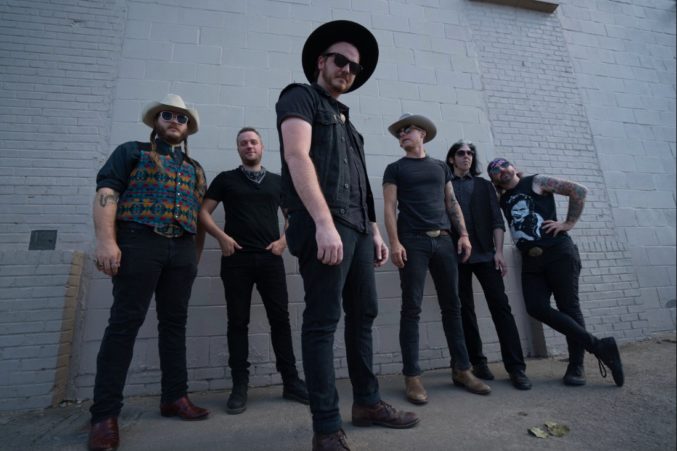 Vandoliers Are Coming Home for the Holidays
After months of touring, the cowpunk band is back for a Friendsgiving Potluck and concert in Dallas this Wednesday.
In 2015, the members of Vandoliers joined forces. Now, mixing country influences with punk, the six-piece North Texas band has forged a sound uniquely its own.
After touring since its album release in February, the band is back in DFW and ready to kick off the holidays with its annual Friendsgiving Potluck.
"Touring is amazing and it's definitely something I have always wanted to do, and it has taken a long time to get to the point where I am touring consistently," frontman Josh Fleming says. "But there is the hard part about touring where you are away. We released our album on February 22 and immediately started touring."
The potluck will be the first local performance for the band since the release of its third studio album, Forever, which combines punk, red dirt, and Tejano influences.
"We are going to hit about 135 shows this year, and that's so many more than we've ever played in a year," Fleming says.  "Being home and playing our third local show of the year is pretty great. I am so happy—everybody has their own lives, so it is great to get everybody under one roof."
When Fleming was approached about making this an annual event, he knew he wanted to keep up traditions they had started, starting with booking local talent Ottoman Turks and Ryker Hall.
"Last year, Josh Walker [of Ottoman Turks] opened acoustic—we were all from State Fair Records, which is where we started, so we are all a big group of friends," Fleming says. "It is kind of a family ordeal. Ryker is one of my favorite songwriters out of Fort Worth—I love his voice. Even though I didn't grow up listening to that kind of music, I still understand it… I knew playing Three Links was on his bucket-list, so I offered him the gig. Hopefully it's a good time—he's bringing the rolls."
It's important to the band that the potluck is a no-judgement zone—people are asked to come as they are, and feel safe in loving and accepting environment.
"I think next year we want to make it a food drive more so than a potluck," Fleming says. "It was originally just for the bands, but last year, last minute, I thought about our community and how there are a lot of people out there that don't have families or loved ones to share it with."
Now, the band is focusing making a positive impact by serving the community, starting with providing the food for the potluck. Guests are welcomed to bring something—but it is not required.
"My wife and I are bringing the turkeys," Fleming says. "Josh Walker is bringing casseroles, and a couple of people are bringing pies. You'll be invited into the weird little scene of cow-punk, where cowboys and punk-rockers come to reside."
Wrapping up another successful year of music, the band isn't slowing down anytime soon. Fleming has already written multiple new songs, which he hopes to record this winter, perhaps planting the seeds for a new album. The band also has multiple gigs lined up for next year, including a six-week stint in Europe.
"Now I know the sky is the limit," Fleming says. "I think right now, we are just trying to hold on and ride whatever happens for as long as we can."
Vandoliers Friendsgiving Potluck will be hosted at Three Links this Wednesday, November 27. Doors open at 7 pm, and tickets to the potluck are $13.