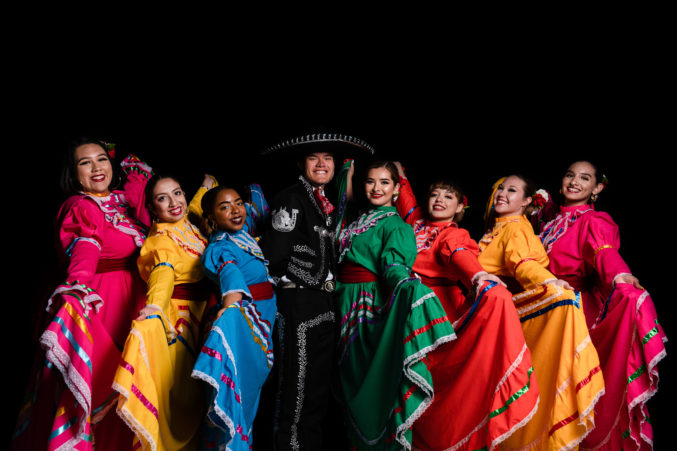 UNT's Folxlórico Is Bringing Together the Latinx Community in Denton
The university's ballet folklórico dance group is making sure that Latinx students are represented on campus.
In traditional Ballet Folklórico, culture, costumes, and color meet to create a beautiful art form. For University of North Texas' Folxlórico, the dance is about so much more—it's about gaining representation on campus.
Folxlórico, which was started at UNT in Spring of 2018 as Folklórico de North Texas, has become a powerhouse for bringing together the Latinx community in Denton.
The recent rebranding to Folxlórico is courtesy of Creative Director Mark Baker-Sanchez, a recent graduate of UNT.
The change started because Nessa Morgan, who is the current secretary of Folxlórico, asked him to photograph the group's first performance in Fall 2018.
The next semester, Baker-Sanchez took a cause-based design class for his communications and design program. He pitched Folxlórico as his non-profit organization and it was chosen by the professor.
"When we met, the organization was telling me all the problems they were having on campus, and it wasn't just a few, it was a lot," Baker-Sanchez says. "One of the bigger issues was lack of recognition and lack of respect on campus and in the community. People didn't know what they were."
Another issue was finding a practice space. The performance dresses are longer than the dancers' wingspans, so as Folxlórico grew bigger, the small classrooms were no longer viable.
"The main idea was to create something for them to bring awareness and elevate them so the community would see how important they are," Baker-Sanchez says. "It is still a work in progress, but they are gaining that recognition, and gaining that respect."
The name change is part of an effort to be more inclusive. By replacing the k with an x, and taking out the North Texas, they are no longer confined to a certain demographic. The subtle switch has allowed them to reclaim their culture, while bringing new meaning to it.
One project that Folxlórico has taken on to increase their presence in the community is a partnership with Lake Dallas Elementary.
Treasurer Alonso Rodriguez, who grew up going to Lake Dallas Elementary, helped connect the organization to the school in order to help teach the younger generation the art of Folklórico.
"Seeing kids from the younger generation impacted by this art form and come to terms with their culture at such a young age is amazing," President Melodie Hernàndez says. "We saw that was lacking there and wanted to fill that void."
Their outreach outside of the UNT/Denton community has been crucial to their growth as an organization, and it has allowed them to see their numbers grow over the last few months.
"Representation is very important because in the Denton community, a lot of things are white-washed or gentrified," Hernàndez says. "You don't have to be able to dance at first—you can learn as you go. It's important to remember what Folxlórico stands for, and be willing to advocate for that."
Alejandra Balbuena, Folxlórico's PR chair, thinks it is important that people see themselves represented within these types of organizations.
"Without representation, we can't make people feel safe and comfortable at UNT," Balbuena says. "If they don't see themselves, see their faces, at UNT events, where else are they going to see it?"
An important part of her role on campus included planning the spring showcase earlier this year, where dancers did solos and group dances that represented their respective regions of Mexico.
"It was a crazy night, but it was so worth it to see their hard work," Balbuena says. "To see their parents faces light up in the audience, to see our graduating seniors give their final bow in a very personal way–that's what makes it all worth it."
If you want to see Folxlórico in action, their next performance is Friday, November 15 at 7 p.m. for a belated Dia De Los Muertos. It will be at Legends Hall on the UNT campus.