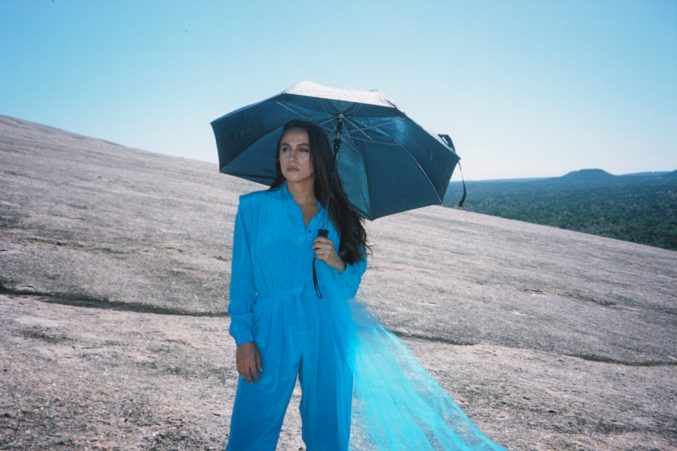 This Weekend in Dallas: Angélica Rahe at Deep Ellum Art Co.
The Latin soul singer performs in Deep Ellum on Saturday with Dallas' Cure for Paranoia.
Editor's note: There are plenty of fun events happening in Dallas this weekend. Here, we home in on one. See the full lineup on our Things To Do page. 
If you like sultry R&B with a Latin twist, you'll love singer-songwriter Angélica Rahe. The Spanish-born musician has been working behind the scenes in the music industry for years, writing songs for other artists in LA and touring as a guitarist and backup singer for Kali Uchis. Now, Rahe is finally preparing to release her own debut album, "Reina," coming early next year.
The project drew her to Austin about a year ago, where she quickly made connections with Texas artists like Adrian Quesada of the Black Pumas, and Dallas' Cleon Edwards, who's now her bandmate. Her latest single "Como Yo" features another Dallas talent, Cure for Paranoia frontman Cameron McCloud.
She's in Dallas this weekend, headlining a concert at Deep Ellum Art Co. on Sunday night with support from Cure for Paranoia as well as Houston synth-pop group Camera Cult. (Secure tickets here.)
Where are you from?
I'm from a small city in Spain called Zamora, but I grew up nomadically as a kid. I grew up all over the world, between Spain and Japan and being a teenager in the U.S. 
How would you describe your sound?
My sound is very feminine, it's very sensual, it's very poetry-driven. My influences are artists like Solange and Sade, so I love neo soul as well, like Erykah Badu and D'Angelo. So it's kind of a mix of those neo soul sounds and that I love, mixed with my culture—classic Spanish singer-songwriters that I grew up listening to as a kid. 
Your band just came together pretty recently, and there are some Texans in the mix! How did you get connected?
I connected with Nick Clark, my bass player who's from the Austin area. He actually lives in LA part time right now because he plays with Kanye West. We connected here in Austin and he's now my musical director. I'm pinching myself, it's so cool! 
He brought in Cleon Edwards, who's from the Dallas area. He's a legend. He's a Dallas native, and man, he played on my record and it was an honor. He's unfortunately not going to be able to play with me [in Dallas], because he's on tour with Erykah Badu right now in Brazil. 
What prompted your move to Austin?
I was living in LA before this. I was on my way to Austin about a year and a half ago. I was on tour as musical director for Kali Uchis. We opened Lana Del Rey's tour for all of North America. I found my way to this area of the country, and I just vibed with it. I loved the love for live music. I had the honor of working with Adrian Quesada, he's a member of the Black Pumas—he's based here in Austin—on my last EP. I worked with him in his home studio and it was just such an amazing environment to create in.
I spent about six-and-a-half or seven years in LA working as a songwriter, writing a lot of songs for other artists and helping develop other artists. There's a pop sensibility in that part of the world. So, it was a good learning experience, but it was cool to come to Austin and meet people like Adrian. It was just something that made my heart feel good and it gave me the opportunity to focus in on my own music for a change. 
How did your experiences supporting other artists shape what you wanted to bring to your own debut album?
I had such an amazing experience being part of so many artists' development and careers, and being able to help them bring their message to the stage, or to a song, or whatever it is. That was such a learning experience to see all the different phases and factors in an artist's career, everything from writing the song to taking it to stage. The most inspiring part of working with a great artist is their authenticity, and with me taking some time for myself and looking inward, I was able to figure out what I really wanted to say.
How did the collaboration with Cure for Paranoia come about?
That's another Austin thing! I went to my first South by Southwest this past year, and I kind of researched all the artists that were going to come. I heard their music and was blown away. I went to see them and their live show was incredible. Cam's such a great guy, and so talented, so I kept in touch with them and I ended up playing another show with them in Houston. When I was working on the record, I wrote that song and I just heard him on it instantly. It all came together so beautifully. 
Tell us more about your debut album. 
My album is called "Reina," which means queen, and it starts with a period of reflection. It's a three-part journey of reflection and breaking cycles. It starts at the end of a relationship, which is what "Como Yo" talks about, and the time when you choose not to go back into a self destructive cycle. So there's a rebirth moment happens and then it comes to coming back to your highest self, discovering that royal self within you and finding people who see it. It's about owning who you are, self-love, self worth, all of that stuff.