It felt like one long internet secret was spilling onto a real-life stage at Canton Hall on Tuesday night. Full of inside jokes and layers of aesthetic plucked from moments in pop history, Kero Kero Bonito played a confident set opened by the equally strong Negative Gemini.
Formed on a message board in the tweens, Kero Kero Bonito is an aggressively playful act that began as a predominantly electronic project. KKB then morphed into a rock band, complete with the straddle-pose guitarist sound-checking with a Pantera riff between songs. They can go from comedic to heartfelt on a whim, which is not an uncomplicated skill. On Tuesday, their set was a balance between 2016's electronic-dominant Bonito Generation, and 2018's rock album, Time 'n' Place, along with some singles thrown in.
Negative Gemini has also become more guitar-oriented since starting a label called 100% Electronica, one of the star-makers of the current iteration of the Vaporwave movement. The most famous merchandise booth staffer in Dallas last night had to be George Clanton, who runs the record label with Negative Gemini. He was not performing, but he is also a musician, regularly selling out shows with a signature minimal L.E.D. screen setup that probably has many bands kicking themselves for not thinking of the idea first. He says it's his first night on the tour as he sells records, cassettes, and profane keychains.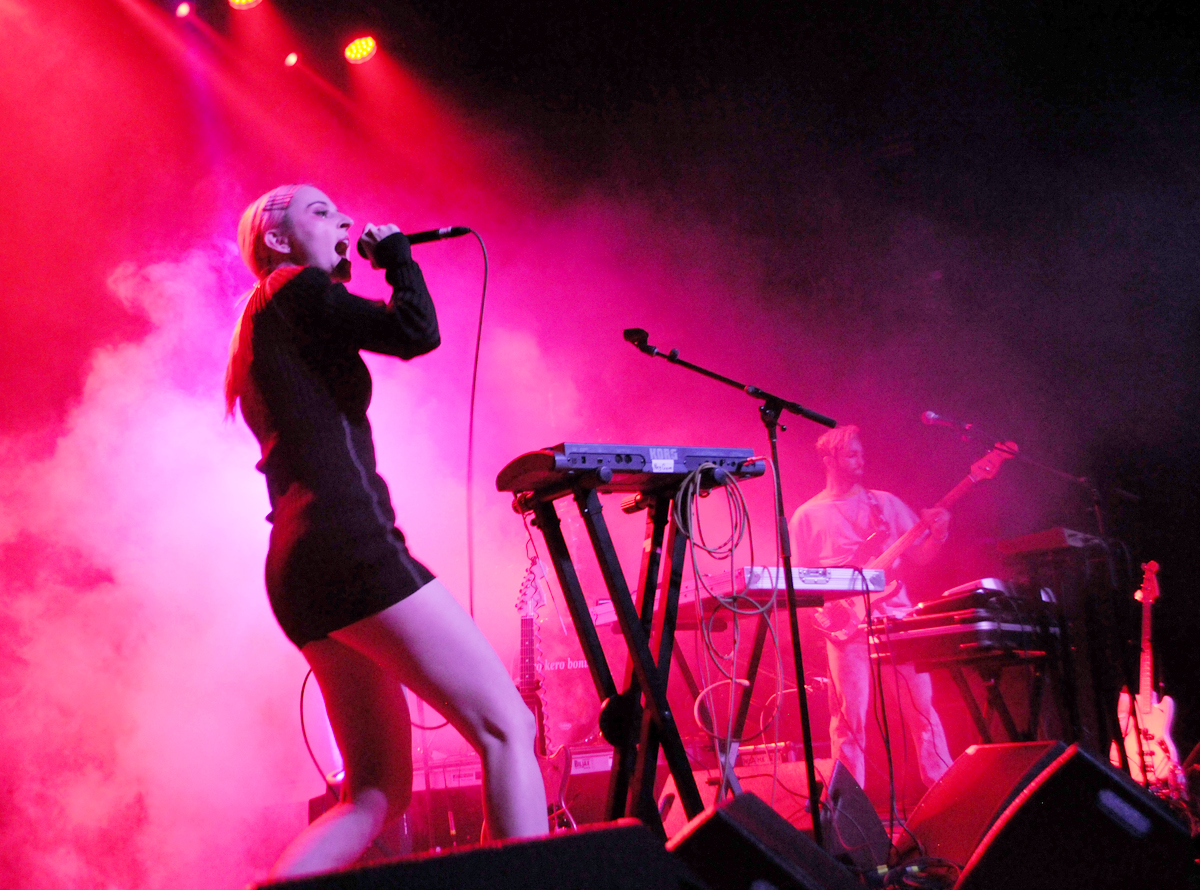 "This next song goes out to anyone who's ever been fucked over," says Negative Gemini, a.k.a. Lindsey French, before performing "You Weren't There Anymore." Living up to the name, the songs are often about things that are not, rather than are—she opened with another declaration of spiritual absence, "You Never Knew." Using enormous beats that probably should have never resurfaced after 1995 or so, Negative Gemini is one of the most profoundly original acts in contemporary music. Growling over a little bit of Enya mixed with straining radio-pop melodies and a trip-hop undercurrent should be a disaster of misguided genre splicing. And yet, it all works. A recent collaboration with Adult Swim has helped to raise the artist's profile beyond a dedicated online following.
Her last two shows in North Texas were both at local art museums and without a full band. While the pared down setup works best in that somewhat sterile environment, the addition of a rhythm section changes Negative Gemini's live performance. The jumping and finger-pointing that marks French's movements is now accompanied by a weapons cache of noise. She almost knocks a sampler off of a keyboard stand twice. There are also moments so relaxed that you may not notice the chorus to a song is, "Don't Worry Bout the Fuck I'm Doing." While it's unclear whether French alone, or the entire ensemble is Negative Gemini, she closes the set by saying, "We're Negative Gemini."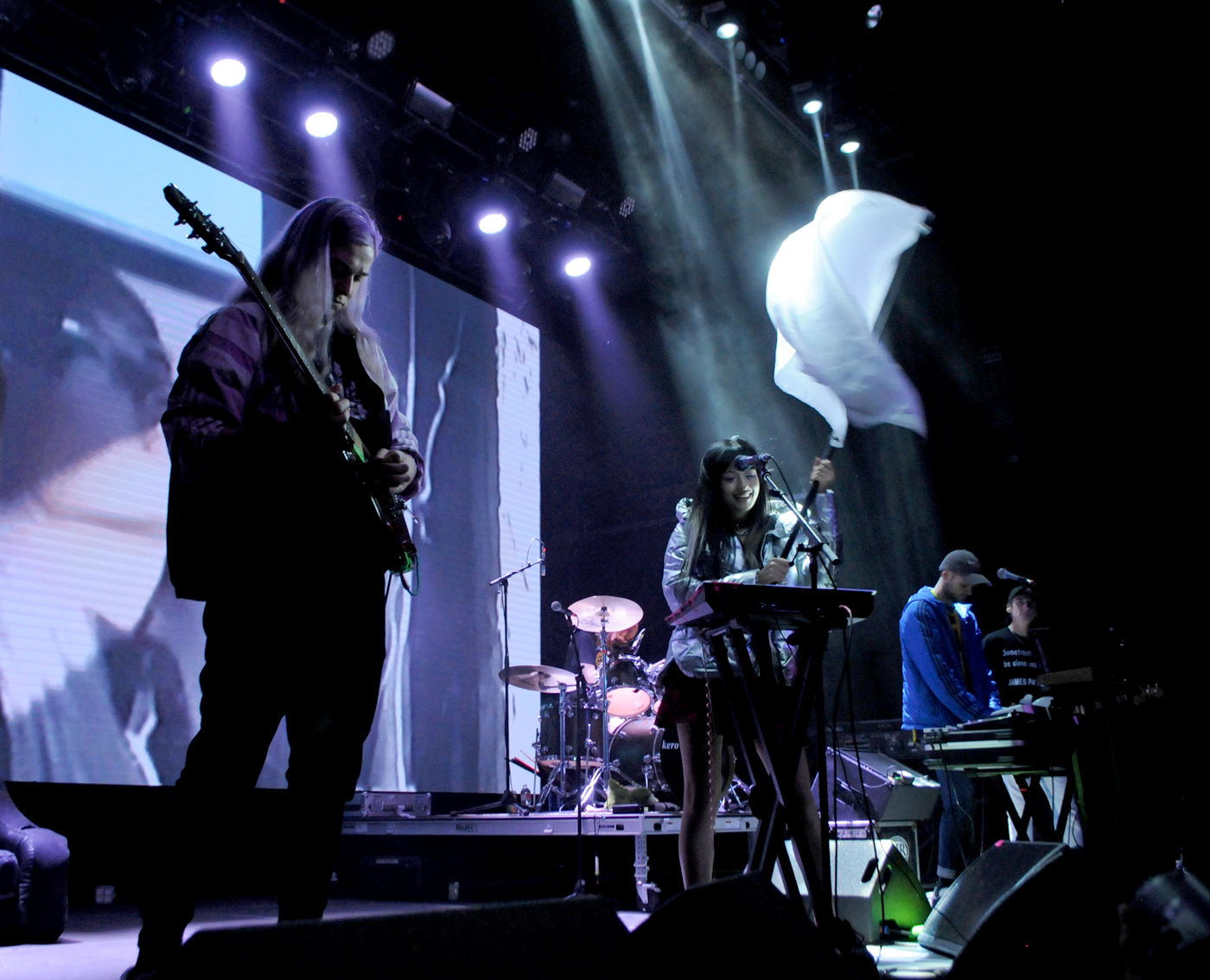 Kero Kero Bonito never goes anywhere near the depths of Negative Gemini, but instead played an upbeat and often hilarious set that seemed to change styles mid-sentence. Like many an overseas-touring-act before them, they professed their love for the Buc-ee's gas station chain. Founding member Gus Lobban also dedicated the first song to Mark Cuban. And the next. And the next. It was a joke that went from good to bad and back again, and was met with increasingly enthusiastic applause.
While Kero Kero Bonito's humor and shape-shifting approach to any particular sound may border on novelty for some listeners, there is a self-awareness to their music so sophisticated that it's difficult to parse how serious they are being at any given moment. Lines like, "I thought I was only acting" set to an uncomfortably Weezer-like backing track is worth experiencing in a live setting, if only to put some faces with the expression. So is seeing a group so confident that they can cover late-period U2—2004's strategically tepid "Vertigo"—without so much as a smirk.
There were also props. A white flag waved early in the set, and finally, a baton, which singer Sarah Midori Perry used to conduct the audience's participation. That would prove to be of little challenge. Kero Kero Bonito's fans are so enamored with this group that they would have done anything they asked. An entirely rowdy crowd leaped in place and smacked into one another while mouthing lyrics both in English and Japanese.
When the lights came up, a MIDI version of John Denver's "Take Me Home, Country Roads" played on the PA speakers. The crowd began to sing along and find partners for an impromptu hoedown. Why did they know the words? Perhaps it on some meme that was popular for half an hour. Whatever the reason, it was great to witness.
Get the FrontRow Newsletter
Get a front row seat to the best shows, arts, and things to do across North Texas. Never miss a beat.