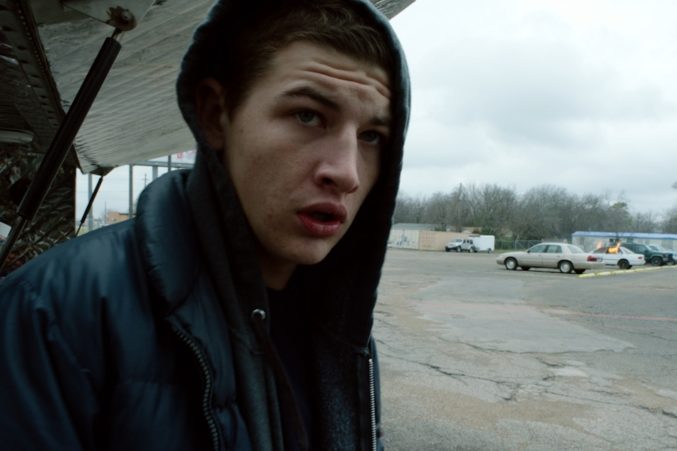 How a Waco-Set Drama Hopes to Open Your Eyes About Foster Care
The gritty coming-of-age saga Age Out stars Tye Sheridan as a teenager struggling to transition to adulthood without much financial or emotional support.
His first film was an esoteric historical drama about the upbringing of Abraham Lincoln. So the natural follow-up for A.J. Edwards was a gritty coming-of-age saga set in Waco, right?
Geography played a role in the Austin filmmaker segueing to Age Out, which follows a troubled Texas teenager struggling to cope after leaving the foster-care system.
"I was looking to shift gears," Edwards said during the South by Southwest Film Festival. "I wanted to work smaller, faster, and closer to home. I've always loved the way Waco looks, and wanted to shoot there."
Emphasizing atmosphere over plot, the film chronicles Richie (Tye Sheridan), a former juvenile delinquent struggling to begin life on his own at age 18. He works a series of odd jobs and crosses paths with an alluring but emotionally vulnerable girl (Imogen Poots) and with a loose-cannon petty thief (Caleb Landry Jones) while being tempted by criminal influences.
Edwards said his screenplay is loosely inspired by Dostoyevsky's Crime and Punishment, especially as it relates to themes of greed and ambition.
"It's a very cinematic novel. It's already been adapted probably 50 times in all sorts of different languages," he said. "This is a contemporary telling. There are several departures, but I think the essence of the novel is preserved, especially the idea of redemption."
Most of the film was shot in Waco in January 2016, with some scenes filmed in Austin and the West Texas outposts of Marfa, Monahans, Alpine, and Terlingua.
So what took so long to get Age Out into theaters? First, Edwards wanted extra time to shape the story in the editing room, which is where he became a protégé of venerable auteur Terrence Malick.
After the film debuted in early 2018 under a different title, it took a while to find a distributor, even as Sheridan became a more established name with main roles in Ready Player One and the X-Men franchise.
Edwards and Sheridan had known each other since collaborating on Malick's The Tree of Life in 2010. Edwards was credited as an artistic consultant on that film, which marked Sheridan's screen debut.
"It's a different character for him. Tye is very gregarious, charming, and funny — all terrific qualities — but this character is very interior," said Edwards, who wrote the character specifically for his star. "[Richie] hasn't found himself yet or fully matured. He's suffered hardship and despair, and is on the run. It's quite a transformation for Tye."
During his research, Edwards convinced a handful of people who recently aged out of the foster-care system to share their stories on camera, and integrated them into a sequence in the film. It's part of a broader exploration of teens who age out without sufficient financial backing or an emotional support system.
"Hopefully you immediately recognize the humanity and the sincerity in their voice. You can see in their eyes where they've been, which is in most cases a pretty challenging road," Edwards said. "You have a feeling for how grateful you should be for the permanence in your own life, and the strong relationships. They've faced a lot of disappointment in their home life, their education, and their employment. There's a solution to it, but it's not an easy one."