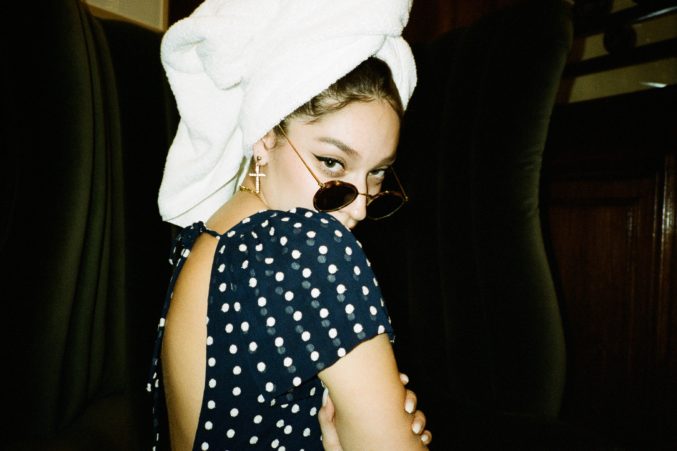 This Weekend in Dallas: Sara King Headlines Girls Rock in Deep Ellum
The 20-year-old Youtube starlet is headlining a show in her hometown on Saturday.
Editor's note: There are plenty of fun events in Dallas this weekend. Here, we home in on one. See the full schedule on our Things To Do page. 
When Sara King decided to get serious about music, she went where any Generation Z talent goes to be heard: YouTube. The now 20-year-old Dallas native has been sharing her angelic voice and guitar skills with the internet since 2014, amassing 203,000 subscribers in the process. She started by covering popular tunes by the likes of Lana Del Rey and SZA, but over the last couple years, she's emerged as a strong songwriter in her own rite with her debut EP Heat and smooth singles like "Bodiez." 
This weekend, the singer has her first headlining show in her hometown. She'll be performing at Deep Ellum Art Co. on Saturday for Girls Rock alongside Harper Grace, Ting Tang Tina, Devi, LO, and others. We gave King a call to hear what she has in store for the big show. 
How would you describe your sound? 
I'm transitioning into my real, authentic sound–which, I don't have anything out that's like this yet, but it's coming really soon–my new sound would be kind of like vintage, cinematic, but still pop. Kind of like old Lana del Rey vibes. 
You have a large following online, so it must be interesting to see where your listeners are from. Do you have fans in Dallas?
I'd say Dallas, and Texas in general, is my second biggest audience. But LA and California is my biggest. It's super cool to see that … I go to this grocery store just down the street, and one time I was there checking out and the cashier was like, 'Are you Sara King?' and I was like 'Yes,' and she said, 'Oh my god, I listen to your music.' I was like, what? It's crazy–I live like two seconds away from that spot and I was just buying some groceries.
I found you through Instagram, and I immediately loved your style and aesthetic. Are you passionate about visual art as well? 
I'd say I definitely have the more creative side–I'm not super book smart, where as my sister is both. But art was something I'd always fall into, whether it's music or painting or drawing. I love drawing, I love fashion, I love shopping and putting pieces together, and doing makeup, hair, just everything! I direct all my videos, I edit my videos, so I just do all the creative stuff. It's just really fun for me.
What's been inspiring your style lately?
Recently I've been transforming and trying to rebrand myself just a tiny bit into more of a vintage aesthetic. A big inspiration of mine is Patsy Cline. I've always been so attracted to old film pictures that I found at antique shops, like Curiosities in Lakewood. I go there all the time and look through the black and white photos in this bin and collect what I think is pretty. I'm taking inspiration from that.
What do you have in the works as far as new music?
Right now, I'm working really closely with my good friend Hunter, his producer name is Luke Jr. We're figuring out how we're going to go about releasing the new stuff that we're working on. We're thinking about doing a two-part album, like Volume I and Volume II, four to six songs on each. Kind of like a two-part story where they correlate with each other, but they're not exactly the same. 
I have a new single coming out soon. It's called 'Velvet' and I've played it at a couple shows…we're shooting the music video in about two weeks and it'll be out sooner than later. 
What do you have planned for Saturday's show?
It's a mix of songs from my EP Heat and a mix of a couple demos, including the new song, and some demos I've been working on, then a cover of Patsy Cline, and a cover of a Hers song called 'Cool With You.' [King was a close friend of Hers before the duo tragically died in a car accident last spring.] I always try to incorporate one of their songs into my setlist.