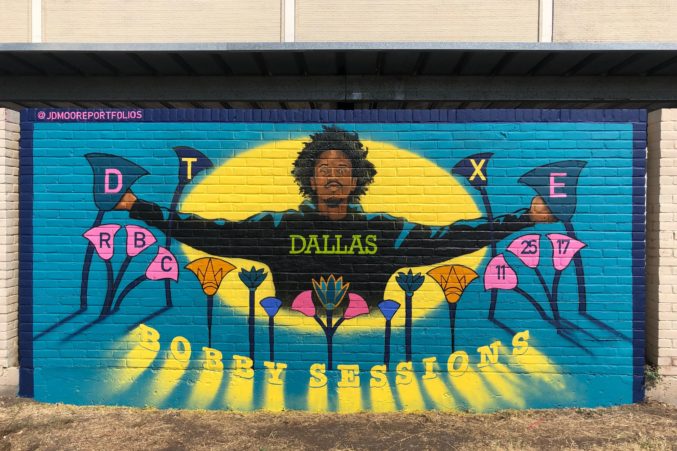 Rapper Bobby Sessions Gets His Own Mural in Deep Ellum
Artist JD Moore paid homage to the Dallas rapper in a colorful new mural commissioned by the Deep Ellum Foundation.
Bobby Sessions, The Legend from Dallas, Texas, officially has his own mural in his hometown. On the corner of Canton St. and Trunk Ave., artist JD Moore dedicated a large artwork to the local rapper during the Deep Ellum Foundation's second annual Deep Ellum Open Studios last month. 
"The mural needed to have a relevance to Deep Ellum, so what I proposed was to share an experience I had in a Deep Ellum venue, RBC," says Moore. "I understand that there is a lot of musical history that has come from the Deep Ellum scene over the years, and a lot of the murals that are there currently pay homage to the artists of the past, and while I think that's important and good, I am practicing giving people their flowers while they're here, which is the whole theme and nature of the piece itself."
The image depicts Sessions wearing a "Dallas" hoodie and standing with open arms. He's surrounded by blooms marked with the date November 25, 2017–the day that Moore stumbled upon Bobby performing at RBC. 
"I had not heard of him or really knew anything about him…I was there for a completely different reason," Moore says. "At the end of his performance, I was pretty moved and impressed, and I could relate to what his message is about, which is manifestation and the law of attraction." 
In the two years since, Moore has watched Sessions's musical career flourish. The artist signed with Def Jam Records, was featured on the soundtrack of a major film, and more. 
For Sessions, having his image immortalized in the neighborhood where he built his career is another dream come true.
"There's a mural of Erykah Badu on Main Street, and I always thought it would be cool to have that some day. Honestly, it came a lot earlier than I thought it would," says Sessions. "It was really a moment, getting that message from him and hearing that he was touched by my performance enough to make a mural. He could've picked anything to put in that space, and the fact that he chose me is an honor." 
When the painter was in the process of submitting his idea for the mural to the Deep Ellum Foundation, he saw one of Bobby's recent music videos playing on a TV in his gym. He took it as a sign of inspiration from one artist to another. 
"When I saw him, he was still an independent artist. Since then, he's been signed to a major record label. That goes hand-in-hand with this idea of manifestation…looking back in hindsight is the significance of the date," Moore says. "It's a marker of what the piece's whole point is–you can manifest and create things."
The artist, who does tattoos as a day job, channeled that same energy to bring his very first mural to fruition. He says it was a little different taking his technique from a canvas to a brick wall, but Moore already has plans to do his second mural in Downtown Dallas' Thanksgiving Square. 
In the meantime, he's adding some finishing touches to the Bobby Sessions mural. 
"I am planning on doing one more thing–I plan on adding an outline of a UV-charged glow in the dark paint, since that wall gets afternoon sun. I'm hoping to give it more of a Dallas vibe once that green outline illuminates it when the sun goes down." 
For both Moore and Sessions, the mural is an important career milestone–and proof that the law of attraction is working.
"Having a mural in Deep Ellum is also a testament to how well that information has been applied thus far," Sessions says. "I want it to be a testament and proof for everybody else that if they keep grinding they can accomplish [their dreams]."