What do you get when you cross a grumpy dragon, a sidekick chihuahua and a Vegas showgirl? If you guessed a magic show, you'd be right.
John van der Put, better known by his stage persona Piff the Magic Dragon, brings his eclectic show to Wyly Theatre this weekend for the Dallas stop of The Lucky Dragon Tour.
Growing up in London, he was inspired to become a magician as a teenager, joining the The Magic Circle, a British organization that promotes the art of magic, at the age of 18. His back-up career, encouraged by his parents, was in IT. That lasted for about two years before he decided to pursue his dreams at full force.
"I just quit," Piff says. "I woke up one day and I said to myself, 'Why am I doing this? I shouldn't be doing this.'"
The dragon character was born in 2008 after he was the only person to show up to a party in costume. One of his friends mentioned it should be part of his act—like Puff the Magic Dragon. Van der Put got an idea. "Wait, I could be Piff the Magic Dragon. You might have heard of my older brother, Steve." From then on, Piff would take the stage.
Piff the Magic Dragon received national acclaim after his run on Penn & Teller: Fool Us and NBC's America's Got Talent in 2015, where he placed in the Top 10. Now, he has a permanent residency at Flamingo Las Vegas, where he performs over 300 shows a year, including a newly added second show every night in order to meet high demands.
What makes his show so unique is that he combines his unique magic act with his witty comedy and deadpan humor.
"Magic can take years to perfect, where comedy, you can just try a joke and see if it sticks," Piff says. "With magic, you work with what you think is fun, but then you have to perfect it."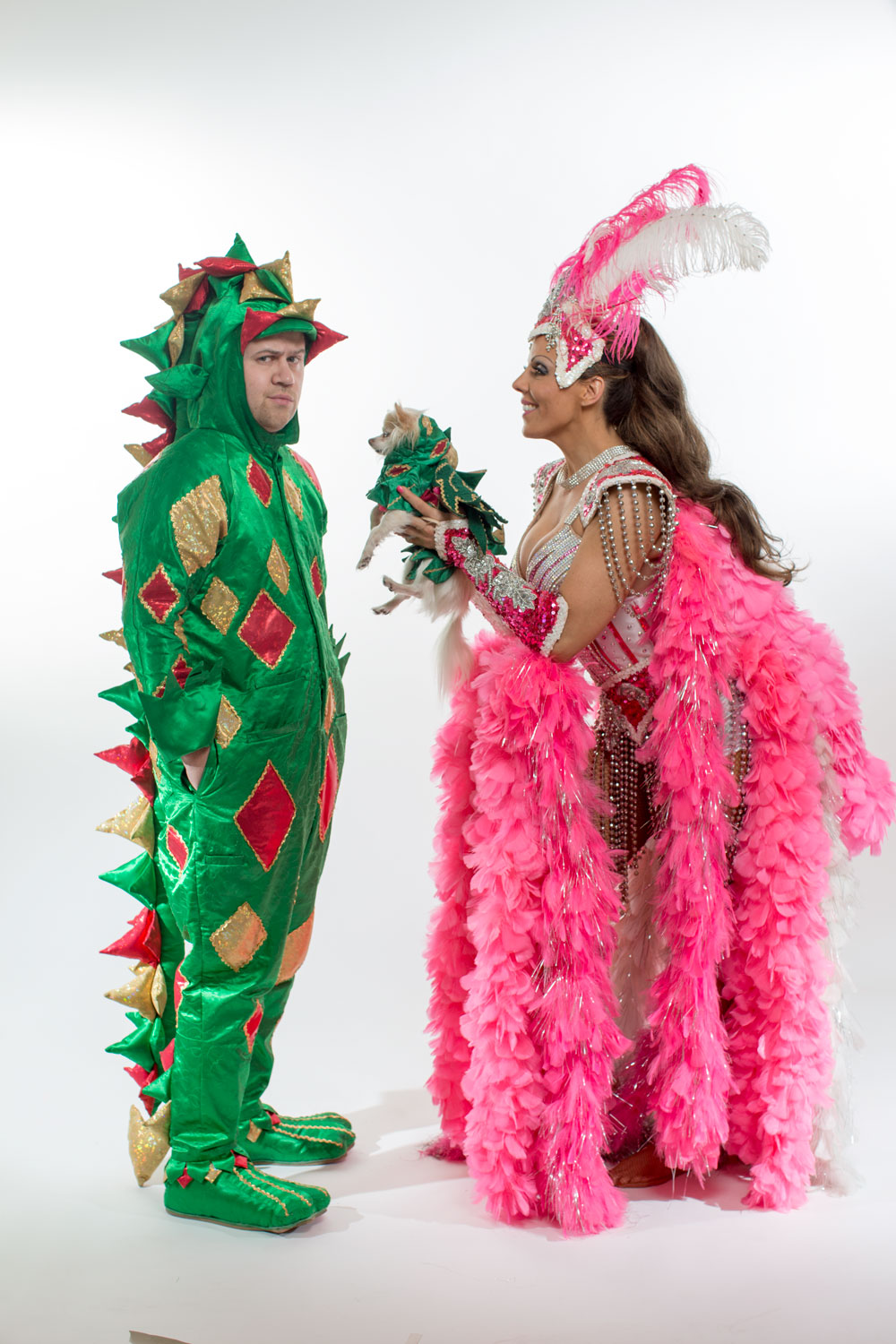 In addition to his tour and Las Vegas residency, Piff was recently named one of the 10 Comics to Watch in 2019 by Variety, and won three gold medals at the 2019 Best of Las Vegas Awards, including Best Comedian, Best Magician, and Best Headliner.
No show would be complete without his trusty sidekick, Mr Piffles, The World's Only Magic Performing Chihuahua™, or Vegas showgirl Jade Simone, who happens to be a Dallas native.
She started out her career at a local arts magnet high school and got involved with Dallas' theater and dance community early on. She hasn't stopped performing since.
"I fell into comedy, and I found myself wanting to MC and host events," Simone says. "I came out to Vegas and I auditioned for every little thing I could just to perform on stage. I think the background of comedy got me to be a showgirl."
She met Piff when he came to do a one-off show with Lance Burton. He charmed her with a chocolate donut before curtain call, and the rest is history.
"It is a constant battle of making sure that energy is there," Simone says. "It is up to me to support the grumpiest magic dragon and the most adorable magic performing Chihuahua."
While she never imagined finding herself on stage with a magic dragon and his chihuahua, the partnership has become a hugely rewarding part of her career. And that doesn't even take into consideration her favorite part of their performances–the rhinestones and feathers.
Piff the Magic Dragon and Jade Simone will be in Dallas on October 26, and will perform two shows at 2 and 7 p.m. Tickets start at $35.
Get the FrontRow Newsletter
Get a front row seat to the best shows, arts, and things to do across North Texas. Never miss a beat.