On a Saturday night in Tulsa, a crowd of artists is gathered in the back of a storefront called the Lewis Project Space. They're sharing finger sandwiches and popping beers. But they're here to complete each other's drawings, an old surrealist exercise known as "Exquisite Corpse." A painting in the room covers an entire wall. Two goats are wearing bow-ties and clinking champagne glasses.
In God We Thrust
reads a banner above them. Another says
Homosexuals are Ruining My Life
.
This building sits on Lewis Avenue, a
street named
after the Texas businessman S.R. Lewis, who was known for profiting off Cherokee Nation territory landgrabs and attempting to make a dollar on the town's
underreported 1921 massacre
of an entire neighborhood known as Black Wall Street. The avenue runs through the heart of so many of Tulsa's contradictions. Lewis touches both the local art house, Circle Cinema, and the evangelical complex that is Oral Roberts University.
Operated by the
Tulsa Artist Fellowship
, the Lewis Project Space has a new name for the moment. On the front window is a logo, in the circular style of an Oddfellows organization: "The Lodge of Saint Reborlaro." The keen eye may notice that this saint's name is a near backward-masked disarrangement of "Oral Roberts." This is all very much by design. On paper, it sounds ridiculous.
In this incarnation, the Lewis Project Space is transformed into a meeting point for "citizens without a particular attachment to religious dogma or affiliation." Everything from "ghost stories based on the Old Testament" to "foot baths" and dancing is suggested.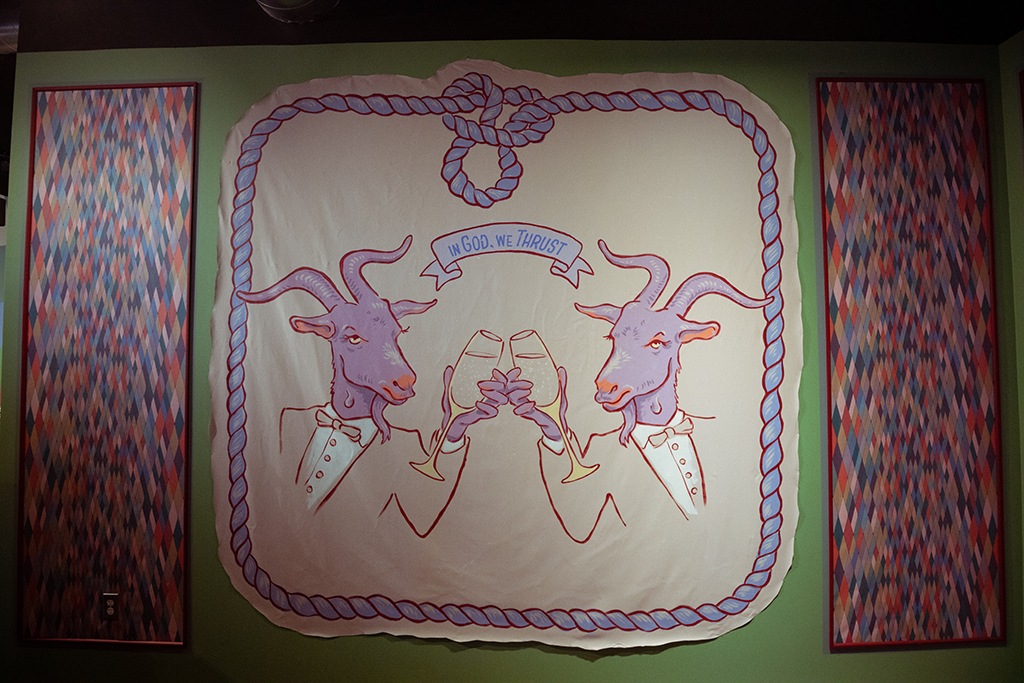 The man behind the Lodge of Saint Reborlaro is Heyd Fontenot. He's a fellow at the Tulsa Artist Fellowship, but he lived in Dallas from 2011 to 2016. During those years he led the CentralTrak Artists' Residency in Expo Park, which is owned by the University of Texas at Dallas. It shut down in 2017 "according to lease cancellation" and
according to UTD's website
, those curious should look there for "future developments in the arts program!" (That is the university's exclamation mark.)
CentralTrak's sudden departure on Exposition left if not an ideological vacuum, then one of trust between the art community and the academics. It was a place where playful and experimental projects shared gallery space with pensive and philosophical concepts. Under Fontenot's joyous but careful leadership, these designations blurred even further. During this era, it felt like Dallas really could be a beacon, even internationally, to artists looking for a program as intellectual as it was supportive.
Then it was gone.
Some artist-residents were suddenly left figuring out both housing and a new direction in their schooling. Fontenot was particularly hard-hit when the lights went out. I drove 237 miles to ask Fontenot how this time in Dallas led to making a subversive physical satire of an Oddfellows lodge in Tulsa, Oklahoma.
Fontenot has been through the grind of the institutional aspects of the arts, but has an equally strong footing in alternative communities and how they inform what bubbles up onto the brushed concrete floors of the nonprofit art world. Artist residencies have taken him from Austin to Dallas, then from Dallas to San Antonio, and from San Antonio to Tulsa. He has much to say concerning the tiered weight that institutions—with their many moving parts and promises made to different interests—carry in the lives of artists. He has been a director, a curator, and an artist. Even so, he hasn't always known who does what or who answers to whom.
"I used to think,
Oh, the director of the museum has the best ideas about exhibitions
," Fontenot says. "No, the director knows how to find money. And then you think next:
Maybe it's the curator
. And then it's:
If marketing agrees to it
."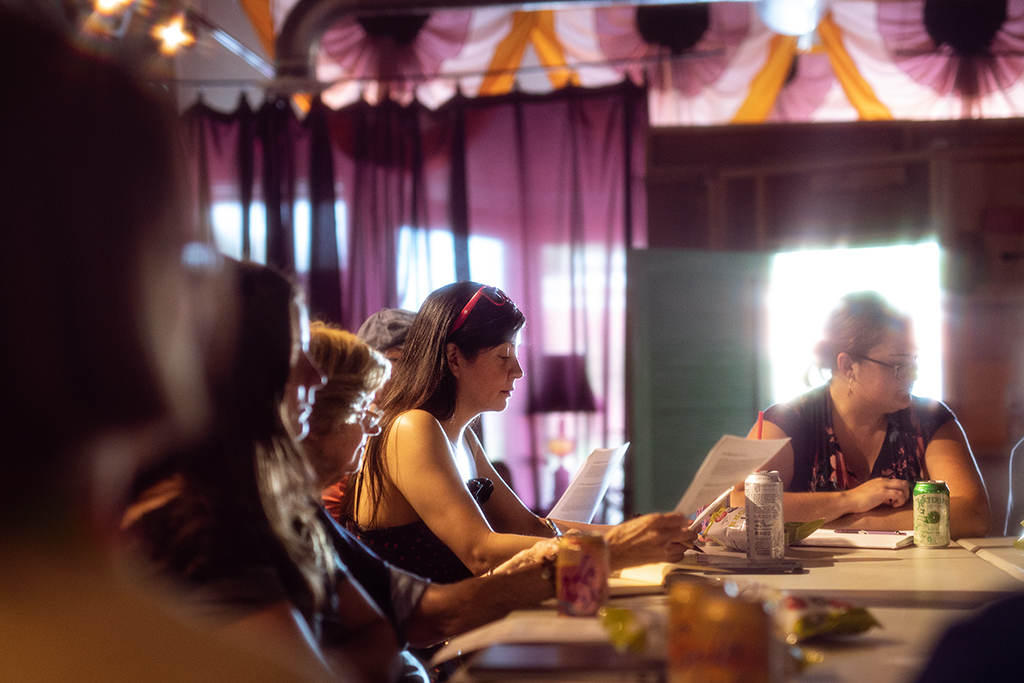 The marketing department can be the punitive muscle of an institution when it comes to arts programming. Artists often make work addressing injustice, sexuality, or violence in a way that is not going to always satisfy the commercial needs of print advertisements or make for fun gifs on Twitter. That muscle can be flexed to tie up purse strings, access to alternate avenues of funding, or sponsorships if work is deemed too challenging or inaccessible to the general public.
This systemic timidity can originate from shadowy board members, major donors, the commercial art market, and other vested but ultimately outside forces. Cultural institutions are well aware that curators, artists, legacies, and exhibitions can feel the consequences of this money-driven interference. Even the marketers themselves will admit to a disparity between mission and vision. James Heaton is the president of a brand strategy and management consulting firm called
Tronvig
. Their clients include the National Museum of Women in the Arts and the Bronx Museum. In
a May 2019 promotional article
on the company's blog titled "Curatorial vs. Marketing in Museums," Heaton gets straight to the point:
There's a tension that arises so frequently in museums that it seems natural and almost unavoidable: the curatorial team and the marketing (communications) team struggle to get along.

This dynamic is not unique to museums. It's actually a version of one of the most common tensions in any kind of organization: product people (curators, in this case) see the world differently and have a very different role to play from marketing and communications people. Both the product and the marketing people need the customer. Both groups are intimately involved with the customer. What they do with the customer and the nature of that interaction, however, are very different. This can lead to an unfortunate and often unnecessary conflict between two teams that should be working to achieve shared goals.
While I'm hesitant to quote from such non-journalistic market theory, it is fascinating to see candidness on the subject from the other side of the aisle. Despite this admitted disconnect between departments—common enough apparently that it warrants an industry primer—there is a long path ahead to make any progress on the issue. Fontenot is well-versed in this chasm, especially in the way that artists can be misunderstood by both the corporate and privately-funded instruments of nonprofit institutions.
"We're supposed to be good children right now and we're supposed to be grateful," says Fontenot. "But you've invited a house full of politically active, queer people, brown people, and you expect us to not say things now and look critically at this stuff?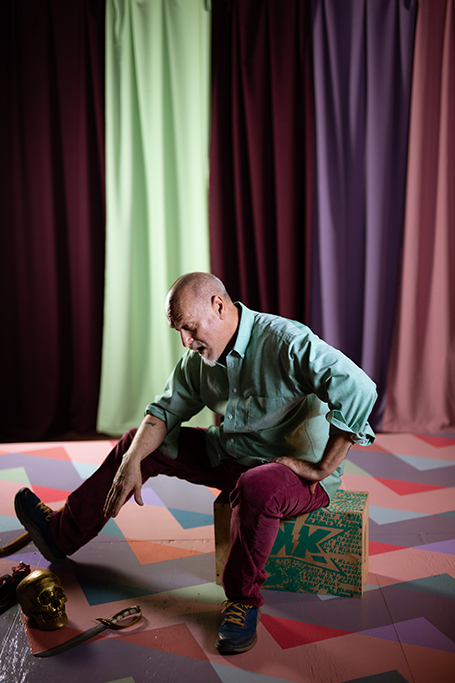 "They don't have an arts background and they don't regard art," Fontenot says, referencing some of his past brushes with less sympathetic marketing departments. "It dawns on you that it's like dating someone who doesn't really love you, but they really like your car. They don't truly care about what you're making; their only concern is how it will look on social media and how they can leverage."
The dissolution of Fontenot's directorship at CentralTrak added an extra layer of nuance to the artist's view of various art world power structures, including academia.
"Then you start to see the universities, they have this really great reputation of being high-minded institutions that lift people up," Fontenot says. "Then you start to see it's a corporate monster just like anything else and their bottom line is the bottom line."
While his time at the helm of CentralTrak is now the stuff of Dallas art's (scant) mythology, it was filled with its own unique set of challenges.
Fontenot lived and made art for 20 years in Austin. Friends warned him against moving to Dallas before taking the helm of CentralTrak in 2011. "Anybody I ran into were like, 'Oh, my God, you're leaving Austin for Dallas?' But what I found in Dallas, is that Dallas had a serious art scene."
While Dallas may have had a more developed visual art community than the Austin of 10 years ago, there was also an obvious class divide. That is by no means special to the city.
"The Dallas scene is, really: You've got your makers, you've got your creatives and they are very different than the people wielding the power, the people getting you into museums or getting you funding," Fontenot says. "If you did that circle graph, there is some overlap—it's not like an open society. There are people with power and they don't get too close to the unwashed."
Fontenot recalls having to sneak into a glittery Dallas auction to which he had donated artwork. He was stealthily advised that getting in would be a "just slip through kind of thing." He recalls the experience as "totally crummy."
"Almost felt like I didn't want to be there," Fontenot says. "It's high society. These air-brushed people who are wearing clothes that are literally my entire annual salary. In terms of consumerism and capitalism, it's insulting to be among."
"There are people with power and they don't get too close to the unwashed."

Heyd Fontenot, former director of CentralTrak
Then there are the parties where you
are
on the guest list. He recalls the
Dallas Observer
recognizing his work as an "Artist, Gallery Director, and Community Builder" for the
Mastermind Awards in 2014
.
"Like the
Observer
has that terrible party. I was super honored to get that Mastermind award, but when they give it to you at that party, it's like 'Oh, this is kind of oddly insulting. It's like a pedophile designed your quinceañera.'"
Dubious galas aside, Fontenot ultimately felt much better about art in Dallas than he did in Austin.
"Austin has a fantastic reputation," Fontenot says. "Media clings to it because of South by Southwest and festivals and such."
Austin's embrace of the middle- and low-brow arts such as pop music and genre film festivals has long eclipsed competing disciplines. That has started to change in recent years, with the
University of Texas' Blanton Museum of Art's rising profile
; the Texas Biennial's
acquisition of funding via the National Endowment for the Arts
; and sophisticated smaller galleries supported by
Co-Lab
, a nonprofit organization run by artists.
Toward the end of Fontenot's decades-long stint in Austin, he felt the city's visual art culture began to evolve. Collectives such as
Okay Mountain
started to pop up, and Fontenot credits "the energy they brought to Austin" as a catalyst for a scrappy enthusiasm he had not previously witnessed in the city.
He left for Dallas anyway.
"I love an underdog," Fontenot says. "As absurd as this is going to sound—when I moved to Dallas from Austin, the way people would shit-talk Dallas—I was like, Dallas is an underdog."
Perhaps Fontenot's love of non-art capital underdogs is how he ultimately ended up in Tulsa hosting the Lodge of Saint Reborlaro. "It's had a great public reception," he says of the project. Indeed, the Lodge has just been given a second life. The project just
launched again this month
in San Antonio. Along with the continuance of the Lodge, Fontenot is also a 2019 resident for the
Casa Chuck residency
at Sala Diaz Gallery.
In the press release announcing the Lodge of Saint Reborlaro's future plans in South Texas, there is a glowing acknowledgment of Fontenot's North Texas past. "Heyd's five-year run as Director and Chief Curator of CentralTrak in Dallas (2011-2016) is lauded as the most dynamic period in the institution's history," it reads.
Fontenot sometimes longs for his time in Dallas, but it's complicated. "I used to joke that CentralTrak was my boyfriend because I didn't have a boyfriend at the time, but I treated my job like it was my everything," he says. "I regret it in some ways and I don't in others. I loved my time in Dallas. I love that community still, but it wasn't reciprocal. The community was. The institution was not."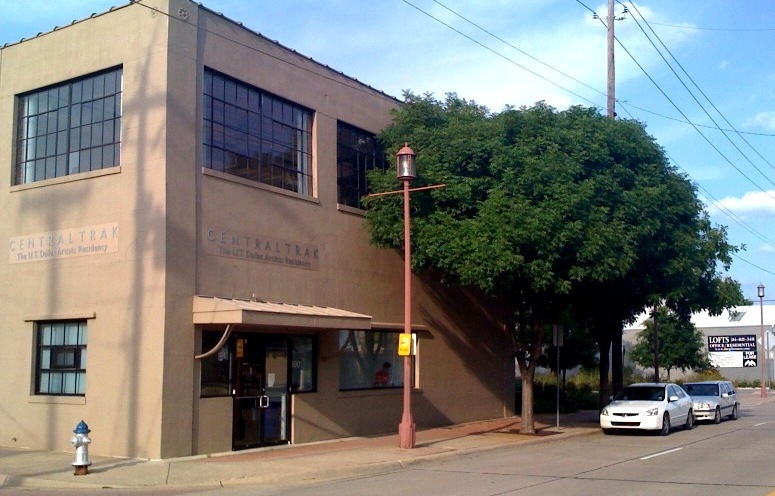 From left, the artist residency CentralTrak. An exhibit riffing on the paintings of George W. Bush, and artists painting before that same exhibit. (Final three photos by Andi Harman)
Years later, CentralTrak's abrupt ending is still shrouded in mystery. Fontenot laments that he will "never understand and never get an answer."
Confused by this two-year silence on Dallas' only artists' residency, I contacted Dennis M. Kratz, who was dean at the University of Texas' College of Arts and Humanities from 1997 until September 2019. I ask if there is any chance that CentralTrak will ever return. If not, could a residency—in any form, perhaps under a
different name
—ever once again house the artists of UTD?
"Not in the near future," Kratz says. "I never say more than the immediate future, because things can happen."
Kratz has
a new position
as the founding director of the
Center for Asian Studies
. He says that multiple solutions were explored to resuscitate CentralTrak.
"I was dean then," says Kratz. "And we tried—actually we explored a number of alternatives—but none worked out. I don't want to be too specific about the ones that didn't work out, but we did look into it—and finally decided that the true difficulty was affording and administering the residencies."
Kratz reminisced about the glory years of the now-officially defunct residency. "It really put us on the visual arts map in a way he hadn't been before," he says. He lists artists Gabriel Dawe and Ruben Nieto as highlights of the program.
Following the Friday night peek at the Lodge and upon leaving Tulsa, I get Fontenot's singular tour of Oral Roberts University, the partial inspiration for his project. We then head to the Gathering Place, a $465 million, 100-acre park owned by the Kaiser Foundation, which funds the Tulsa Artist Fellowship. At the entrance of Oral Roberts, a skyscraper-sized sculpture of hands pray to an open blue sky. The piece is called "Wall of Sacrifice." There is a quote from 1 Corinthians:
Death is swallowed up in victory
.
Later at the park, Fontenot brings up the Bible as he discusses the choice he would make if forced to choose between the various gods, angels, and demons of the art world.
"The institution dangles the carrot of venue and funding, but your community is really where you get your energy," Fontenot says. "And where you have the free-flow of ideas and the potential for collaboration. They're inseparable, but if I had to choose—who is it with the women fighting over the baby?"
King Solomon, I remind him.
"I would forego institutions and keep my community," he says.
Get the FrontRow Newsletter
Get a front row seat to the best shows, arts, and things to do across North Texas. Never miss a beat.