About halfway through the tour of her new exhibition at The Modern Art Museum of Fort Worth, artist Robyn O'Neil pauses and says, "OK, let's go to hell."
She's referring to a large-scale work literally titled "Hell," in her 20-year survey, We, The Masses, on view through February 9, 2020. It's a triptych that contains 35,000 collaged elements and 65,000 drawings of O'Neil's signature men in sweat suits (we'll get back to those guys later). "Hell" took the artist three years to create.
"I'm a deep-seated Catholic, which makes me think I was punishing myself for whatever reason," O'Neil says.
If the numbers don't give it away, O'Neil is an obsessive artist, but she's not without a sense of humor, albeit a dark one.
"The other thing I did with this work is ask everyone I loved who they hated," O'Neil says. "I offered to put them in 'Hell' and torture them forever." She lets out a peal of charming laughter and adds, "Trust me, you would think these people deserved it if you heard what they did."
The 2011 work marks an important shift in O'Neil's practice. For nearly a decade, the artist worked almost exclusively in graphite on paper, creating black and white "psychological landscapes," all with a mechanical pencil. If you've been to The Modern you've probably seen one of her works in the permanent collection, in which a man dangles from a wire suspended from the clouds over an ominous body of water.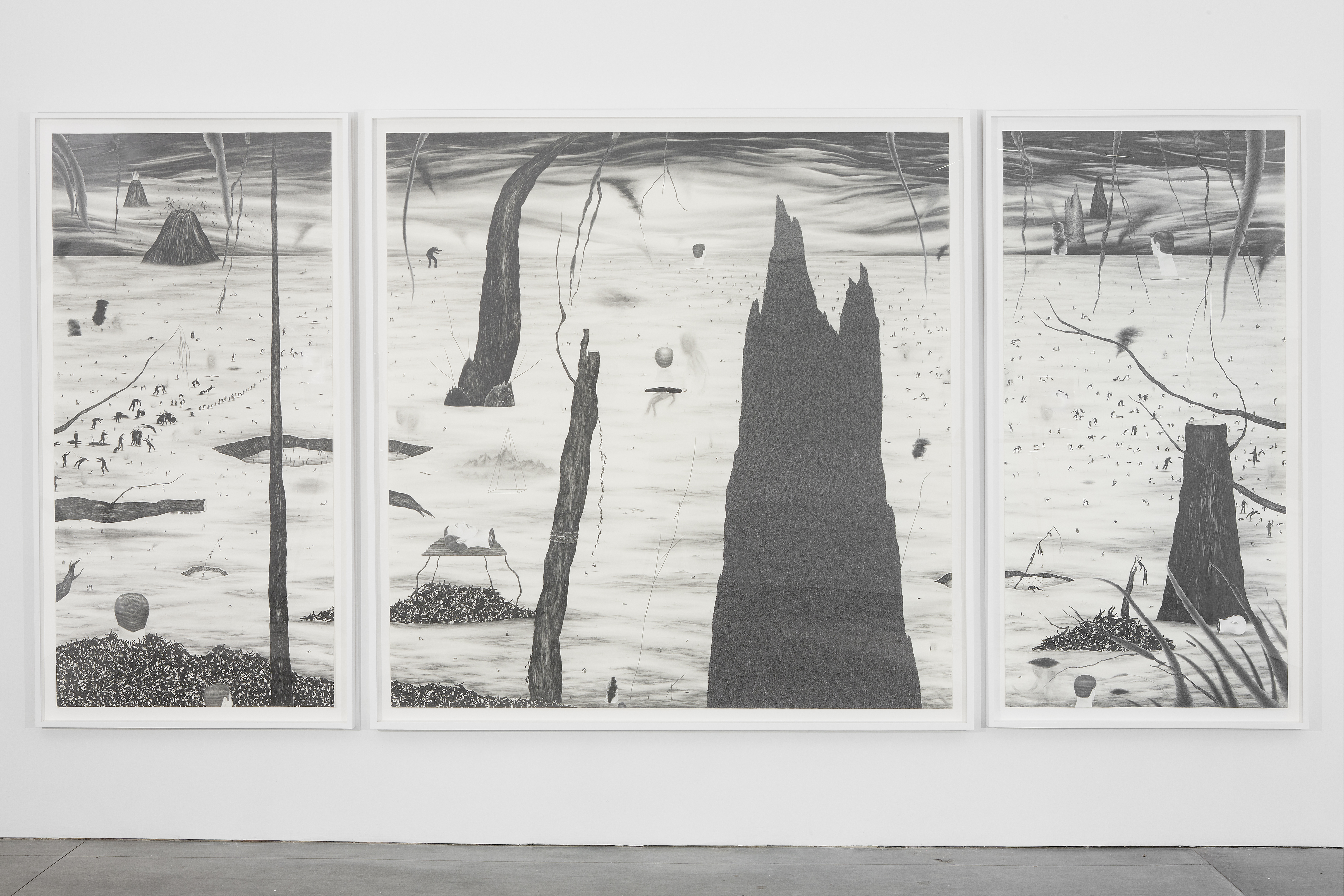 That large-scale work from 2007 is part of a series, much of which you can see in this exhibition, in which O'Neil imagines an apocalyptic landscape populated exclusively by men in black sweat suits and Nike tennis shoes (and some really beautiful animals). If you're big into cult histories, you'll recognize the outfits from the Heaven's Gate cult, although O'Neil says that was unintentional. In many of these narrative works, the men pursue recreational activities, like skiing or hunting, as the world burns around them.
"There are no females included in any of these, because if I included females people tend to procreate and I didn't want to allow for that," O'Neil says.  "I wanted this to be a tale about how, if they treat themselves, animals, and the land horribly, then our world is going to crumble."
For O'Neil and for curator Alison Hearst, this show is about the human experience, the pitfalls, but also the highlights.
"These works are really about what it's like to be alive in a world that's difficult–for environmental reasons, political reasons," Hearst says. "And the struggles to work with each other, fight each other, love each other."
For O'Neil, who currently resides in the Pacific Northwest, the exhibit marks a proud return to Texas, where many of her formative art experiences took place. She earned her bachelor's degrees at Texas A&M Commerce, where she studied with draftsman and printmaker, Lee Baxter Davis, and painter, Michael Miller. She worked briefly for Webb Gallery in Waxahachie, where she became captivated by outsider art. And O'Neil moved back to Houston after brief stint in a graduate program in Chicago.
"I dropped out of grad school right when I figured out what I was doing," O'Neil says. "My teachers were all very supportive of it. It was a leap of faith."
The faith was well-placed. In 2003, she was invited to San Antonio's ArtPace residency program, which is when her drawings grew from something that could fit on a desk into these museum-wall-sized works. Soon thereafter, she was picked up by Dallas art dealer Talley Dunn Gallery. In 2004, she was featured in the Whitney Biennial as part of a group of artists myth making for a new millennium. She's been awarded numerous art world honors, including a Joan Mitchell Grant, an Artadia Grant, and the Hunting Prize. In 2007, she talked her way into Werner Herzog's Rogue Film School, as the only non-filmmaker, where she met Irish animator Eoghan Kidney, who helped turn her works into a short film, which is on view in this exhibit.
In the Whitney Biennial's catalogue, curator Shamim M. Momi wrote about O'Neil's work: "The flux between calm and anxiety, normalcy and surreality, optimism and devastation evokes the world around us with its deliberate and awkward tension."
This summation of O'Neil's work might be just as apt 15 years later, even as she explores new themes and processes. After completing "Hell," she left the mechanical pencil behind and spent several years working towards a new body of work, one that includes color. She says it took until last year to figure out what she was doing.
"Artists all need to give themselves that time to figure it out," O'Neil says. "I lost a lot of money, people forget about you really quickly, but that's the goal to continue to challenge yourself. And I think I'm making the best work of my life right now."
Get the FrontRow Newsletter
Get a front row seat to the best shows, arts, and things to do across North Texas. Never miss a beat.