How I Learned To Stop Worrying and Love The Jonas Brothers
I went to a Jonas Brothers concert. I didn't understand what I'd gotten myself into.
I never expected to find myself here: downing a shrimp shooter in the Jack Daniels No. 7 Lounge of American Airlines Center while I wait for the Jonas Brothers concert to begin, a "Jonas bag" of swag tucked under my arm. I haven't even been here 20 minutes and I already took photos with a life-sized cardboard cutout of the trio. Do I want a signed poster? Of course I do. I'll also take another mini grilled cheese. But, even as the free stuff sends a rush of endorphins to my brain, there's an icky feeling in my heart. The complimentary vodka sprite is helping to put me at ease, but I can't help but feel like an imposter enjoying this revelry with lifelong fans. I don't deserve this Priceless Experience® provided by American Airlines and Mastercard. I have to make a confession: I don't even like the Jo Bros. 
I'm precisely the right age to be an avid fan of the boy band. I was a tween when Camp Rock came out, and I remember popular girls wearing Jonas Brothers t-shirts to school on free dress day. I never really got it. I heard them on the radio sometimes, or mixed into the school-appropriate pop music that played in the gym during P.E., but they just weren't my jam. Honestly, I had mostly forgotten about their existence by the time they officially broke up in 2013.
However, over the last couple years, the Jonas Brothers made themselves impossible to ignore in pop culture. I couldn't help but enjoy solo bops like "Cake by the Ocean" by Joe's band DNCE, or "Jealous" by Nick. Kevin got a show on E! Network called Married to Jonas, which I've never seen, but feel obligated to mention as to not leave out the third and least appreciated Jonas. Joe and Nick somehow convinced Sophie Turner and Priyanka Chopra, two of the coolest, most beautiful women in the world, to also become "Married to Jonas." And finally, after an excruciating, six-year hiatus, the Jonas Brothers reassembled.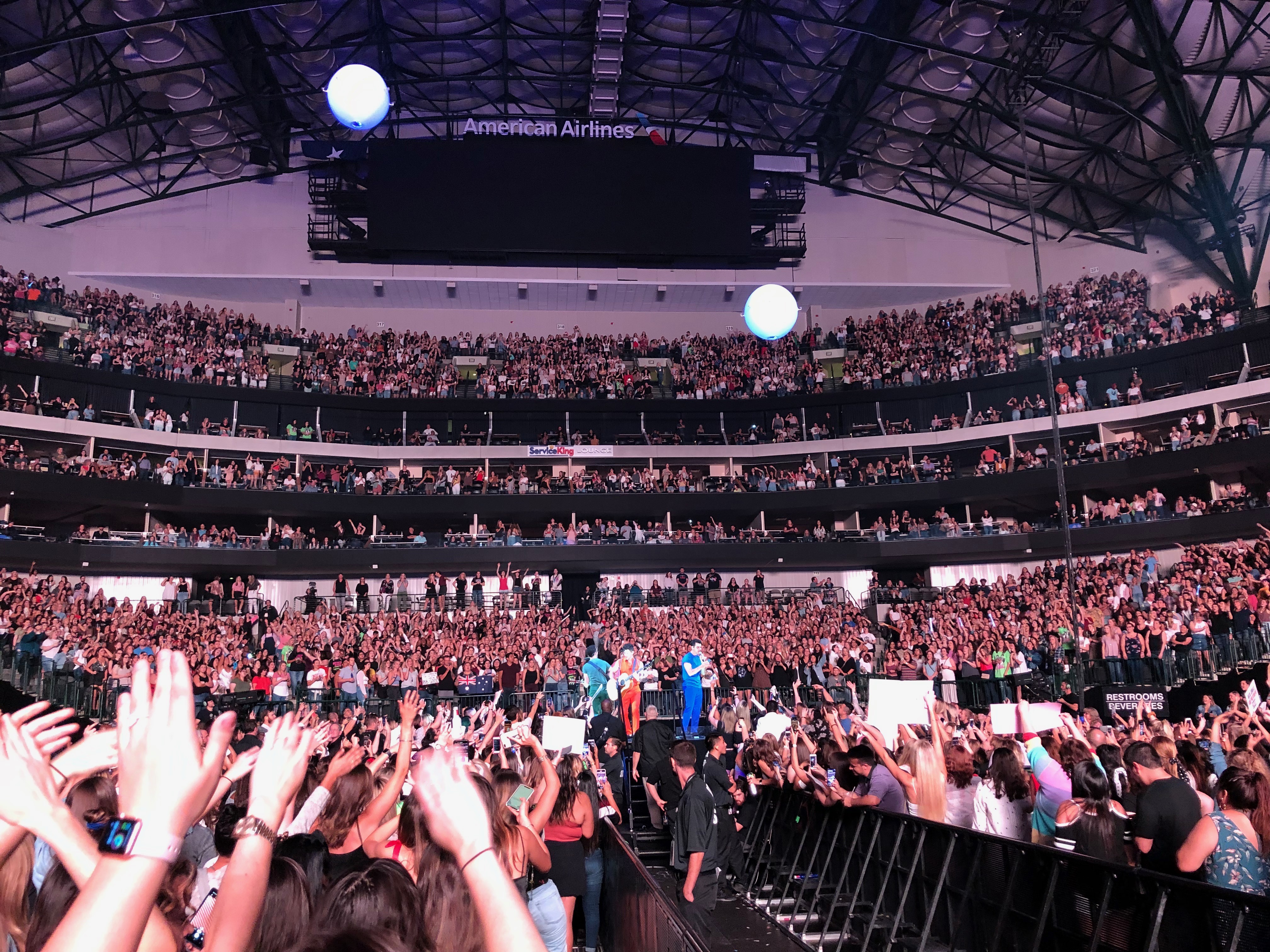 Their reunion meant very little to me. The song "Sucker" is pretty catchy, though. So, when I was offered tickets to the Jo Bros' hotly anticipated Happiness Begins tour, I gladly accepted. It wasn't until I arrived at American Airlines Center that I really understood what I was getting myself into. 
The Jonas Brothers seem to have retained all of their original fandom–and rather than drifting away with time, their fans seem to be more obsessed than ever. The phenomenon hit me as I settled into my seat on the floor and looked up at a stadium packed to the brim. Everyone was wearing Jonas Brothers t-shirts. A lot of people were holding handmade posters with messages for the trio. There was a general frenzy in the air. And the opener for the opener hadn't even taken the stage yet. 
Several hours later, the lights rose and signaled that it was finally time. Screams rang through American Airlines–those wouldn't stop for the rest of the night. A platform descended, carrying the Jonas Brothers to the stage, a wholesome vision in jewel-tone suiting. They started with a song I didn't know (naturally) and then broke out "SOS," one of their earliest hits. 
I have to admit, they all sounded good. Nick hit the high notes on "Jealous" and I jumped around gleefully with the rest of the audience.
The screaming intensified when the band came down from the stage and started walking through the photo pit in the middle of the floor. Some girl stepped on my sandaled foot as she pushed past me to get to the barricade. Another girl saw her cut in front of me and promised to help secure my face-to-face Jonas encounter. 
"You'll get up there, I'll help you," she said with determination as security asked her to return to her seat. 
But I didn't need to get a high five from Joe, or even Nick. The Jonas Brothers had already touched me that night. Maybe I'm not as much of a "Sucker" as the rest of these fans, but I am "Only Human," and It's About Time that I stopped worrying about being "Cool" and started loving Jonas.