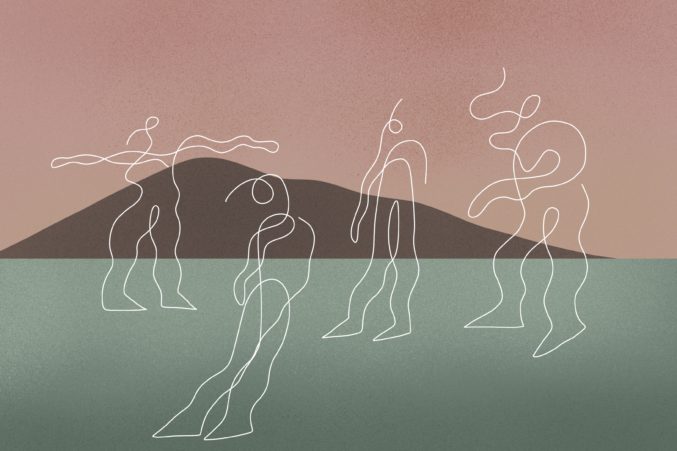 From Dallas to Barcelona: Meet Illustrator Kian Mosharaf
The Dallas-raised, Barcelona-based artist talks about his work and offers a few tips for traveling in Spain.
Even in the age of the internet, the world is a wonderfully small place. When I began following artist Kian Mosharaf on Instagram, I didn't know he was from Dallas. Or that we actually attended the same high school in Irving, Singley Academy. Nor did I realize that our older sisters were childhood best friends and did synchronized swimming together for nearly a decade. I'm sure we spent some early mornings watching pirouettes and inhaling chlorine fumes under the bubbled roof of the Northlake Natatorium together, but we never properly met. I just saw his illustrations on my Explore page and thought they were really cool. I tapped the follow button accordingly. 
I noticed the line in his bio that read "Barcelona | Dallas" just in time for my own travels to Spain. I was excited to connect with a Dallasite abroad. And share his experience there with readers from his hometown. 
If you've ever been to Verbena Parlor and Social House, the extremely chic nail salon and coffee-slash-cocktail bar, you've seen his work scrawled across the walls. He was hired by Coevál Studio to create the parlor's colorful, abstract mural. The minimal yet expressive visual is a good indicator of Mosharaf's style, which draws inspiration from desert landscapes and Picasso's line drawings. 
In Barcelona, I caught up with the artist at a locals-only hangout—the hidden, beautiful terrace of a busy bookstore in El Raval—to talk about his work, life in Spain, and traveling tips for one of the most tourist-saturated cities in the world. 
How did you wind up in Barcelona?
After college, I moved to Seville for a year to teach English. After that I just wanted to stay in Spain, so I found this Masters course in illustration here in Barcelona and just stayed after that. 
Now I'm just working on illustration jobs. I have a few commissions here and there and some stuff back in Dallas. The studio that designed Verbena, Coevál, commissioned me to do that mural and I'm talking to them now to do another one. 
You have a pretty distinct style to your illustrations. How did you develop that, and what inspires you?
I'm really inspired by interiors, nature, mountains. There's something about deserts that really excite me–I don't know why. The arid climate and the flat landscape with these super complex but also simple shapes of mountains and that always draws me in. 
I was really inspired early on by Picasso's single line drawings and a lot of things like that. There are a lot of people who do that kind of thing nowadays. On Instagram I see stuff like that, and that's probably influenced me a lot. It's just from drawing again and again. I think things have changed over time but I stay pretty close to that minimal, one-line type of style.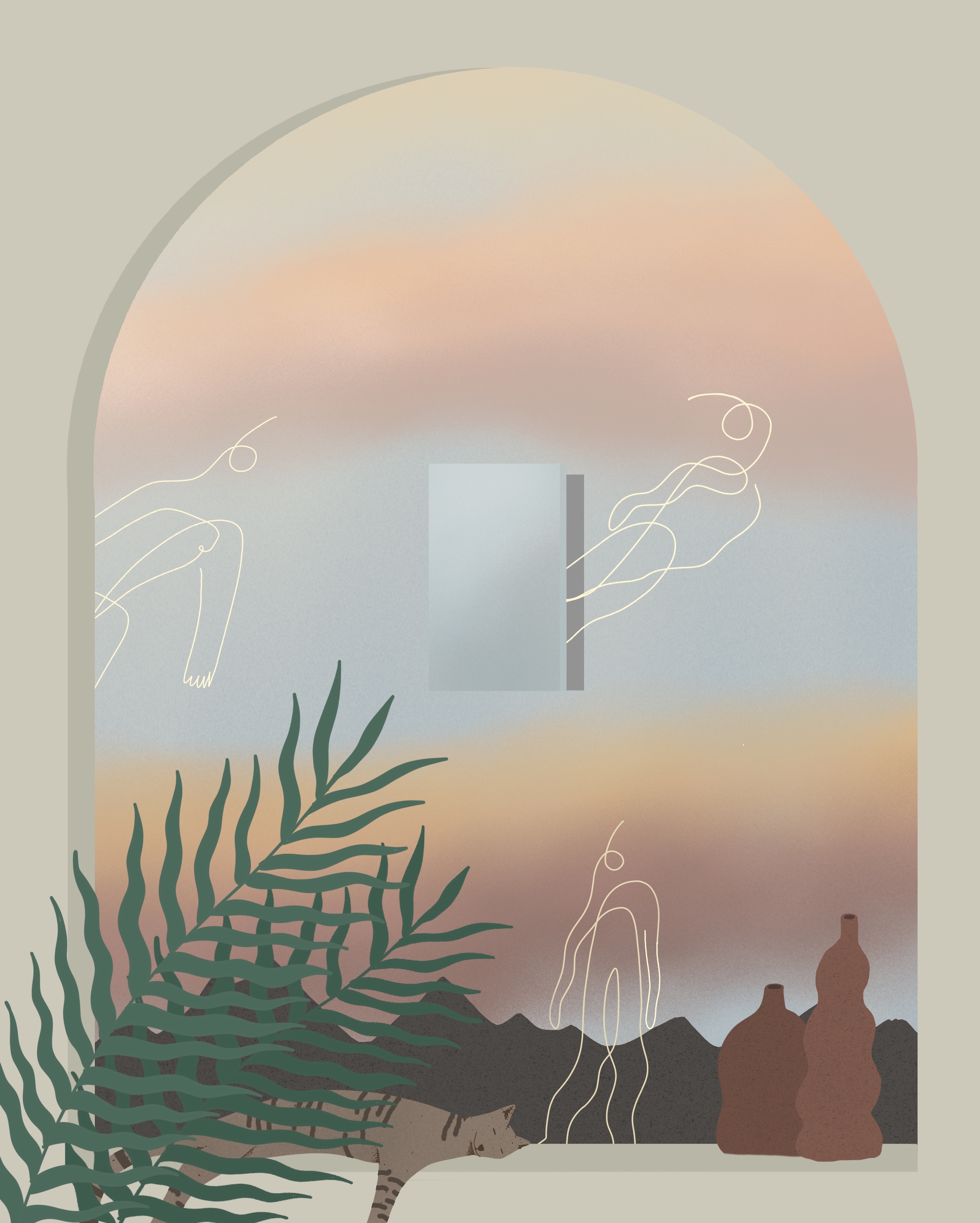 What kind of projects are you working on now?
When I first started to study illustration, I was interested in pursuing editorial-style illustration with characters and personalities and concept-driven work. I'm still interested in it, but it's not really where I've found work, so I've pursued what's come more naturally, which is more decorative, abstract, non concept-driven work. It still comes from ideas, but it's not as specific to one concept. 
How long have you been in Barcelona?
It's going to be three years in about two weeks. 
Did you speak Spanish fluently when you moved?
No, not at all. I still don't really speak it that well. I speak Spanish, but I could definitely be better.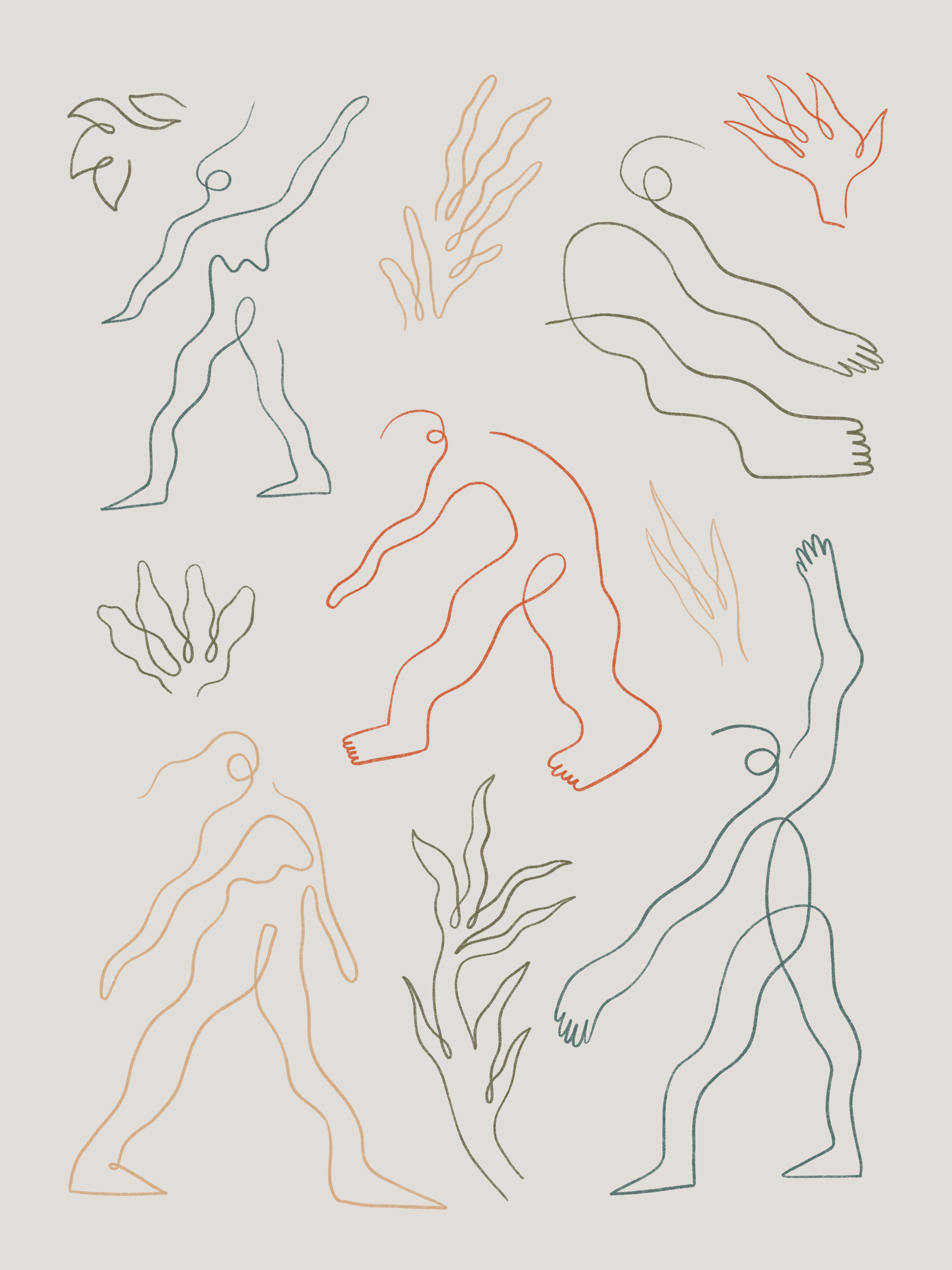 I feel like I'm so close to being able to communicate in Spanish, but I'm too afraid. 
The thing about being in Barcelona is that it's not absolutely necessary that you speak Spanish. For one, their other language is Catalan, and on top of that, it's a very international city. When I first moved to Spain, to Seville, no one spoke any English, so I had to learn what I could and I was terrified to go to the grocery store. It was difficult, but that's where I did my most learning. Here I've been lazier. I speak in a mix of Spanish and English. 
What are some of your favorite things to do in Barcelona?
I really like to spend time outside, at terraces like this one, drinking a beer, or going to the park. There are a lot of really great parks here. The Ciutadella Park is great for picnics, but you go out toward Gracia or higher up there are more nature-y parks with hills that are great for hikes. I try to stay away from more touristy areas because, after a while, it just gets so overwhelming. 
Even being a tourist here, it can be overwhelming. 
Yeah, so I've learned to find the places that are more local or places that are less affected by the tourism–but every year it gets harder, especially in the summer. It's so crowded. 
Is there a big difference since you moved here? 
No. I've noticed things. The price of rent has gone up. I've moved three times and every time it gets harder to find a place to live. 
Do you go back to Dallas much?
Yeah. My family is all still in Dallas, so I try to go back once a year, but sometimes it's every year and a half. 
Coevál Studio has hired me to do two projects now, and it's been a really good relationship because I have a close friend from college that works there. It's been nice to have things to do there when I'm visiting family and to have that connection, work-wise, when I'm in Dallas. It is my hometown and I don't want to feel so disconnected from it.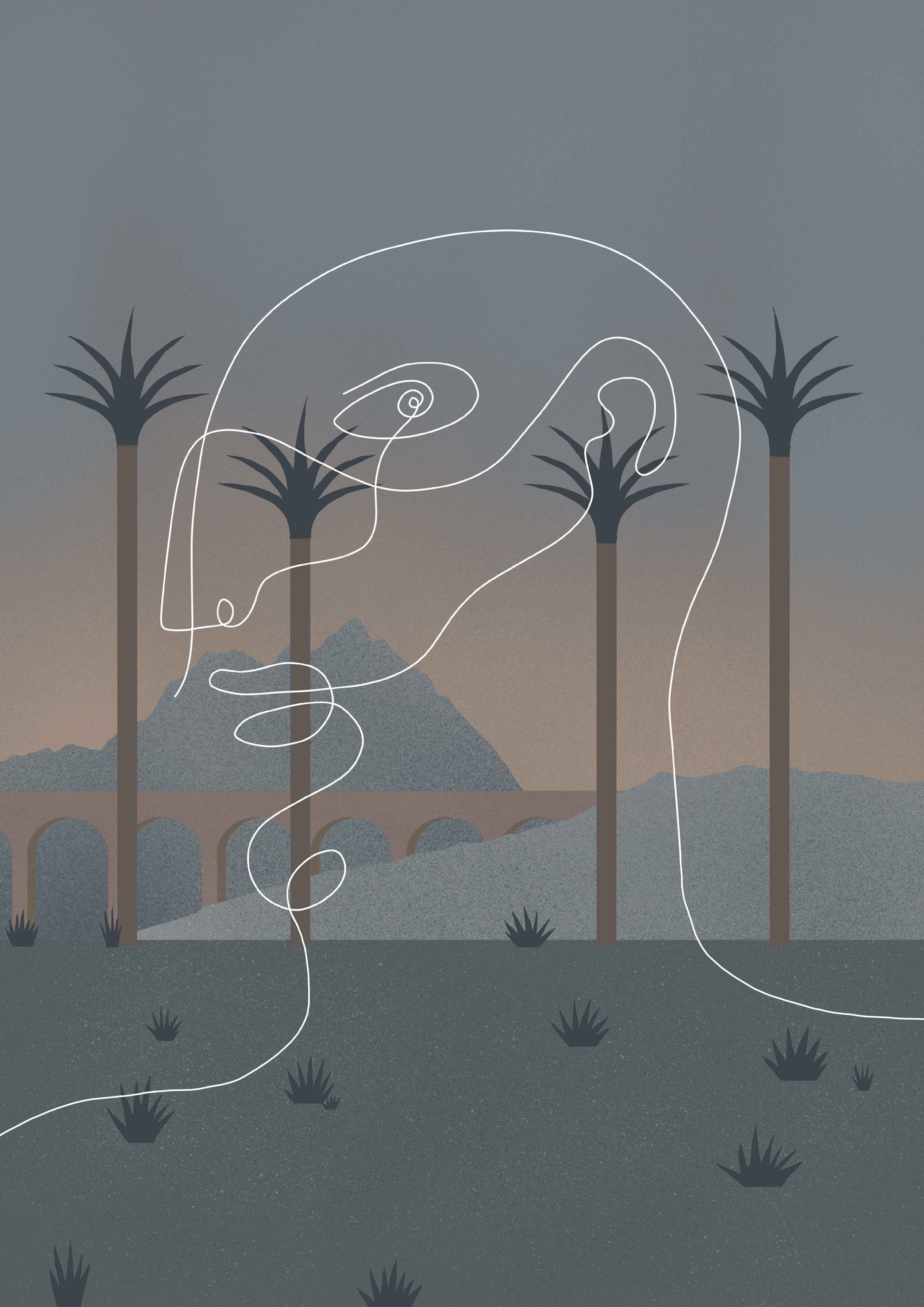 Do you try to check out art while you're in Dallas?
Yeah. I really love the DMA. The Nasher has been one of my favorite museums since I was 14. The Kimbell, the Modern, and recently, since I moved away, I've been discovering smaller galleries. The area in Bishop Arts with little galleries, I really enjoyed that area a lot. 
What's your advice to Dallasites visiting Barcelona?
I would say, try to avoid pick-pockets. Be very careful, it's very common. Keep your belongings within eyesight. 
But also, just try to go to places that aren't necessarily in your guidebook. I love going to Gracia at night, there are a lot of plazas where people will just buy a beer at the grocery store and sit in the plaza on the ground.
If you're going to go to the beach, just make the effort to go a bit further out. Badalona is nice…Avoid Barceloneta at all costs! The ones in Poblenou are really great too. That's kind of an underrated neighborhood. 
Any favorite food spots?
There's a place in Poblenou that I really love called Cincuenta Ocho–58–they've got great tapas. In the center, I love this vegetarian restaurant called Veggie Garden. Casa Lopez in Gracia is a hole-in-the-wall that's known for its tapas. This place [La Central de Raval] is also really great.
Have you found that there's a nice community of creatives here?
Definitely. I met most of my friends in school, but I've also met a lot of illustrators, and not just illustrators but artists, and it's definitely a place where art is appreciated. I don't feel like Dallas is a place that doesn't appreciate art, but you have to work a little harder to find those people. Any night on the street here, you're going to meet someone. You tell them you're an illustrator and they're going to be excited. I think that's been nice being here, having that instant connection and knowing you're in the right place. There are literally millions of illustrators who live here. Any time I find an illustrator on Instagram, it's like a 50/50 chance they live here.