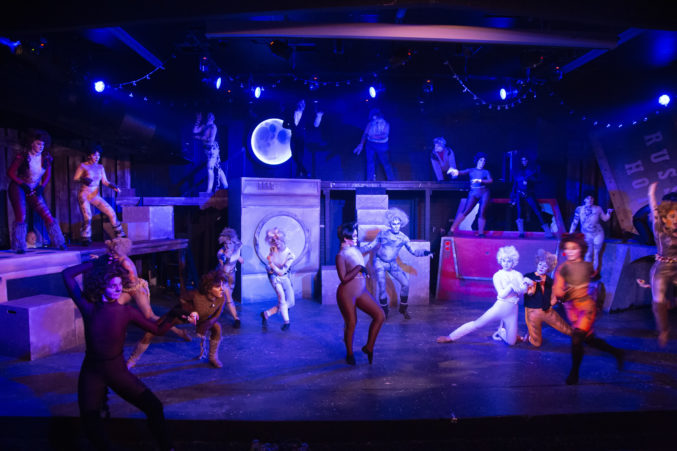 CATS Pounces into The Firehouse Theatre This September
The musical (and soon-to-be film) comes to life on stage at The Firehouse Theatre starting tomorrow night.
Whether you are a theater fanatic or have just seen the trailer for the newest film, chances are you've heard of CATS the musical. Based on Old Possum's Book of Practical Cats by T.S Eliot, this Tony-winning story follows a tribe of junkyard cats as they prepare for a ritualistic celebration which will result in the rebirth of one of their own. The Firehouse Theatre in Farmers Branch is bringing the feisty felines to the stage this September.
The director and musical director for CATS, Mark Mullino, has been in professional theater for over 20 years, with credits as an actor, director and musical director. He's no stranger to CATS. He was a bartender at the show during its Broadway run, and has been involved with three prior productions of the musical.
"I've probably seen CATS more times than most people have since I saw it about 8 times a week for over a year when I was in New York," Mullino says. "Being involved with that production, we got to know a lot of the cast, too, so I was always finding out more of the story than I was aware of just watching the show."
Working with choreographer Christina Hoth, the cast has incorporated some modern dance moves with the original choreography to give it a bit of flare.
"This is one of those shows where people expect a lot of the original choreography if possible, and we have contributed some, but Christina has contributed a lot of new breath to the show," Mullino says. "I told the cats on the first day, our cast, I want this to be the production that makes people get the story. Make them realize there is a story here, and it's not just cats dancing around and doing cool stuff."
Mullino isn't the only one who has a soft spot for the musical. Actress and famed cabaret singer Denise Lee, who has been performing professionally for 35 years, plays Grizabella, a once-glamorous cat who now seeks the acceptance of her fellow felines.
"I'm really excited at the point in my career to play some of the iconic roles, regardless of if people love the show," Lee says. "I hope that something new brings them to the show, no matter what they think about it."
CATS is known for being a musical that people love to hate, but both Mullino and Lee agree that their audience should give CATS a chance, regardless about how the feel about it.
"There are certain shows that either people love, or people hate, one way or another," Lee says. "Even with the new movie that's coming out, people have seen the trailer and have already made up their minds, which I think is crazy. The whole point in theater, and life in general, is to be open-minded."
Lee will also be headlining at Firehouse's Curtain Call Gala on September 27, where the program for the 2020 season will be revealed.
Another thing that makes this production of CATS special is the theater's partnership with Animal Services of Farmers Branch to host cat adoptions throughout the show's run. Each adoption is $20, and includes their first round of shots, rabies vaccination, microchip, de-wormer, flea treatment, leukemia/aids test, and a free exam at participating clinics. Adoption events will happen before every Saturday show, from 1-2:30 p.m.
CATS runs at The Firehouse Theatre from September 5-22. Tickets are $28.