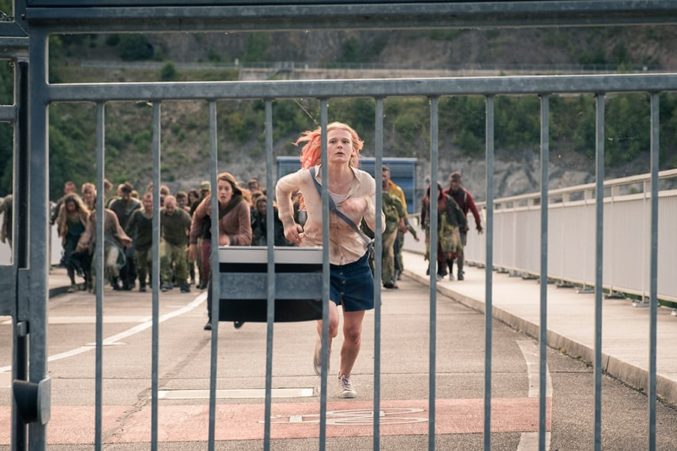 #HotGirlSummer Continues With the Fourth Annual Women Texas Film Festival
We chat with artistic director Justina Walford about what moviegoers can expect at this weekend's festival.
As the Women Texas Film Festival kicks off its fourth year in Dallas this weekend, we sat down with Artistic Director Justina Walford to chat about what's in store for moviegoers. Be sure to check out the amazing lineup of female-driven films at the Texas Theatre, Alamo Drafthouse Cedars, and Methodist Dallas Hitt Auditorium, complete with Q&A panels, themed parties, and roundtable discussions.
I'm super excited to be attending the festival for the first time this year!
It's been kind of a whirlwind getting it up and running. I really feel like this year, the festival turned eighteen. My kid turned eighteen!
So you're going into your fourth year with the festival and I imagine that it's kind of like high school. When you're a freshman, you're like, Woah, what's happening? but by senior year, you feel like, Ok, I got this!
It does feel like there's this big transition about to happen. I think we're really talking about whether we can do year-round programming. I live in Southern Dallas, so a lot of my activism is Southern Dallas related. The idea of actually getting more education in Southern Dallas would be fantastic.
There's been a huge spotlight on Texas lately. Solange shot her visual When I Get Home around DFW, Houston, and Marfa. Rappers Lil Nas X and Megan Thee Stallion are rapping about cowboy and cowgirl culture–it's actually been dubbed "Yee-Haw Culture," which is really funny! Do you see any films that are set specifically in Texas, or that show a different landscape of Texas than what we're used to seeing?
No! That's what's so interesting! A lot of the shorts are by Texas filmmakers, and yet what they're creating is very non-Texas specific. There's this very interesting collection of both coasts and Texas filmmakers, and it shows we have very distinct styles and we overlap as well. We have a film called the Wall of Mexico (5:30 p.m., August 17 at Alamo Drafthouse Cedars), and this film feels like much more of a Californian point of view, because I think it's actually a California coast, but it gives a very sardonic look at the culture of being on the border. It's a rich Latino family, and because they're rich they have the water resources, and they actually get paranoid and upset at the white people around them and so they build a wall. It's interesting that it basically resets your brain about immigration without really talking about immigration. It's much more experimental in how it's trying to look at the politics of it, without looking at the politics.
I think with any film that focuses on the specificity of human relationships, the political subtext is just there. You don't always have to hit the nail on the head.
It's the realization that, Oh! I have my own (subconscious) racism, I have my own issues that I bring in, so I watch a movie, I get to actually feel that and then confront it, and hopefully get better and be a better person from it. That's the whole point of movies.
I'm also really into films that deal with shame and bringing what's in the shadows into the light. A lot of the festival's films showcase women confronting people within their own families, too. The short film Epigenetics (5 p.m., August 17 at Texas Theatre) jumped out at me, because, specifically within the Black community, we're talking about generational trauma more. What's your take on this?
Yeah, that's what appeals to me a lot, too. I think my programming does that. On the short films front, Epigenetics actually ends one of our shorts blocks because it's so strong. That whole shorts block I called Fear Block, thinking I was going to make a horror shorts block. And then what happened was, I found the topics that these women are doing in the more dramatic shorts are much more terrifying than a horror movie.
The shorts start with generic horror movie tropes like scary music, but each short becomes more and more real. It starts going into domestic violence, and incest, and all those issues. Hopefully, my goal is that when you watch these shorts, you're like Oh I'm gonna have a good time watching something scary! and then you go, Oh God, women put up with a lot of stuff and it's all much more terrifying than a monster in the woods. What's interesting about having Methodist Dallas Medical Center as a sponsor is that they were like, Do you have any medical-related films? I realized I had quite a few films about physical illness, mental illness, and women confronting the shame of it, working through it, trying to live their lives with it. The In-Between (4 p.m., August 17 at Methodist Dallas Hitt Auditorium)—the filmmaker actually has regional pain syndrome.  It's usually focused in one area–it's supposed to be exceptionally painful and there's no real management for it.
I feel like a lot of women deal with invisible monsters. I just watched Rosemary's Baby last weekend and I realized that throughout the film, everyone was telling Mia Farrow that what she was feeling and seeing and hearing was not real. That almost drives you even more crazy than the pain you were initially experiencing.
With social media, and the internet, and the way our society works right now, it's very difficult to be like, I'm working through this, I don't want googled advice, I just want to tell you this is what I'm doing and I'll check in with you when I want to. We all have unprocessed shit. In a brand new situation, there will be an error in what we do. What's great about films is that you get to do that processing with a character instead of with yourself.
We have a great short film called Gloria (1 p.m., August 17 at Alamo Drafthouse Cedars), and it's about being transgender and sexual identity, gender identity. It's fantastic because it's set in a different time frame, and it opens up that discussion where you can walk away and go, This is what I thought when this event happened, and this is how I feel. It's much easier to do that then to go, Well my personal feelings about this topic… Especially in Texas, the trans community is under fire horribly in Dallas. Right now in Texas, it's very difficult to be transgender. I feel like we should give as many opportunities as possible for all of us to work that shit out and grow with that.