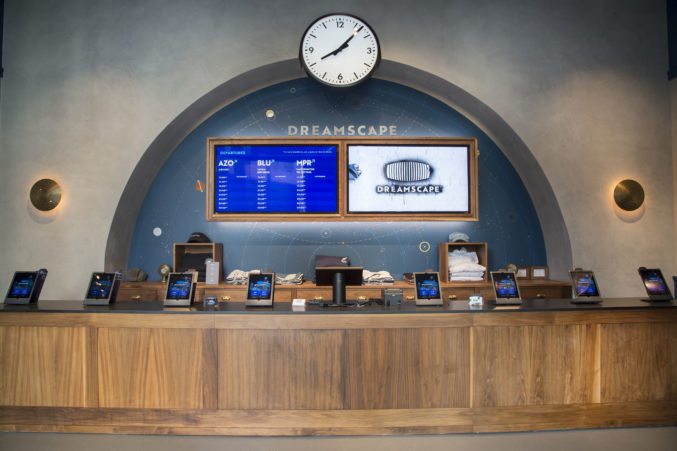 Dreamscape Brings VR Experiences to NorthPark Center
The virtual reality studio officially opens today with three mind-boggling "adventures."
NorthPark is the best mall in Dallas, perhaps the world (I have very strong opinions about this). With its art collection, restaurants, and generally swanky atmosphere, it's always been about the experience as much as it is about the stores–something that's become increasingly important in the era of online shopping. That's one reason why Dreamscape Immersive, a location-based VR studio and retailer, chose Dallas for its second experiential venue in the world. 
"It was as much about the mall as it was about Dallas," says Walter Parkes, Dreamscape's co-founder. 
Dreamscape is opening the new location in partnership with AMC. NorthPark houses one of its highest-performing theaters. Dreamscape itself is a bit like a movie theater crossed with a theme park.
It opens on Thursday, August 15 between Neiman Marcus and Nordstrom, right across from the future home of Eataly Dallas. The location debuts with three story lines to experience, which boil down to aliens, whales, and adventure. I tried two at the media preview on Tuesday. 
"Curse of the Lost Pearl: A Magic Projector Adventure" came first. (I didn't realize until just now, as I'm staring at a press release, that this is completely unrelated to Pirates of the Caribbean. I did wonder why there weren't any pirates.) 
After arriving at the unassuming storefront, I collected my ticket and proceeded to check in on a touch screen, where I also chose an avatar. The avatar options were all pretty similar, but there were female, male, and non-binary characters, which is nice. After checking in, I wandered over to the departure lounge, a charming room equipped with a bar.
My fellow adventurers and myself were summoned at showtime, led through a hallway, and brought into a preparation room. (It definitely has a cuter name than "preparation room," but I can't remember what it is.) Anyway, it's almost like a little train car. There are six or so seats fitted with all the equipment you'll need to enter the virtual world.
I was in a group with a fellow twenty-something and two women about my mom's age. She, too, would've struggled with figuring out how to put on the VR gear. Luckily, Dreamscape has employees assigned to helping with this task. We strapped sensors on our hands and feet, and put on backpacks and bulky headsets. We were ready to leave this reality behind. 
I don't want to ruin a story-based experience, but The Curse of the Lost Pearl was fun. You explore an ancient temple, find hidden clues, and even get a little roller coaster action. Visually, it was amazing. Have you ever wanted to be a Sim? Because I felt like I was in a tropical version of The Sims. The story lasted for about 10 minutes, which was a nice amount of time to be disoriented.
Still, I was ready for more. I tried The Blu: Deep Rescue next. I was still with my new, mom-aged friends, and they were experts at putting on the VR gear on the second run. This story was a less action-packed than the pirate one, but it was just as stunning. You dive underwater to save a baby whale, who wouldn't love that? 
When I resurfaced, I figured it was time to get back to the reality awaiting me at the office. Also, I was scared by the title of the third story, "Alien Zoo." 
My experience at Dreamscape was memorable. Honestly, the technology was a lot more impressive than my first go at VR at The Void at Cinemark in Plano. For $20 per ticket, I think an "adventure" at Dreamscape is worth it, even if it is over within 15 minutes.