Dallas Comedy House, Deep Ellum's longtime destination for laughs, debuted its giant new multi-purpose space this weekend just a couple blocks away from its old home on Main Street.
The new digs at 3036 Elm St. feature two theaters devoted to comedy, four classrooms for students of DCH's comedy school, a podcast studio and writers' room that can be rented by the public, and co-working common areas open to anyone who wants to bring their laptop for the day, free-of-charge.
What was previously a small lobby bar with a selection of snacks is now a beer garden and full bar with a restaurant that is open from breakfast through dinner. It's all housed in a 9,600-square-foot former automotive garage at the corner of Elm and Hall streets.
"It's feeling very ambitious right now," says founder Amanda Austin, who was in the midst of putting finishing touches on the space before the grand opening over the weekend. She was power washing the floor of the beer garden.
She says all the work, all the toiling in the summer heat, is worth it. DCH's operations will now be under one roof again. The club's home for the last four years split the performance and practice areas between neighboring buildings on Main. "They weren't attached, and that was a little isolating," she says.
DCH will be able to host about 40 percent more shows now that it's open seven days a week in the new space. The old one was only open for five. It's also now a one-stop destination for entertainment, considering the additional food and alcohol options. "When I go out, I don't love to hop around from place to place," Austin says. "People can come here have dinner, see a show, and then stick around for a beer on the patio afterwards. It feels really efficient."
That's what happened last weekend. The bar and patio areas were "poppin'" in the words of DCH's chief operating officer and longtime performer Maggie Reith Austin. She married into the DCH family when she wed Austin's brother, who is also a comedian, four years ago.
"I saw a lot of people who came out for shows grabbing drinks or food here—the food is so good," Reith Austin says, noting the menu was developed by chefs of Alamo Club on Greenville Avenue. "I'm thinking about the 'What The Cluck' chicken sandwich now when I go to sleep."
Audience members milled in the hallways, peering at the photo wall of past performances and reading the quotes from graduates of DCH's comedy school on how the training impacted their lives.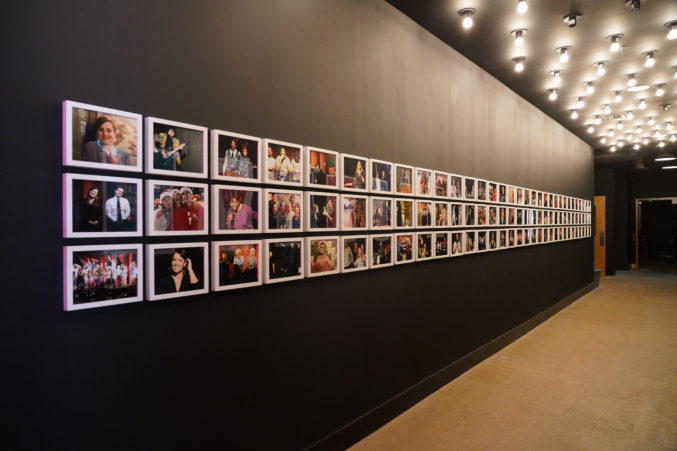 "I heard nothing but incredible praise on the new space," Reith Austin said. "I can't say what a feeling is, but watching people interact with the space, it feels right and good. We were really thinking about not just what we used to have, but what we'll need in the future when we designed this."
Austin believes the new location to be a good move for DCH, although the decision to relocate wasn't initially a choice.
A new landlord bought DCH's former Main Street space last spring and embarked on a months-long campaign to oust the comedy house, according to Austin. At the time, she posted on Facebook that her new landlord, the parent company of Austin-based Terry Black's Barbecue, started sending her threatening letters to vacate the property based on "bogus" claims that DCH had defaulted on the terms of its lease. Black Market Investments denied Austin's allegations in its own Facebook post.
At the time, DCH still had several years left in its lease with an option to renew. Legal teams got involved, and all Austin can say on the matter now is that "the parties settled their dispute to their mutual satisfaction." Construction is currently underway at the Main Street space to turn it into a restaurant from Black Market's portfolio, presumably.
The move opened up new opportunities beyond food and drinks. New programming is hitting the stage, including a sketch review show called Texas Toasted that pokes fun at the Lone Star State. It'll run the next few months, lingering through the State Fair. DCH now has space to offer more work-safe and family-friendly programming. It's already added an interactive 4 p.m. show geared toward young kids as well as weeknight programming that businesses can bring their employees to.
The larger theaters are drawing more national acts, as well. Labor Day weekend features Byron Bowers, a stand-up comedian and actor who has toured with Dave Chappelle, Hannibal Buress, John Caparulo, and The Eric Andre Show Live. Despite the months of unpleasantness during the landlord mess, it appears Dallas Comedy House got the last laugh. The move allowed DCH to come into its own as a destination for both homegrown and national touring talent and build a true community hub around comedy in Deep Ellum.
"We're offering something that a lot of other comedy theaters aren't offering," Austin says. "Obviously all of this is good for business, but now more people can use the space and really make it feel like a home, which is what we're all about."
Get the FrontRow Newsletter
Get a front row seat to the best shows, arts, and things to do across North Texas. Never miss a beat.