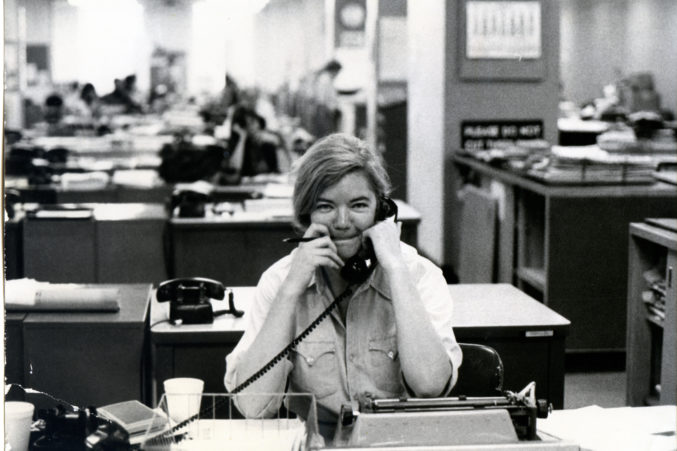 A New York Filmmaker's Doc Gives New Life to a Texas Political Voice
"Molly Ivins is more relevant today than when she was living," Janice Engel says about the outspoken Texas political columnist, who died in 2007.
Molly Ivins was a muckraker, an iconoclast, a firebrand, a wordsmith. But perhaps more than any of those things, she was a Texan. She enjoyed hunting, eating barbecue, and driving her pickup.
So when New York filmmaker Janice Engel was making her documentary Raise Hell: The Life and Times of Molly Ivins, she knew it was essential to immerse herself in Ivins' native habitat.
Engel spent plenty of time sifting through the Ivins archives at the Briscoe Center for American History at the University of Texas, and even spent a few nights at the family ranch reminiscing with family and friends.
"Molly's world was friendly and inviting," Engel said during the South by Southwest Film Festival in Austin. "She broke the mold."
The controversial journalist and political satirist wore her outspoken liberalism like a badge of honor during a career that spanned almost four decades — most of that time spent as a columnist at the Dallas Times Herald and Fort Worth Star-Telegram — prior to her death from breast cancer in 2007 at age 62.
For her legions of devoted followers, Ivins' voice scrutinizing the state and federal political establishment — mostly on the right — continues to resonate loud and clear.
"Molly Ivins is more relevant today than when she was living. What's going on today is exactly what she wrote about," Engel said. "Can you imagine Molly on Twitter? She would be so trolled, and she would just mow them down with a few words."
Engel hatched the idea for the film in 2012 after watching Kathleen Turner in the one-woman show Red Hot Patriot: The Kick-Ass Wit of Molly Ivins. She spent 18 months reading and collating hundreds of private letters and writings, along with more than 1,400 archival video clips.
"Either she was an incredible pack rat or she knew she was going to be famous, or both," Engel said. "I found notes that her father had written and left on the kitchen counter for her when she was like 14. You could see the humor in her childhood notes."
Engel uses that archival footage to chronicle Ivins' affluent upbringing in Houston, when she became a bookworm and a history buff. The film also explores her awkwardness and insecurity about her height (she was 6 feet tall), her brief stint at The New York Times, her struggles with alcoholism and depression, her extensive coverage of the Texas legislature, her emergence nationally through syndication, and ultimately her legacy as a pioneer among female journalists.
"Molly was not a super-feminist in the least. But she had such a strong sense of self and a sense of what needed to be done. I don't think gender entered into it," Engel said. "She was big-boned. There's a certain level of respect that gets thrown to a tall woman."
Dan Rather and Rachel Maddow are among the interviewees who rhapsodize about Ivins' wisdom, helping to give her message about participating in the political process a contemporary urgency.
"People keep asking — who is the next Molly Ivins?" Engel said. "She was a First Amendment warrior. Her biggest thing was to get people to understand their civic responsibility, and that has been lost. There's an indifference in this world. Molly fought against that indifference. That's her call to action."