214 Projects, a new permanent art gallery owned by the Dallas Art Fair, now has its second exhibition on view. The group show titled How it looks to be you in Egyptian Cotton was curated by Adrianna Cole of Runyon Arts and includes a few Dallas artists, as well as art on loan from private Dallas collections. The selection of paintings, sculptures, works on paper, and video vary in style, but they all represent distortions of the human figure–a portrait of a face with a tongue too long, an effigy of clothing draped around the shape of a body that isn't there. 
The gallery presents the work amid a lounge of plush, stylish chairs, benches, Persian rugs, and leafy house plants. It's warm and flattering, inviting you to take a seat and hang out for a while with the art. The space is divided into two larger front and middle galleries, and one small gallery in the back, which is currently being used for video projection.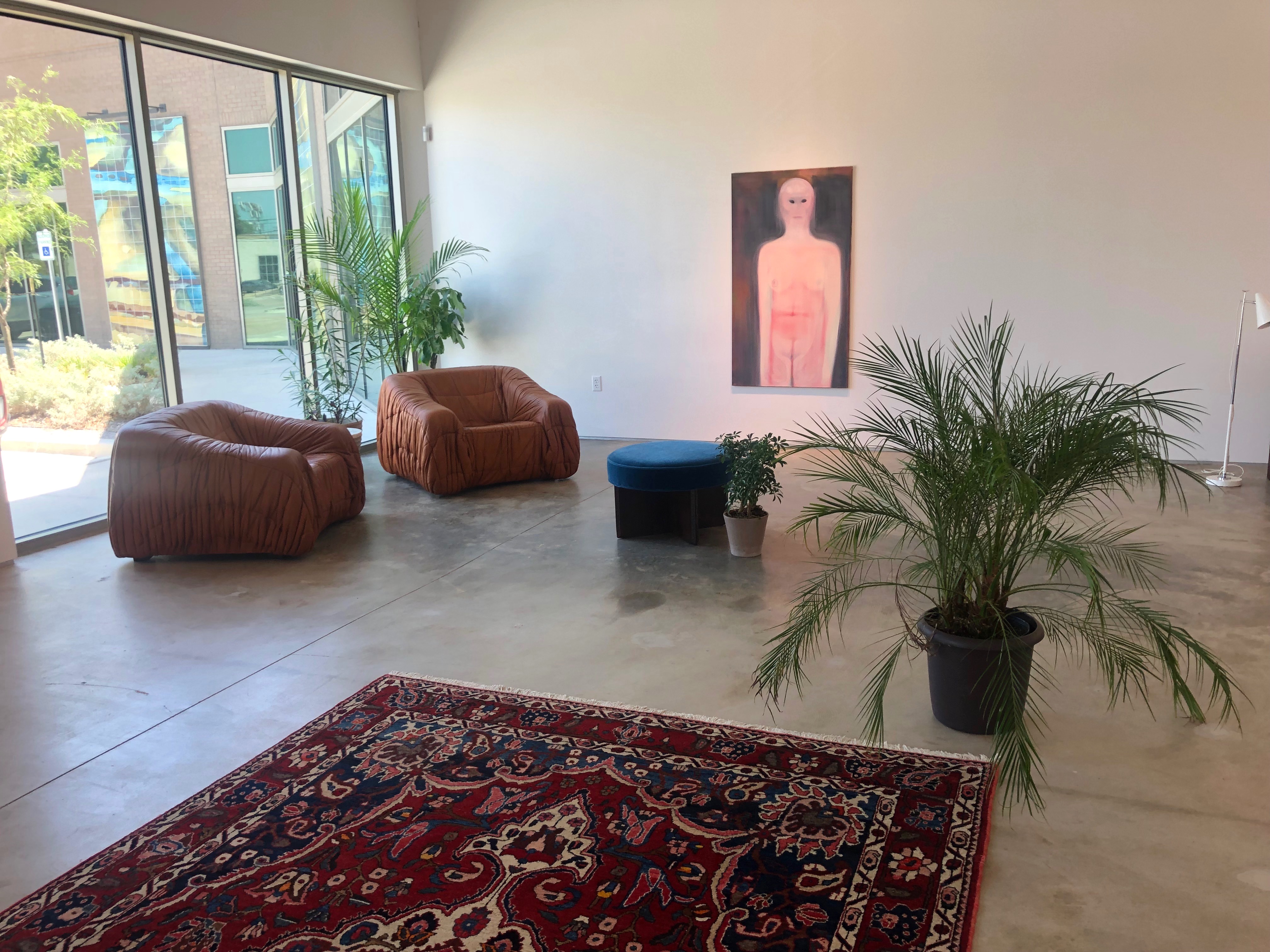 In the front gallery, you'll find a striking painting called "Dog" by Dallas' Greg Meza in an electric orange-red color on one wall, a haunting figure "angebot" by Swiss painter Miriam Cahn on another. This piece, in addition to others by Cuban artist Lazaro Saavedra and Calvin Marcus, are on loan from the Collection of Lisa and John Runyon in Dallas. 
The path to the middle gallery is intercepted by an ominous pillar, local artist Oshay Green's "Head" crafted from concrete, cotton, and bricks. It looks like a cast of a head covered in a burlap sack. It's unsettling and perhaps the most compelling piece of the lot. Behind it, Rashid Johnson's "Color Men" is installed, a swath of tiles slathered with thick globs of black soap and wax in the blunt shape of faces. Next to a delicate chaise lounge and more greenery, Jake Elliot, another Dallas artist, has a tiny portrait made of photo paper and spit.
The small back gallery is mostly occupied by Shelby David Meier's film "A sunrise is the back of a sunset," but you'll also find "Pookie's Purpose," another intriguing work by Green, a pile of person-shaped fabric climbing up the wall. 
You should go see the exhibit and check out Dallas Art Fair's year-round digs. 214 Projects is located in Riverbend, a new Design District development that's become the home of several art spaces, including Erin Cluley and And Now. The gallery is open during business hours, but you might want to give them a call to double check before you head over.
Get the FrontRow Newsletter
Get a front row seat to the best shows, arts, and things to do across North Texas. Never miss a beat.