Sunday wasn't the first time Deep Ellum Art Co. joined Loners Club. Savoring gloomy melodies, the crowd was entranced by her 'kid of the underworld' rhapsody. As music moved her, she opened her eyes, washed white with sclera mesh contacts. Her interests flexed in the Kakashi Hatake shirt she wore over a long sleeve black and red checkerboard top. Raising brows, vibes shifted from goth bae soul to Hot Girl Summer as afro beats led her newest single "Give it to Me Slow."
DFW-raised Cameroonian musician Loners Club comes into her twenties with roots in Dallas, Garland and a few cities in between. With pride, she keeps an honest perspective on different social cliques and black representation from city to city.
"It was a culture shock for me because in Garland everybody was black on my side of town, but I went to Frisco and everybody was white and you could count on one hand all the black kids," Loners Club says. "But it was cool, I adapt quickly."
Teasing our common backgrounds, we click instantly, switching between West African Pidgin English and Dallas slang. We move to the yard, cast with evening glow and summer bugs. She introduces me to her best friend, Mellow, and she mingles with some of the guests who enjoyed her set. We wander off to sit at one of the picnic tables surrounded by local black business vendors. Mellow chimes in as we discuss perception, declaring that he is always perceived as the extrovert and Loners the introvert, when it's really the other way around.
"It shows the dynamic between us and how we're polar opposites," Mellow says.
Loners laughs, adding some depth to their truth. "But that's why we click! We know how to be alone together," she says.
Moving between the jocks and theater kids of 13 schools in DFW, Loners adapted, but she never felt like she was enough for any of those groups.
"I was an African kid, but I wasn't African enough because you know, I liked theater… so it kind of just made me feel alone, not African enough, not black enough," she says.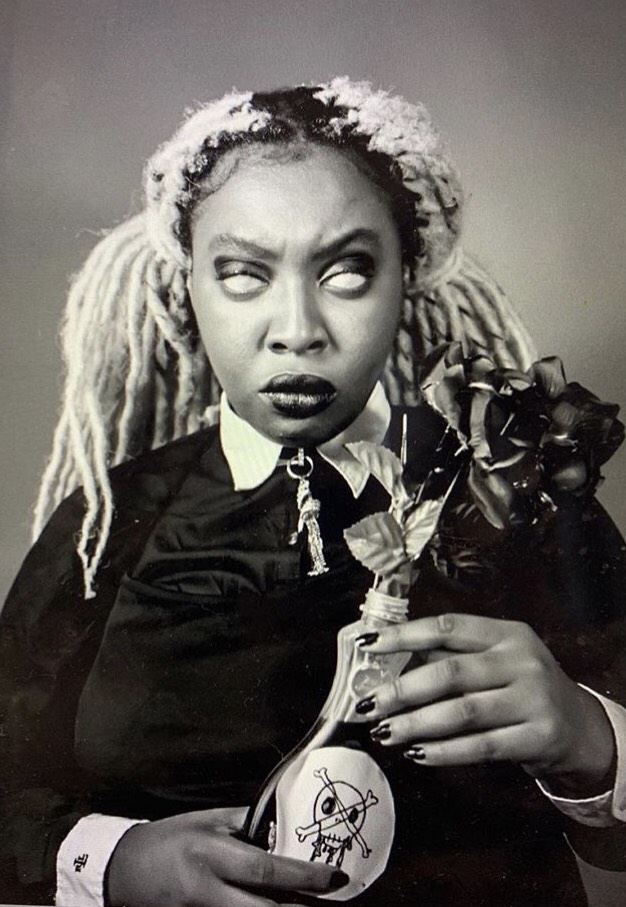 Loners Club, her musical persona, became a space to express her truth in a lane where she thrives as an individual. Whether she's rapping over a hype trap beat like in "I Hate Bras," or musing a mellow beat buildup like in her "Falling.." collab with T Gallardo, she maintains her deliberate honesty from behind an opaque contact lens.
"Me covering them up symbolizes that you can't feel me. I could be cool with this person and this person, but I always feel alone, so this (the contacts) kind of lets me just do that," she says.
Loners' siblings and friends support her and can be seen in a few of her videos, but it is challenging for her to see eye to eye with her parents. She says she was raised to fight and work hard for what she wants, so, in spite of their differences, her parents are proud of what she has accomplished.
"They taught me if I want it, I have to make a way to get it, right? That's why I'm like, 'I'm really only your child,'" she says.
She draws inspiration from Tyler the Creator, who loves to score just like she does. Thumbing her playlists, it's easy to find her favorite musical scores and composers mixed in with the Wizkid and FKA Twigs.
"He's made it his own, I like people that kind of like write themselves into history," she explains.
She also grew up on her parents' music interests noting that her dad put her on TLC's Fanmail and her mother drew her to Dido, Nirvana, and Sade.
A crash interrupts the conversation, and rushing behind us guests stand on the patio tables for views above the art-covered fence. Two police cars had crashed around the corner from Commerce street. The crowd in the yard cracks up as someone quips "Police gettin' fired." Just another night in Deep Ellum.
The soulful underworld babe will be 'dancing in her tears' July 30th at Toyota Music Factory. Loners Club's new EP will be out in September.