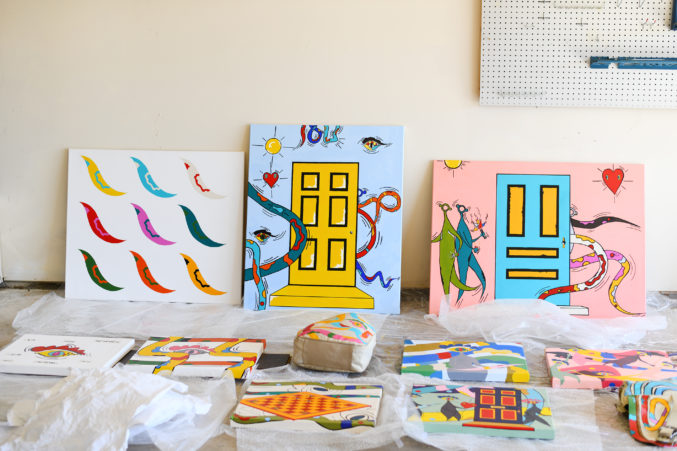 This Weekend, Painter Jeremiah Onifadé Makes His Long-Awaited Art World Debut
The 32-year-old escaped crisis in his native Nigeria to start an art career in the U.S. This Saturday, it officially begins.
This weekend marks the first solo exhibition of painter Jeremiah Onifadé, a moment that the 32-year-old has been working toward since he left Nigeria to attend the Savannah College of Art and Design nearly a decade ago. Since then, Onifadé has lived a few lives. He dropped out, lost his dream, joined the National Guard as a medic. He returned to school, built a career in computer engineering, started a family. Eventually, he found his way back to creating beautiful things.
Sitting in the garage studio of his suburban home surrounded by the colorful pieces of his upcoming show, A Prelude to the Beautiful Unknown, the artist reflects on the journey that's brought him to this point.
Growing up as the eldest son of a middle class family in the Nigerian city of Kaduna, Jeremiah was always an artist at heart. But he didn't just leave his home in pursuit of a career–he fled from horrific violence that had erupted outside of his front door. Once in the United States, he faced a series of challenges that he's finally learned to embrace. Much like his work, the artist allows himself to be shaped by experience.
Onifadé's show, on view Saturday, June 8 and Sunday, June 9 from 6 p.m. 9 p.m. at 1337 Chemical Street, includes about 20 works from the past two years, including a dozen or so paintings, a few sculptures, three painted sinks, and some found objects.
"I like repurposed items because they talk about who I am and how I'm not made out to be the perfect silver spoon person," he says, looking at an old purse he's filled with concrete and embellished with strokes of bright pigment. "I was not the perfect guy to become an artist before, and I was repurposed, I rediscovered myself."
When Jeremiah was forced to leave SCAD after one semester due to financial constraints, he tried to turn his back on his lifelong passion. 
"I did several things to rebel against art for myself, just to make myself forget art," he says. Onifadé joined the military, returning to school during his six years in the service. 
"It was then I started having this realization as to what the difference was between talent and studying for something," he says. "All I needed was the philosophical values of being an artist."
After earning an associate degree in liberal arts, he moved to Denton to study business computer information systems at UNT. There, he began putting his drawings on t-shirts for friends. It caught on, but he "didn't want to be labeled as this t-shirt guy." He returned to his passion of painting canvases, while continuing to provide artistic one-offs, like hand-painted tennis shoes, to those who asked. 
"For those who can't afford my huge canvases or sculpture, I would still like them to partake in what I have to offer, so I use shoes a lot. I ask them for their stories, I read what I can about them, and I retranslate it on the shoes."
Onifadé is a storyteller as much as he is an artist. He doubts his practice would be this way if he had continued at SCAD. Looking back, he's thankful that he had time to discover himself and hone his craft outside of a formal setting.
"I've shifted a little bit to understand that each work is like a book. It's like picking up a book and trying to understand the book," he says. "Along the way I started developing, creating these characters that represent what I actually want to do. It started shifting from what I was used to doing before to something that had more depth, more mood, more tone, more balance, and the colors started becoming different as well."
His paintings are full of joyful movements and ripe colors, but they tell stories of life's harsh realities.
"The reason why I use a lot of color is that growing up in Nigeria, before the crisis, the environment is beautiful and people were carefree. In Africa, we use a fabric called Ankara, it's an African wax. Black is just a sad color, we never use it. So once there's a festival or anything, people wear lots of colors, and you don't know what's going on in people's lives. Of course there's a lot of economic problems going on with them–but you still see them coming out with this cheap attire that looks really colorful and beautiful. And those are the colors I wanted to represent in my work, because it's just a fact of real life. Although they're playful … I wanted to bring that sense of realism."
Onifadé was raised in Kaduna, coming of age amid a series of devastating riots following the introduction of sharia law in 2000. The memories of witnessing religious violence fuel his work, which questions how people affect their environment with the positive and negative energies they give out. It wasn't until a couple years ago, after he had built a repertoire of his own characters, that he realized this was something he could speak through visual art.
The artist's signature "cod," which people often mistake for snakes, represent the flow of emotion, while his alien-like "orbs" represent the human figure. Originally, he developed the shapes out of necessity–hiring a live model was too expensive. They've since become integral to his work.
In his garage, he shows me one piece that depicts a tangle of cod peeking out of a barely open door while two orbs stroll past.
"I wanted to speak on how troubles make us hide so much, from our future, our life–so much that we don't even come out from the doors we are locked behind. The doors are also some of the characters I'm using. At that point when you're scared of the trouble, things are moving, time is going, people are becoming successful. Everything is moving ahead, but you're still scared of the trouble that's outside," he says. "This came from the time in Kaduna in Nigeria when the door was a savior for us. People were getting burned outside the house, but thank God for the door, they couldn't get in. When do you take that leap of faith and get out and say, 'No matter what it is out there, I'm just going to get past it and go?'"
Obviously, Jeremiah has taken a few leaps of faith to get to this point in his life. While he still continues his day job as a cybersecurity engineer, he's now a full-fledged artist who can create however he chooses. Sometimes, he likes to return to the days when he had to use recycled items as a cost-effective canvas, like an old YSL purse he ordered from Japan on Ebay. 
"For this show, I wanted to revisit that … I wanted to take old stuff, completely dead, and make it so precious to you. It's been tossed away, nobody cares about it. I wanted to tell a story on it that would make it so precious that people would be happy enough to want to look at it. Which is like what humans are," he says. "Sometimes life is not going good and nobody really wants to have a relationship with us at that point in time. We might not have the best job, we're still struggling to make ends meet, we're not the perfect human at that stage in life. But once everything gets better in life… everyone wants to be our friend. Suddenly, the story from the past becomes 'Aww,' you know? But when it was happening it's like, 'You can get over it.'"
When I ask if he's speaking from experience, he answers yes. But Onifadé is not bitter about the difficult path he's walked. If anything, he brims with a rare optimism for life.
"I just wanted to revisit the human factor of, no matter how bad things can be for people, they can still be the best in that room. You can still bring yourself out of whatever's going on. It's just to step back and approach it with a calculated decision," he tells me. "Before you know it, you're going to be the new sensation."